I'm so utterly delighted to finally get to share this most beautiful blue editorial with you, which features the work of 3 of our talented highly recommended suppliers; Crimson Letters, Harriet Wilde and directory newcomer, Bella Belle.
These images which ooze all the Regency, Bridgerton elegance, need little introduction from me. Words by stylist Amanda of AMV Weddings follow. PIN to your heart's content, my friends.
"A bleak year of Covid and all the many lockdowns, left us all desperate for colour. We wanted to create a beautiful, micro set up with a pretty aesthetic that was romantic, playful and charming in a Regency setting with beautiful, decorative, ornate wallpapers, large palace rooms and a sense of glamorous romance of times past."
All For Love London

+ Follow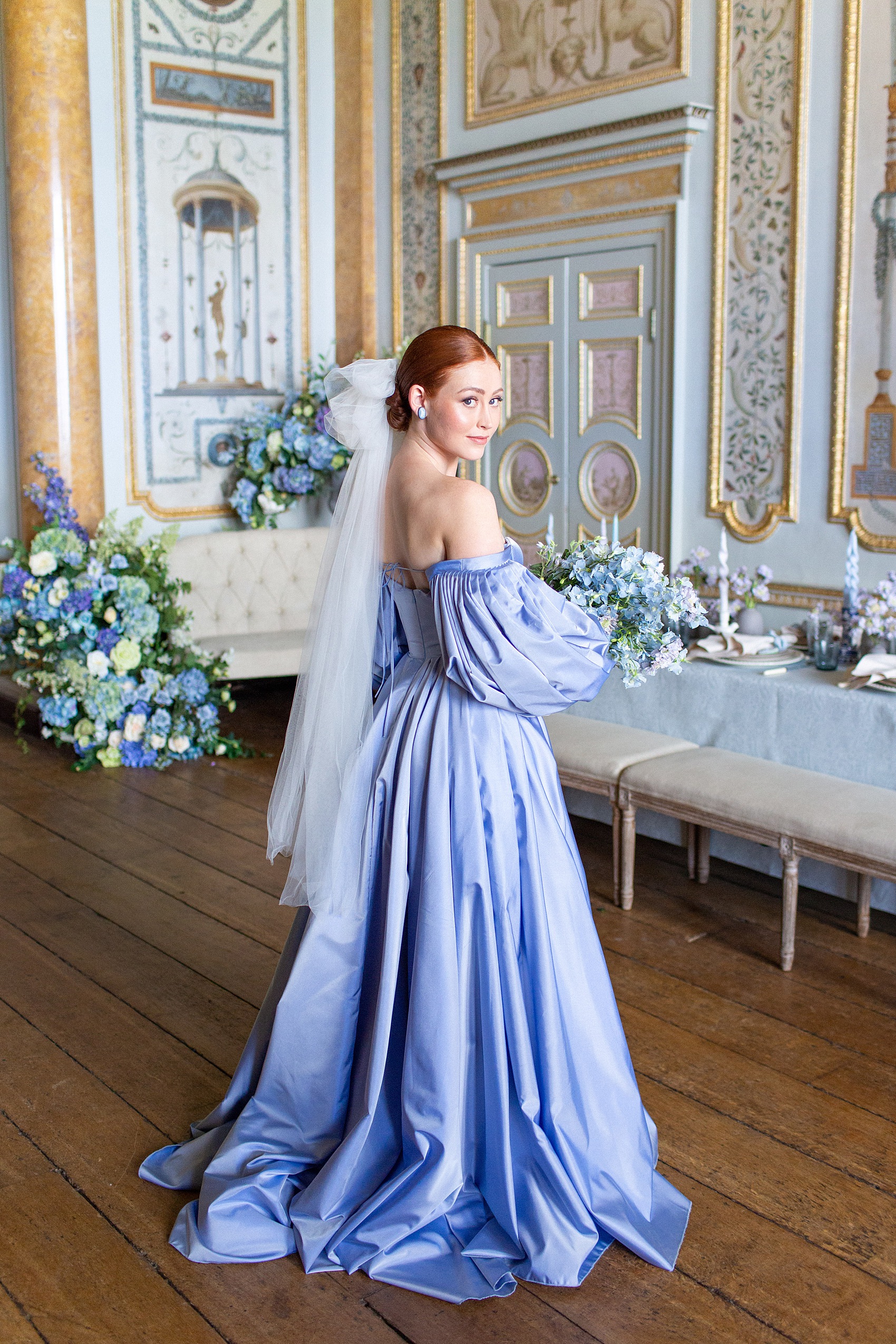 "A few months later, and Bridgerton became a Netflix sensation – colourful dresses, romantic aesthetics, everything we had predicted would be huge, became so on a major scale!"
Stay in the know – join our mailing list.
"Here is therefore, quite without realising the show was on the horizon at the time, a fitting nod to the lively, playful Victorian social scene of courtship, promenades, darling dances and dainty details."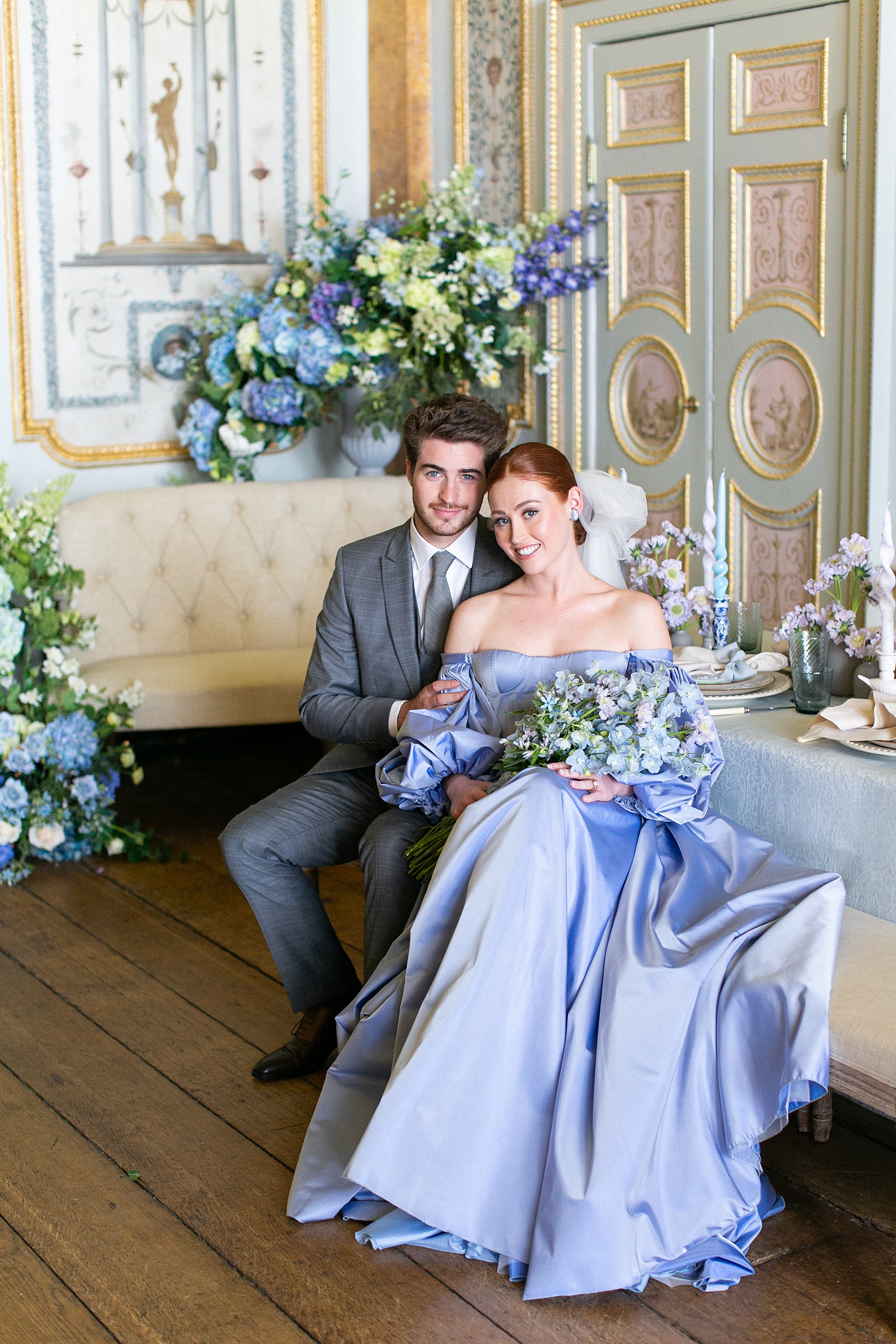 "With a nod to the traditional wedding custom of 'something blue', the shoot inspiration was to show a beautiful, intimate elopement and what could still be achieved with a micro wedding."
"The idea being to illustrate that you can still do a wedding on a small scale and it still be super beautiful and stylish."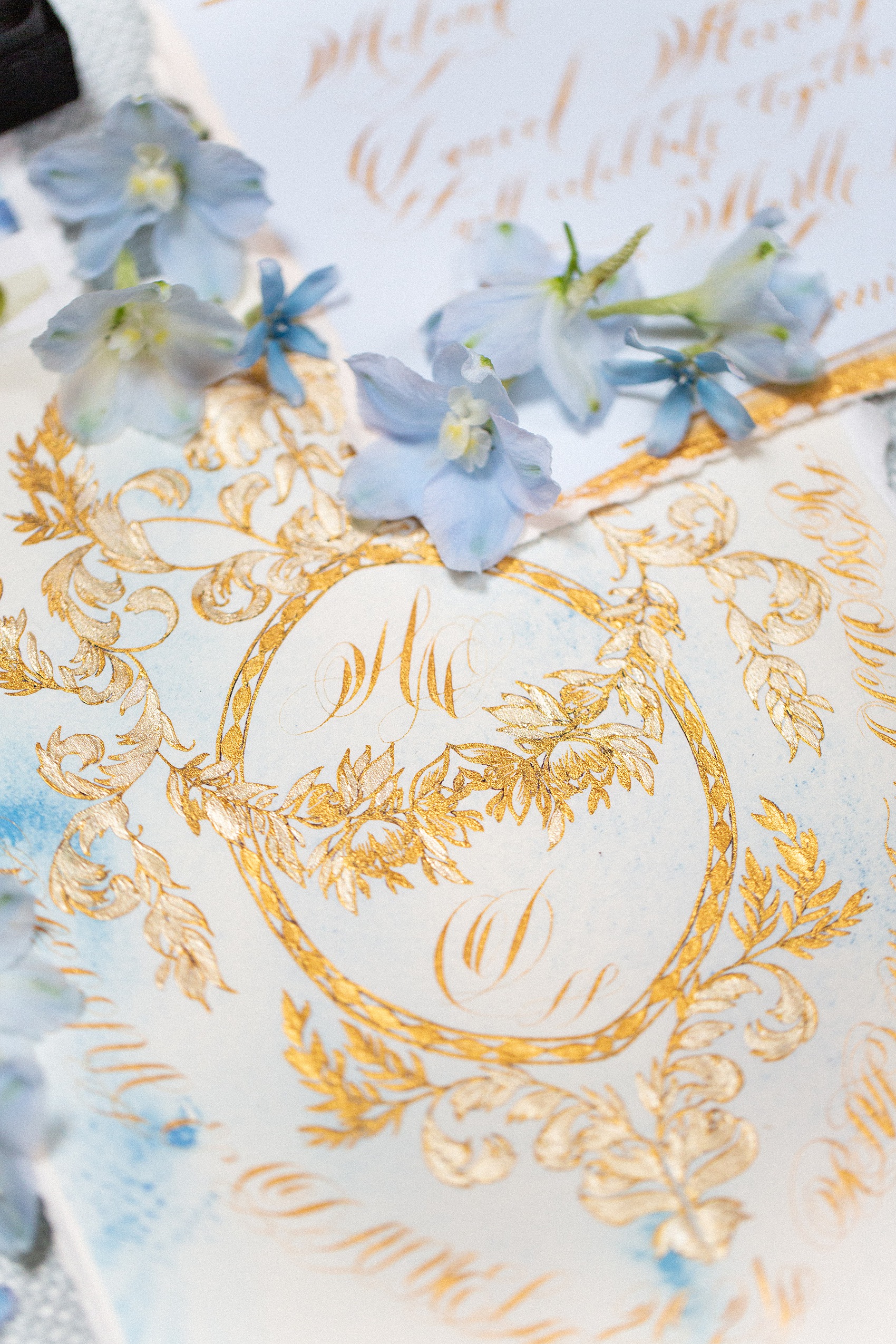 "The statement and unusual blue dress by Teuta Moshi was a cheering burst of colour, bringing an element of brightness and joy, featuring large puffy sleeves, which are en vogue at the moment and a definite trend in 2020 and likely to spill into 2021 too."
"The bride had the most beautiful auburn hair and contrasting blue eyes, which matched with the dress perfectly, the contrast between those two beautiful colours was simply wow."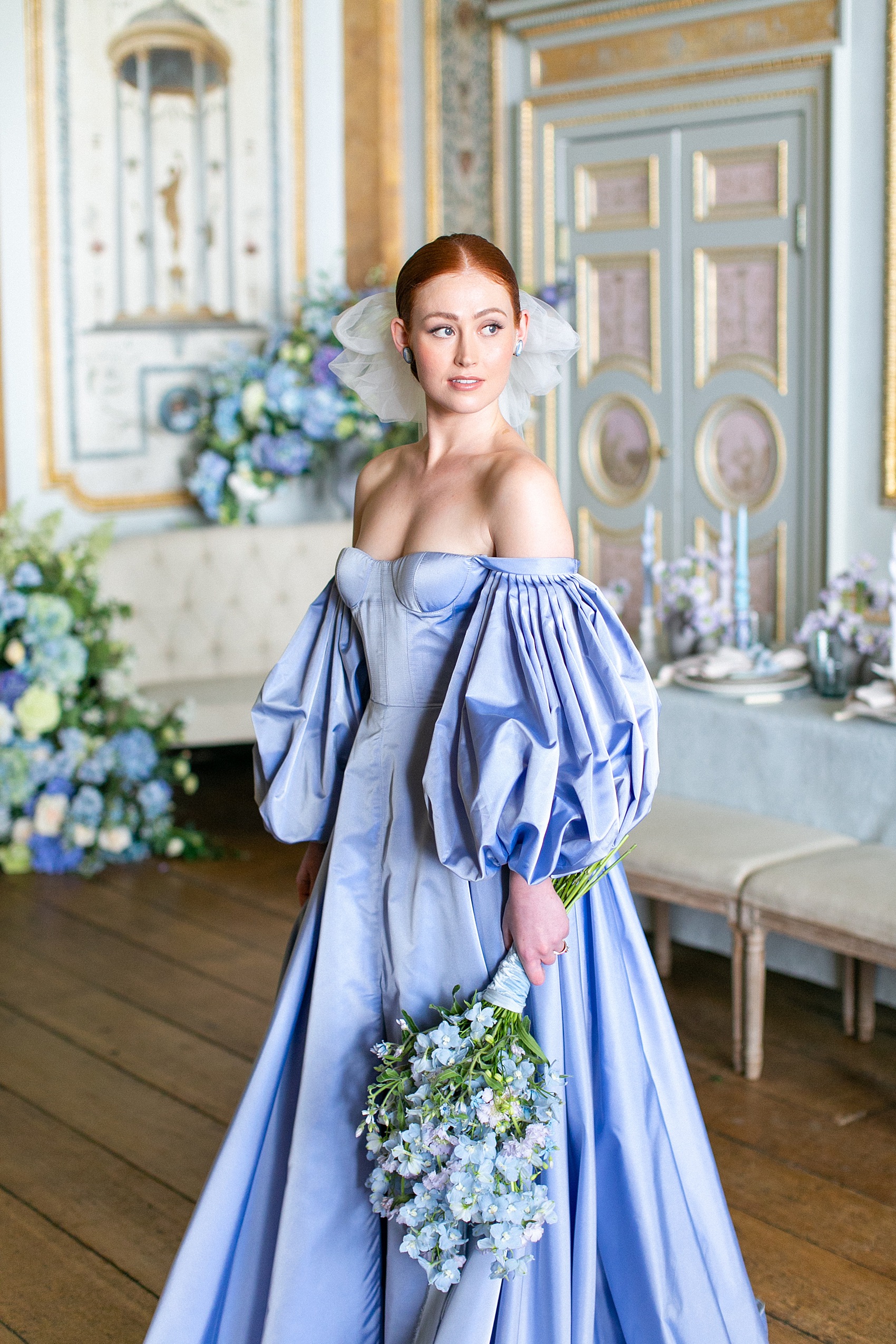 "Our model, Amy's hair and make-up was expertly put into place by the very talented Boe from Botias Hair & Make-up, who also provided the beautiful and bespoke made over sized bow for the model's hair for a soft, elegant yet editorial look."
"The shoot took place in the Stowe School Music Room, which features stunning ornate panelling, meaning it only required minimal dressing, allowing the beautiful artwork of the walls to sing as a backdrop."
"The room, which is not often used for weddings, is also painted a beautiful muted pale blue shade, and so this all blended so beautifully with our styling concept."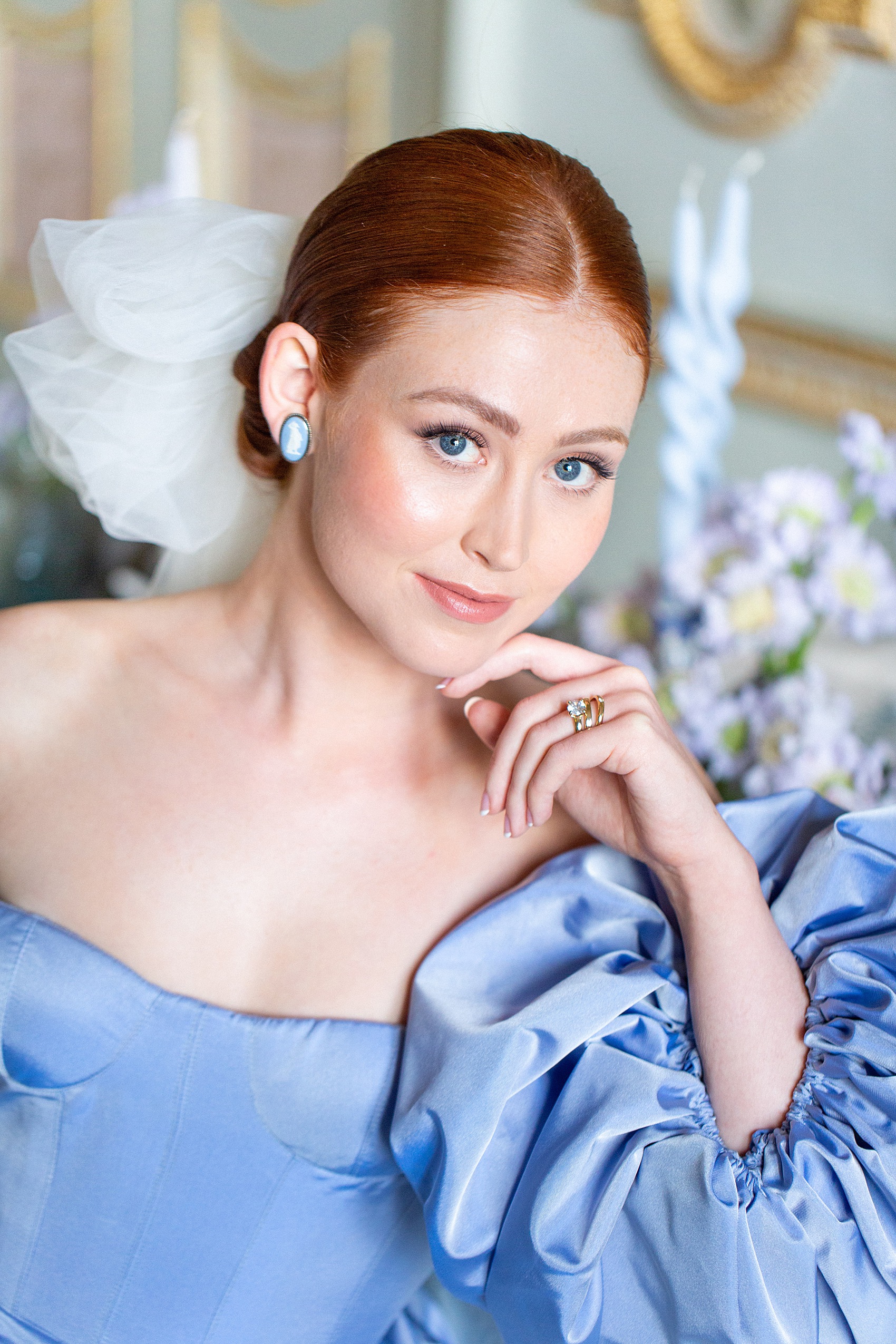 "When choosing a venue for your wedding, if there is an exquisite space, and bold colour in the room, rather than try and hide it or avoid it, Ruth from All for Love advises to make it a feature and part of your theme and backdrop, that way it will never look out of place, but be enhanced by your other styling aspects and all blend beautifully."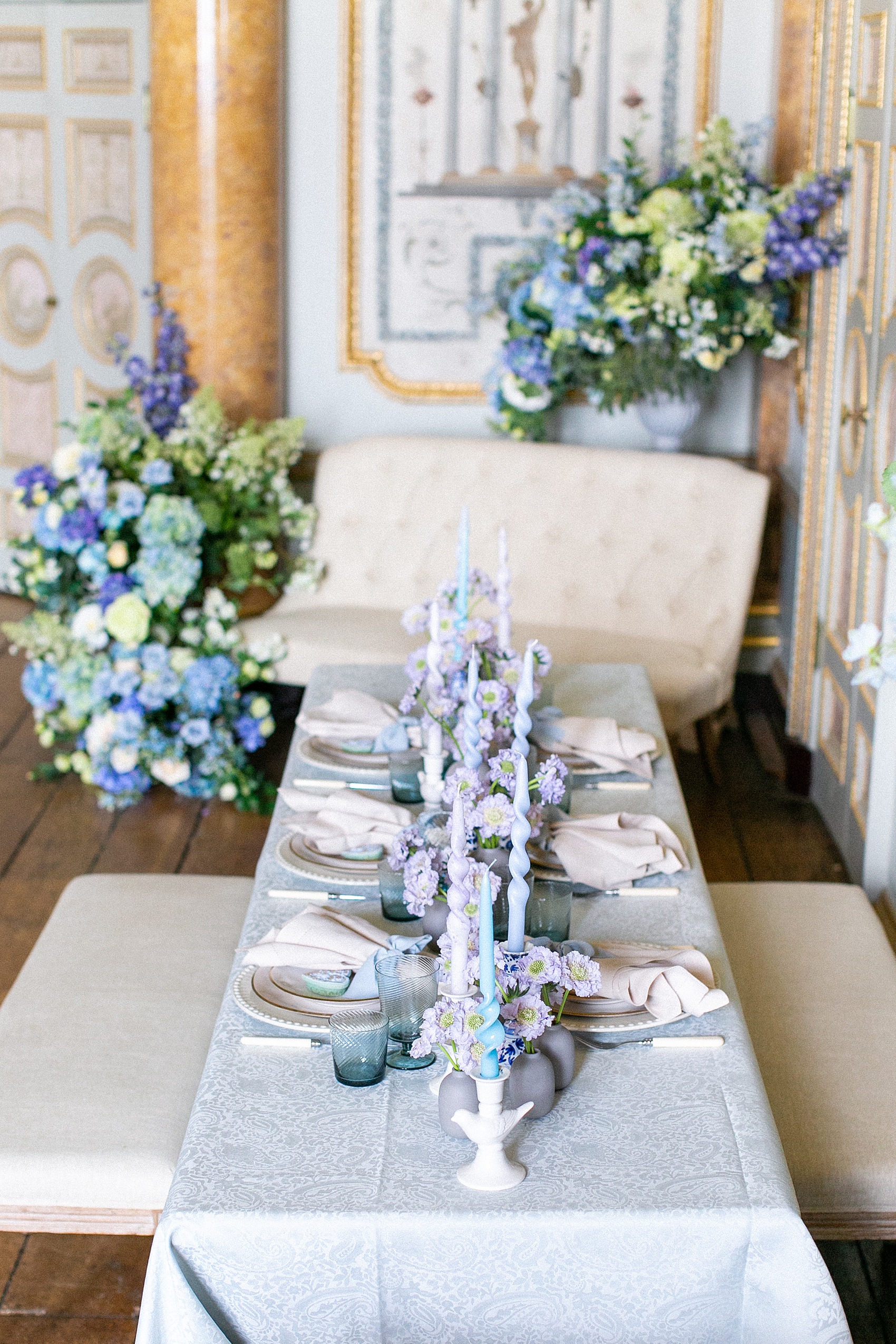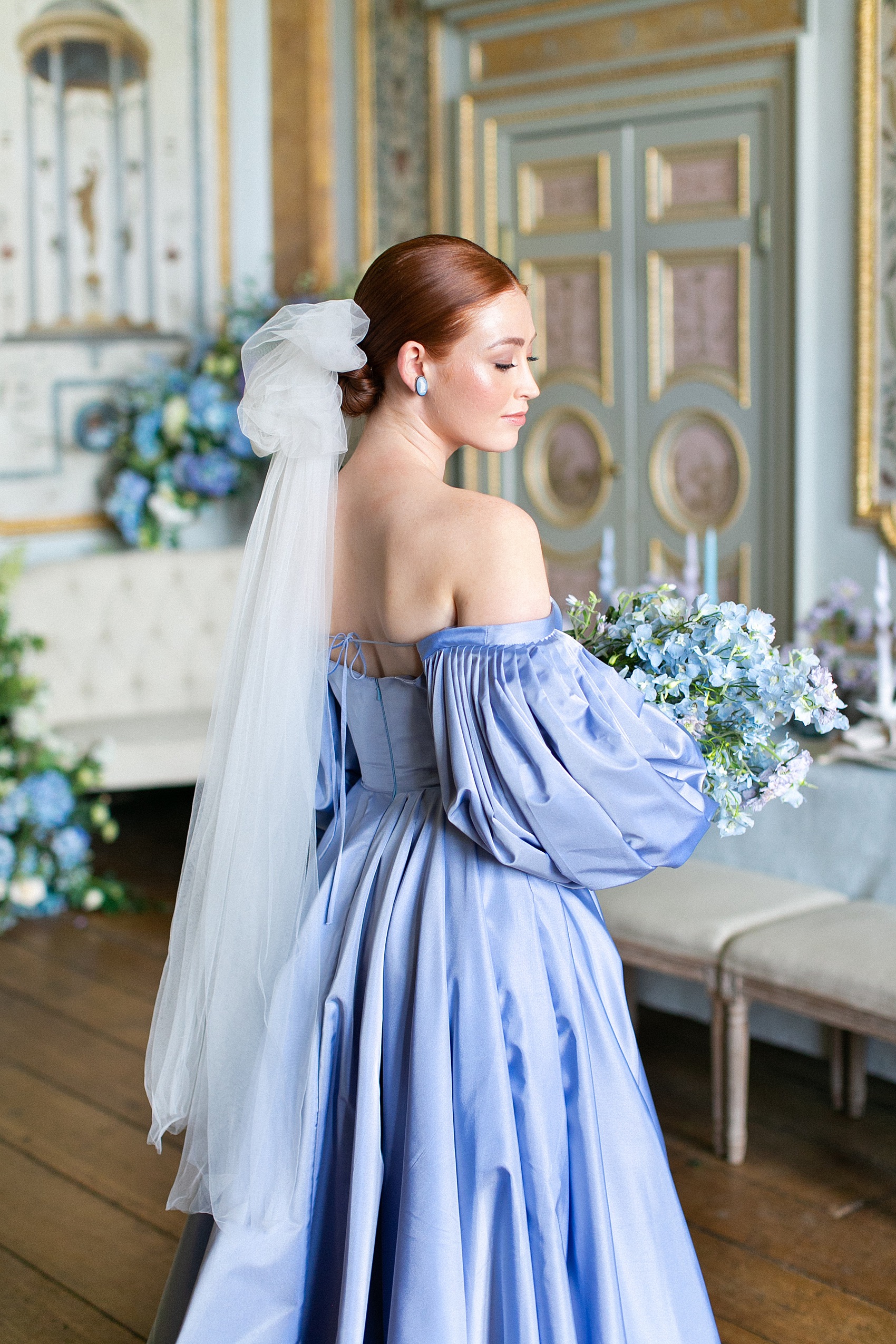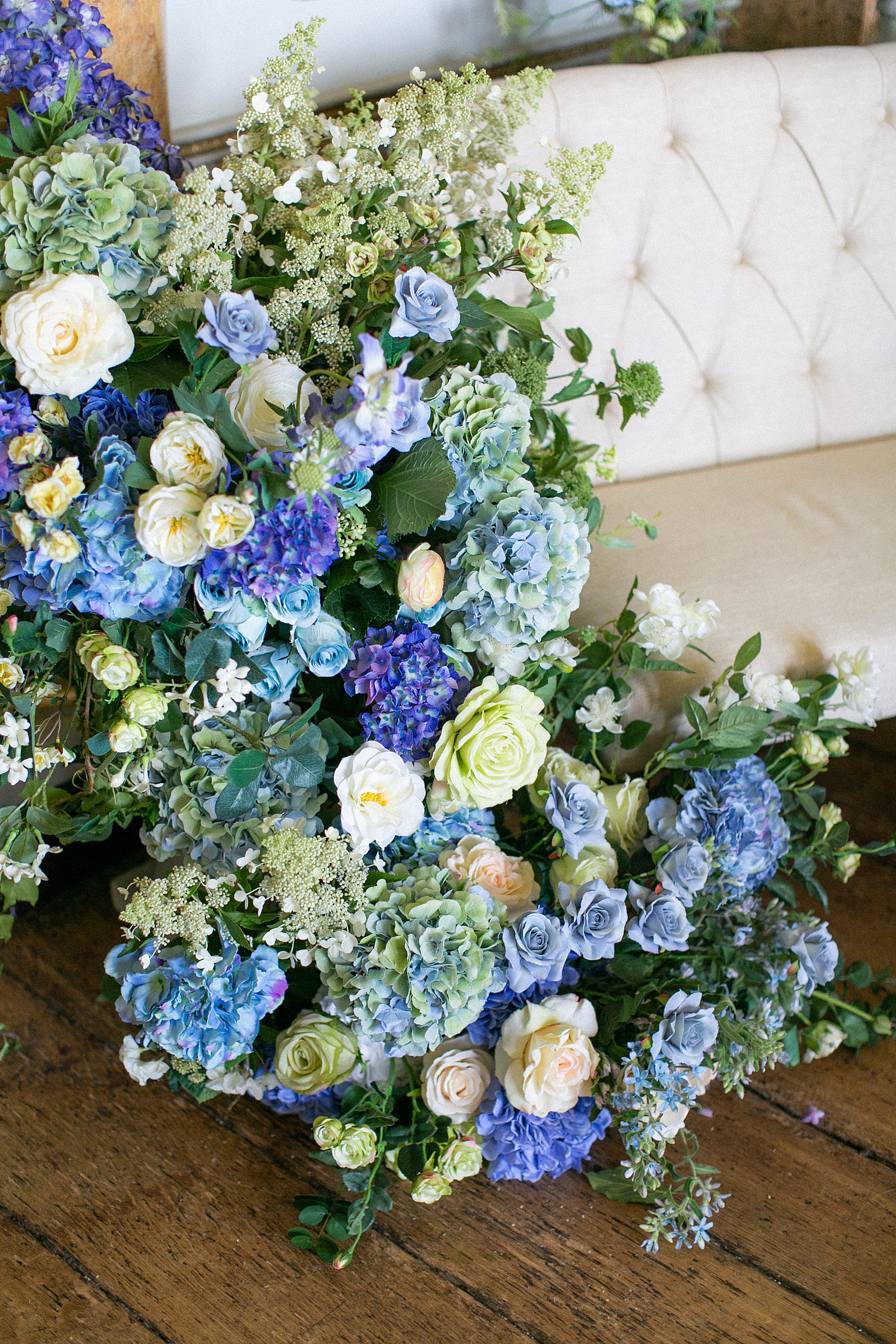 "For the flowers, All for Love, used a mix of silk flowers and some fresh as a deliberate move to show brides that silk flowers are an option especially if budget is an issue during Covid times and if people are having multiple weddings they could do something small and intimate now, not too costly, but still beautiful and then go all out on their main wedding when Covid allows next year or in 2022."
"Silk flowers are sustainable and re-useable too which in this climate is also a key important factor for many brides."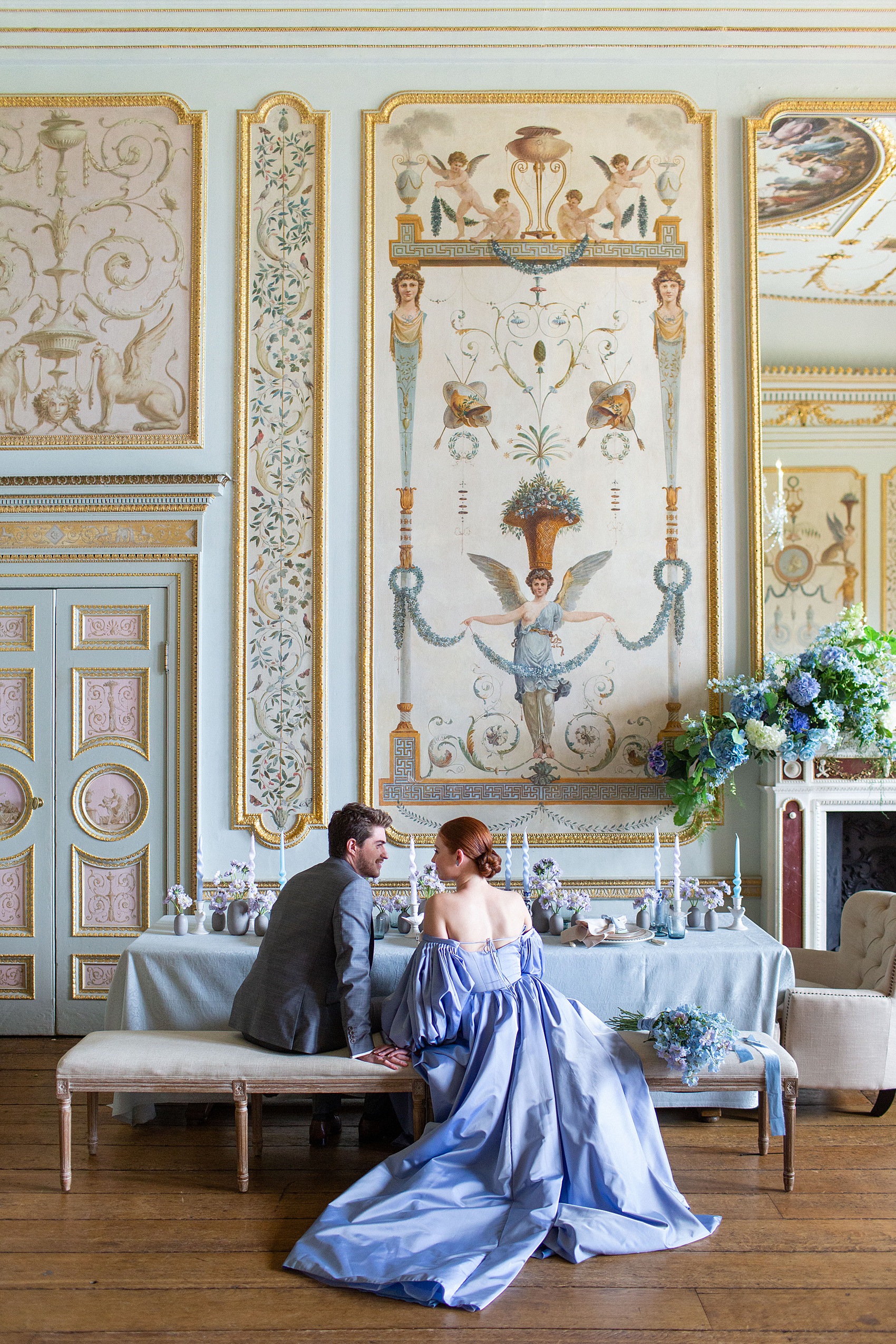 "Following the Rule of 6, the table was set just for six people to allow for Covid guidelines. The attention to detail to the place settings and fairly minimal yet beautiful styling shows that there can still be personal touches and magic to even the most intimate gatherings."
"The beautiful swirly candles were a pretty touch, and the gorgeous tableware all provided by Maison Margaux was so beautiful."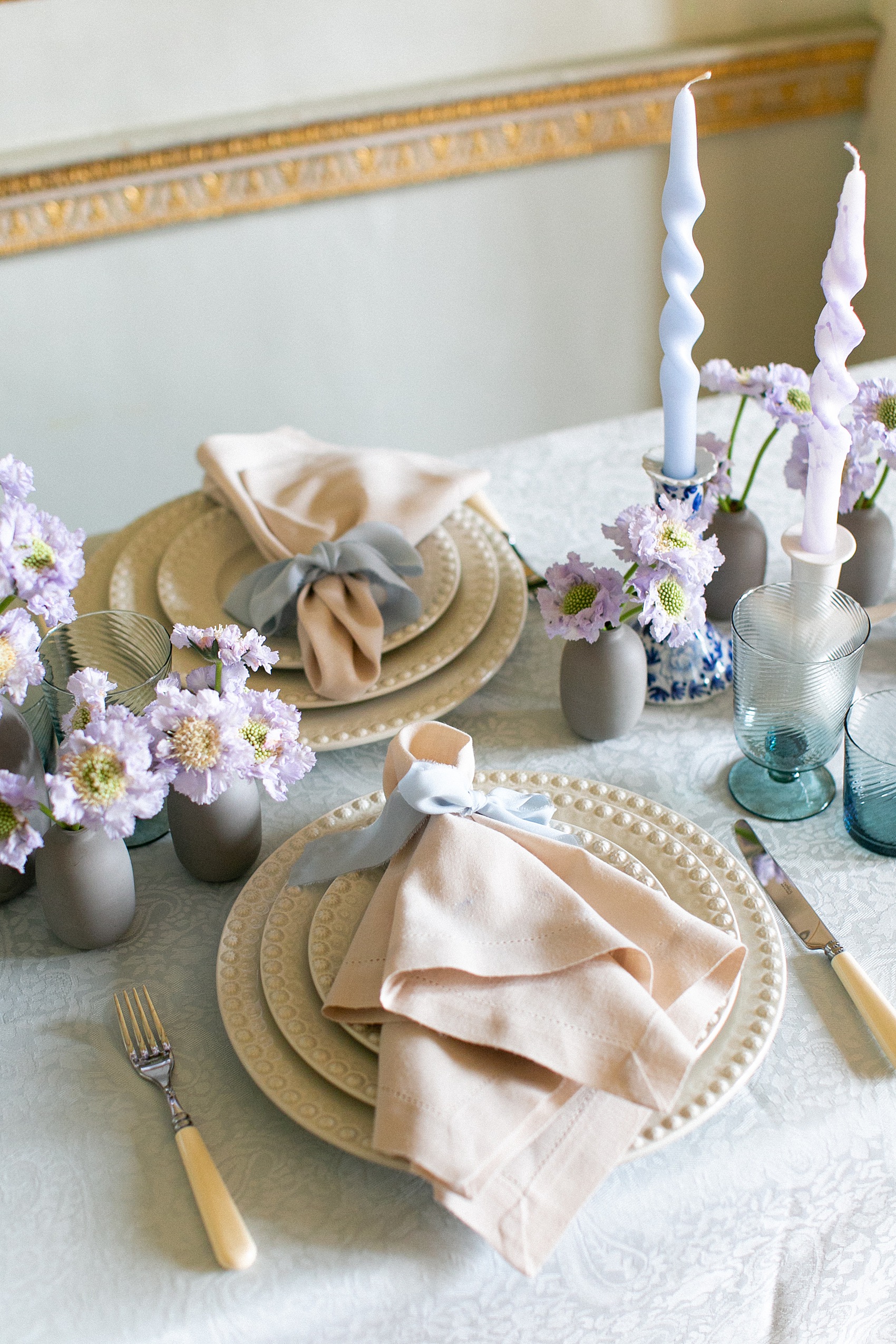 "Our favourites were the leopard print faded blue side plates that added a pop of colour and fun to the table scape. Tied with hand tied silk ribbon by Little Acorn Silks, the napkins sat beautifully on the plates and added an elegant touch to the place setting."
"Monika's little favours – beautiful blue heart shaped ginger biscuits – looked as good as they tasted and the ornate patterns on them matched the decorative gold guilding on the walls in Stowe's music room."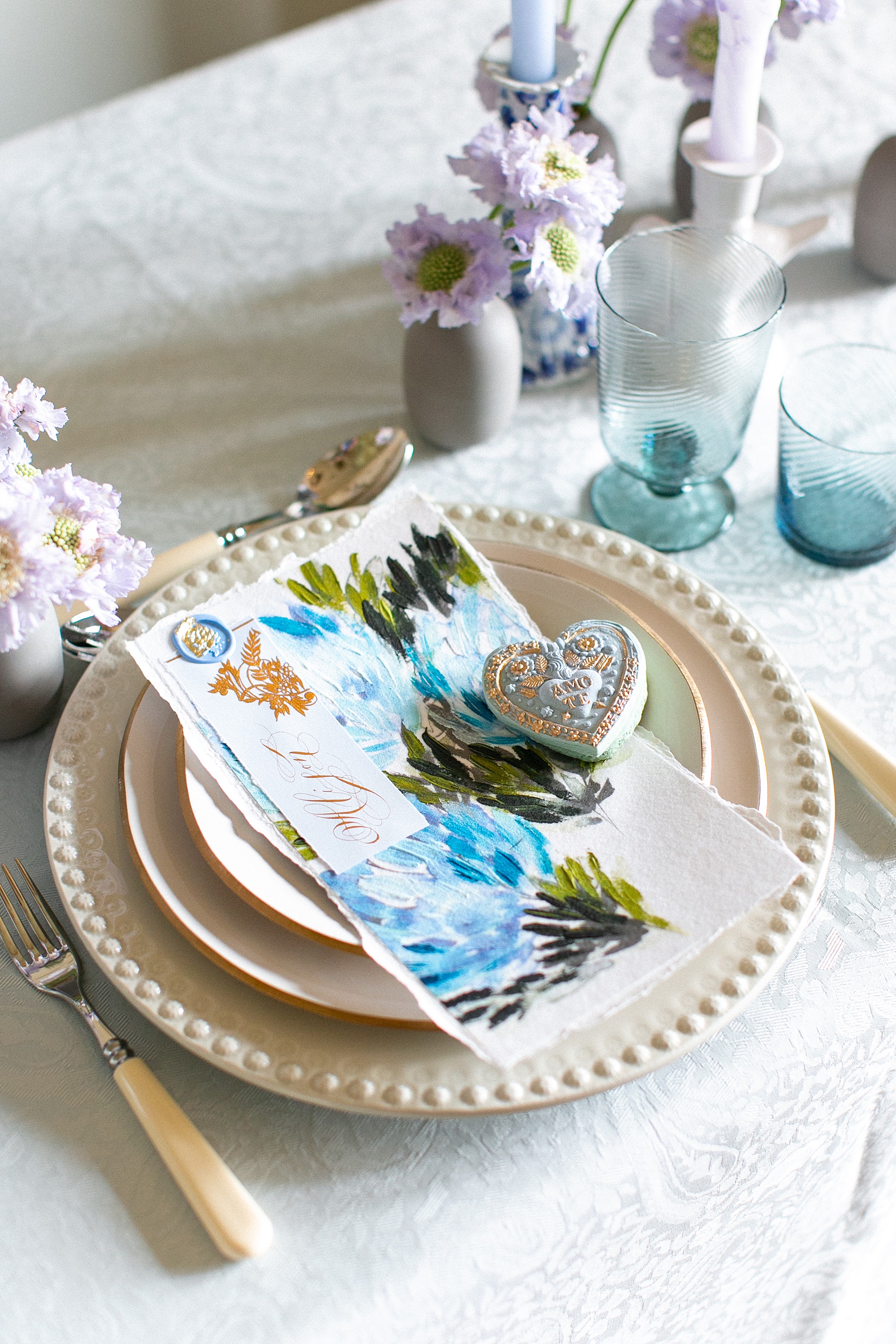 "The cake was inspired by the intricate Harriet Wilde shoes, which matched it perfectly. The velvety texture was sprayed excellently onto the cake to mirror the velour shoes and the gold motif replicated in paper thin sugar icing by the wonderful Monika."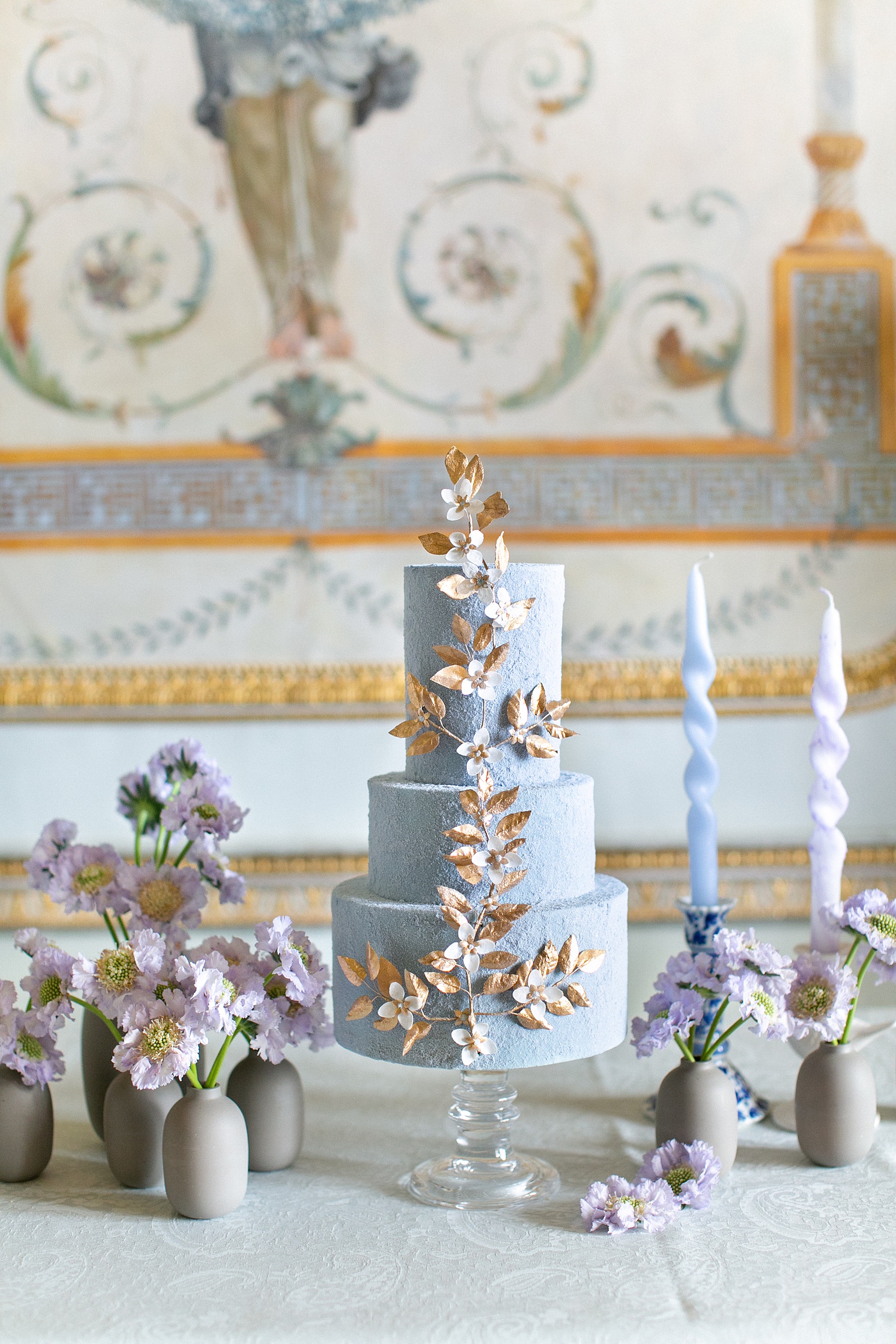 "For the stationery we were beyond honoured to have the wonderful artist Rubana from Crimson Letters design a sensational suite of hand painted, exquisite stationary in pale blues that matched the romance and elegance of the blue dress and the ornate Music Room of Stowe."
"The beautiful gold crests on the Save the Date, and the painted florals on the menus all complimented each other beautifully and really added an extremely special element to the shoot that shows the importance of exquisite stationary to a micro wedding."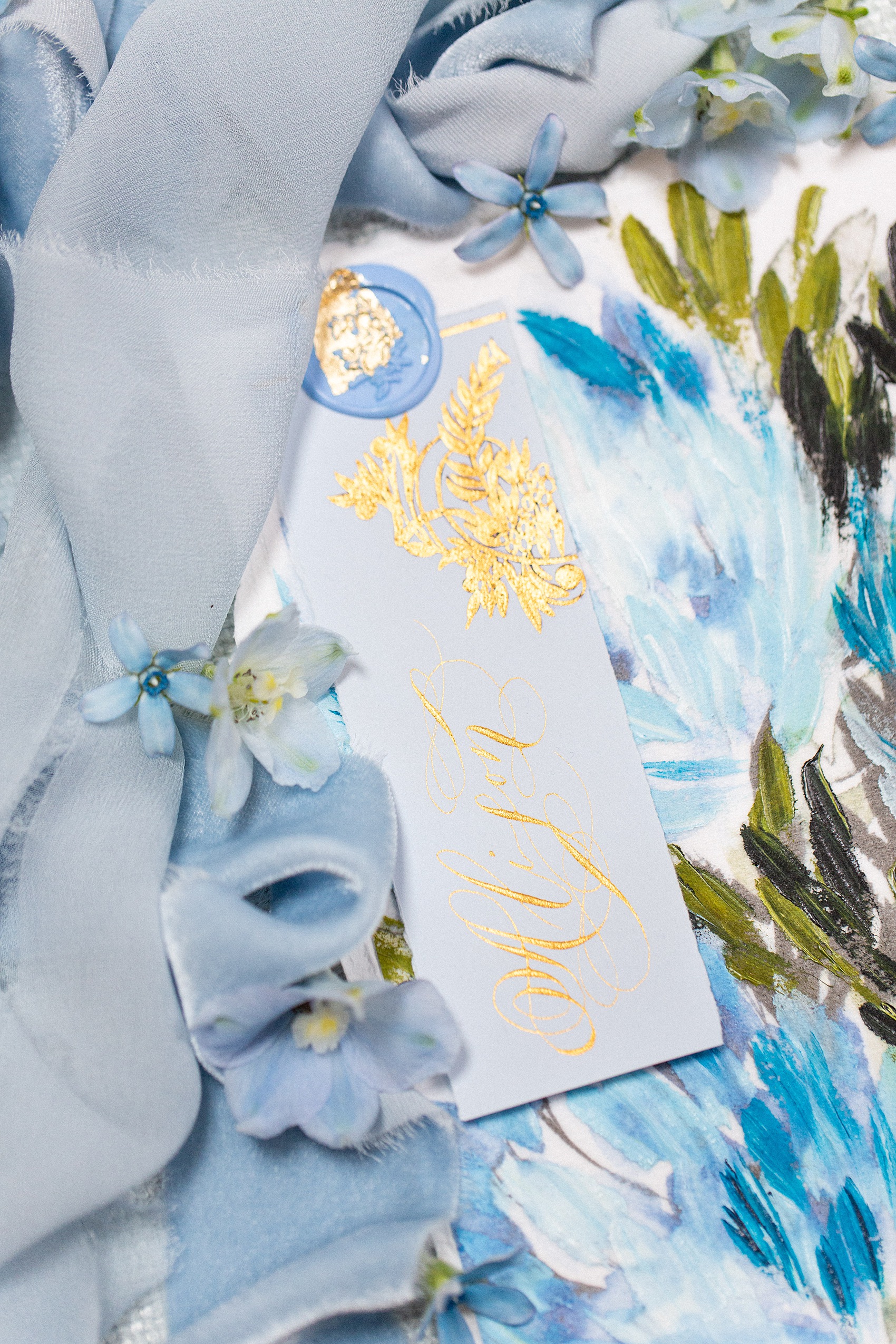 "The photographs were taken by Anneli Marinovich, who shot the setting in the most professional and natural way producing beautiful fine art frames of the set up, capturing it beautifully."
"The whole day was curated by Amanda from AMV Weddings, who had flown over from America and it was a delight to be able to work with an international planner to create a set up that crossed transatlantic needs right now be it a Covid wedding in the UK or the US, they have to be small, but they can still be beautiful and unique."