We recently shared the most beautiful editorial, submitted by Gloria Darker, founder of My Wedding Fixer. This evening, it is my absolute pleasure to share more of Gloria's work from the same talented and creative editorial team.
Through this film and images, Gloria and her team set out to pay homage to African Wedding culture by planning and designing a tropical inspired Afro-Chic editorial.
Charlie May Video

+ Follow
"This tropical concept channels authentic African traditions combined with rich leafy designs inspired by the tropics. Through the lens of photographer Osman Marfo-Gyasi, aka, 'Wolf & Co. Photography' we delivered a subtle fusion of traditional West African style, art and decor with the Modern Contemporary of Western Europe and North America."
"Afro-Chic is the point at which these two ideas meet, blend and amalgamate."
Wolf & Co. Photography

+ Follow
"Charli May Videography complements the image stills with cinematic video highlights to represent the cultures that you might not get to see on your timeline everyday. The video footage celebrates traditions, beauty and talent perfectly bringing movement to details African Wedding culture has to offer."
"The Orangery in Kent is the ultimate setting for this theme from the focal point of the Lapa which overlooks the lake and becomes the perfect nod to an outdoor ceremony location."
The Wedding Fixer

+ Follow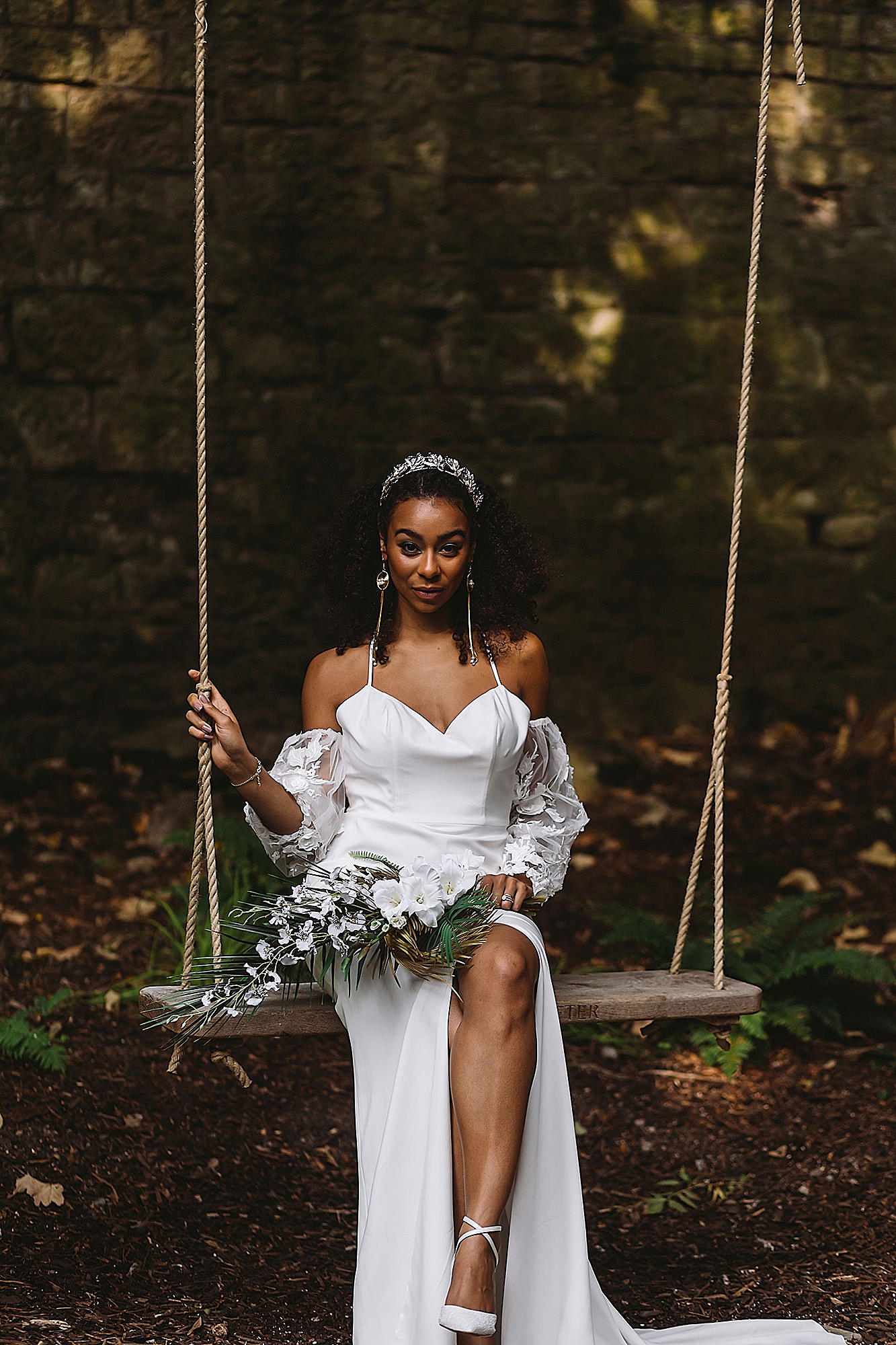 "The stationery from Ribbons & Wren includes invite, RSVP, corresponding envelope, and guest names to create a collective suite inspired by the blend of African culture with a contemporary outlook through texture, vibrant colours, warmth, beauty to embody a celebration of culture and love."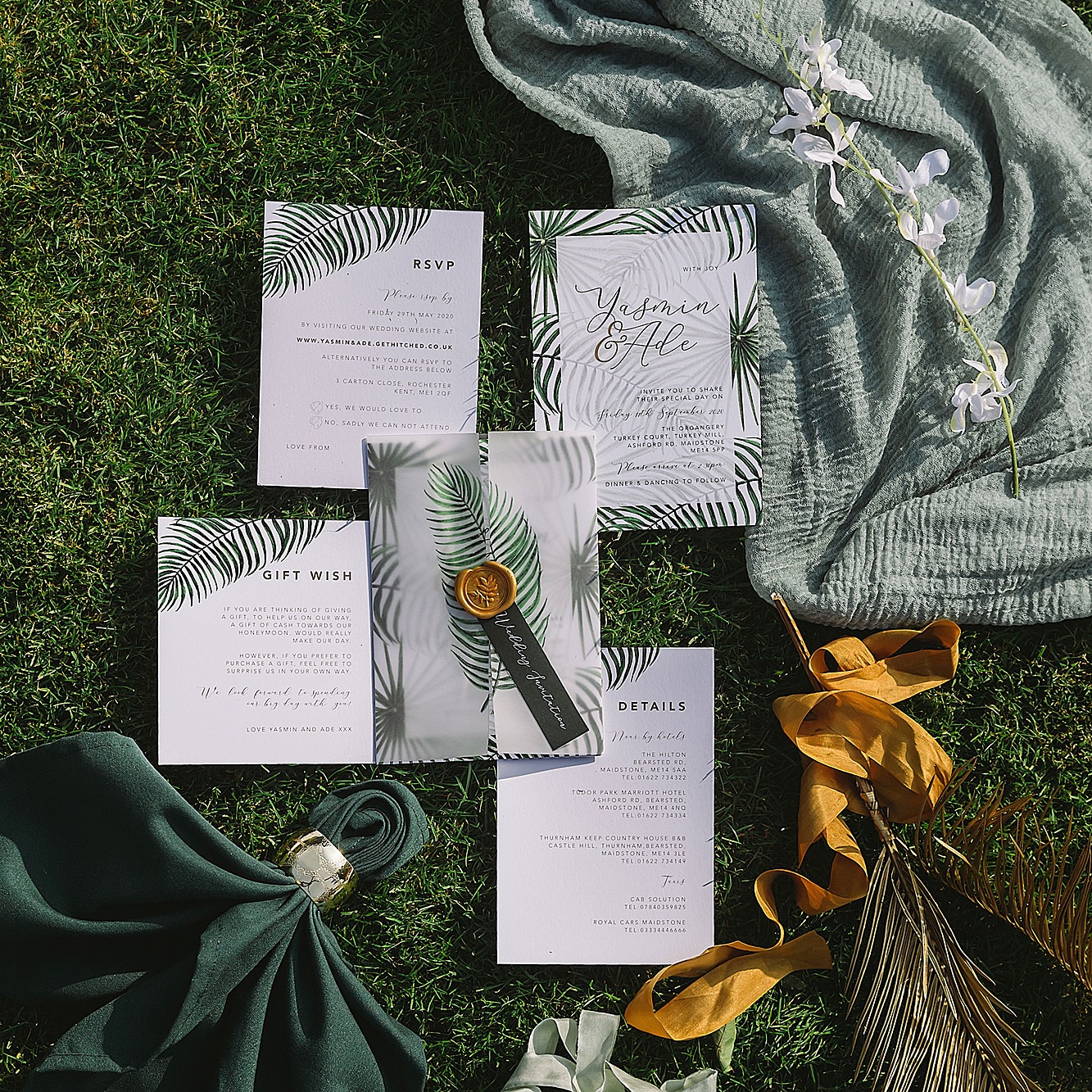 "The cake creation by Bespoke Bakes was created to reflect the tropical theme in a neutral toned 3 tier cake which was accompanied by a border of geometrical tribal print."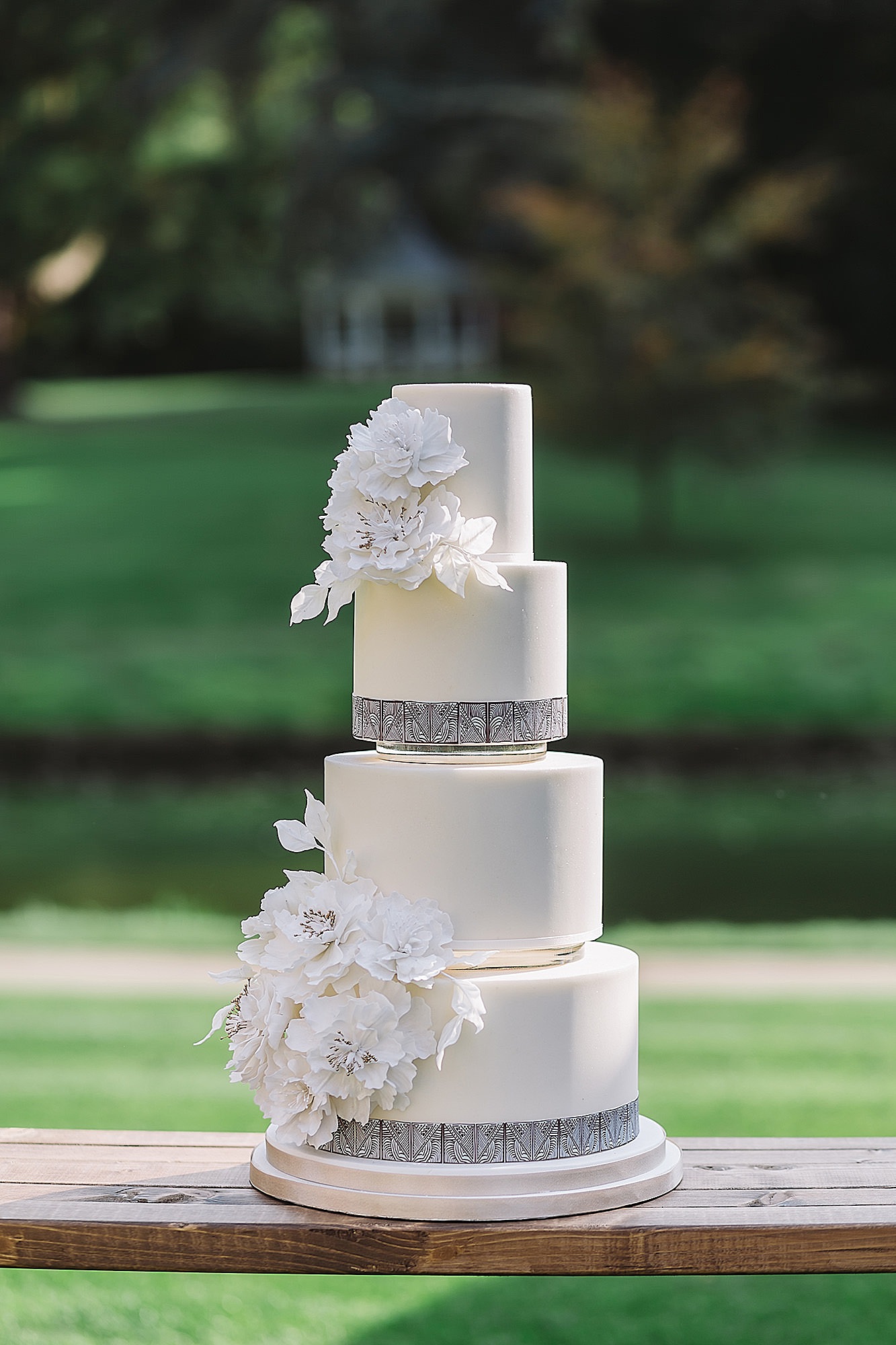 "Hair and Makeup looks designed to fully embrace natural beauty, were created by Brides by Aina. M to demonstrate an appreciation for the African heritage. They intertwine themes for this inspirational shoot with a desire to actively showcase the multidimensional beauty of women of colour."
"Hair was adorned with heirloom hair piece designed by HoneyV which combined the fun relaxed afro vibe with cool luxurious styling."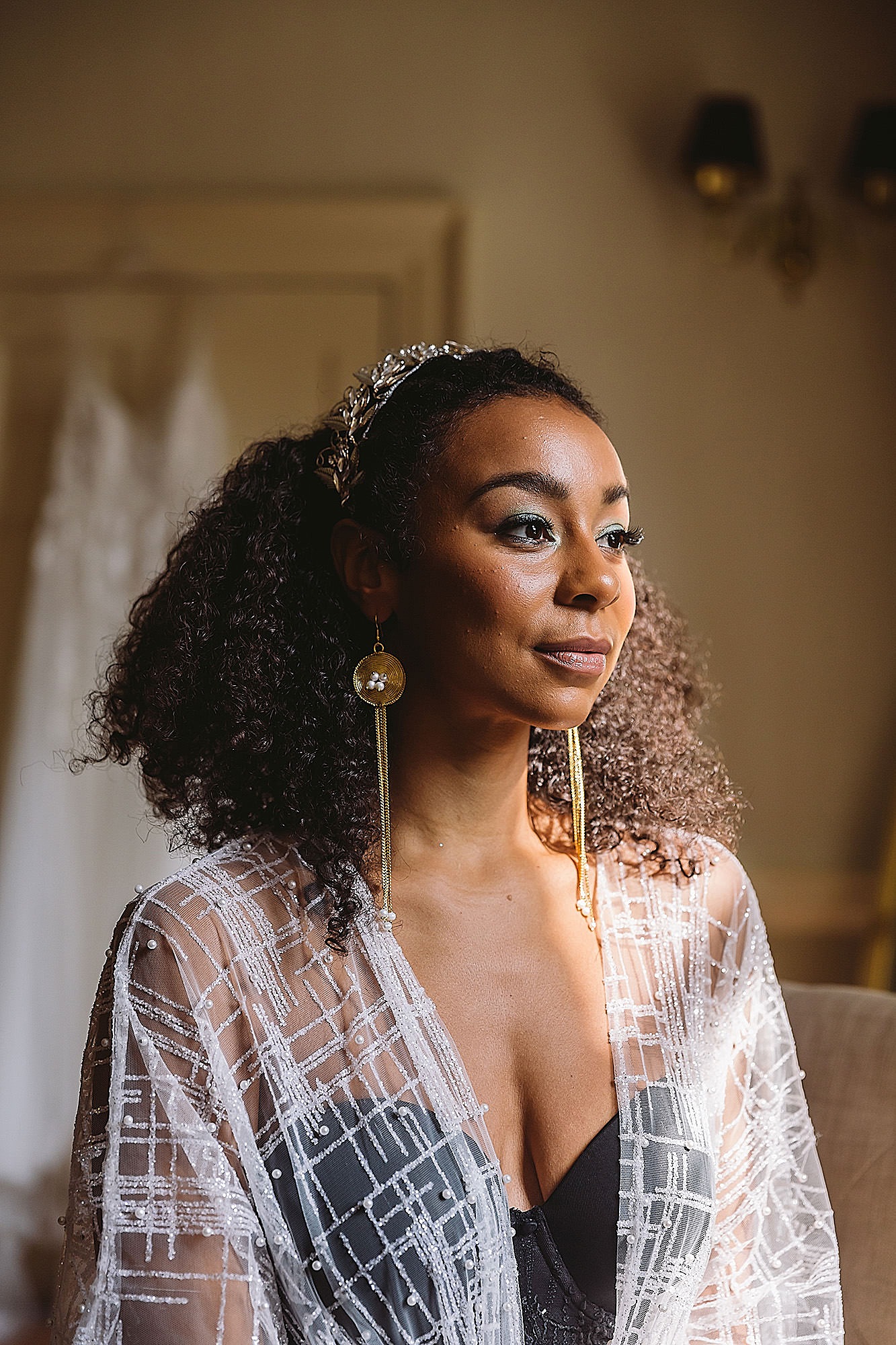 "The bespoke floral designs created by Bohotanical were an opportunity to include elements sensitively drawn upon cultural heritage in a way that is both respectful and authentic whilst marrying the design with the chic, fashion-forward interests of many couples today."
"This involved selecting native African flowers and foliage (or their very closest equivalents) and handling them in a contemporary way."
"The floral design used mostly artificial plants, foliage and flowers, with just a few different dried palms sprayed white and gold for accents. The sheaf-style bouquet encapsulated the main colours of the concept."
"To the outdoor ceremony space, fern accents at the ends of the rows, with two larger installations either side of the Lapa were flanked by potted plants and simple arrangements. The table arrangement was adorned with some simple wild orchid and gladioli stems to create more of a tropical look."
"The unique dress stocked exclusively at Heart AFlutter Bridal , epitomises what this brilliant forward thinking boutique stand for; inclusivity and diversity.  The Afro Chic story is perfectly echoed in their values to help brides from so many different cultures and backgrounds."
Visit the Heart Aflutter Bridal boutique website. We highly recommend them.
"Our Bride for the Tropical concept, Yasmin Chadwick, displayed a timeless romance and fresh aesthetic in a Tara Lauren dress."
"Charlotte Mills bridal shoes were the perfect coupling for style conscious brides, giving them a more fashion forward option to traditional wedding shoes."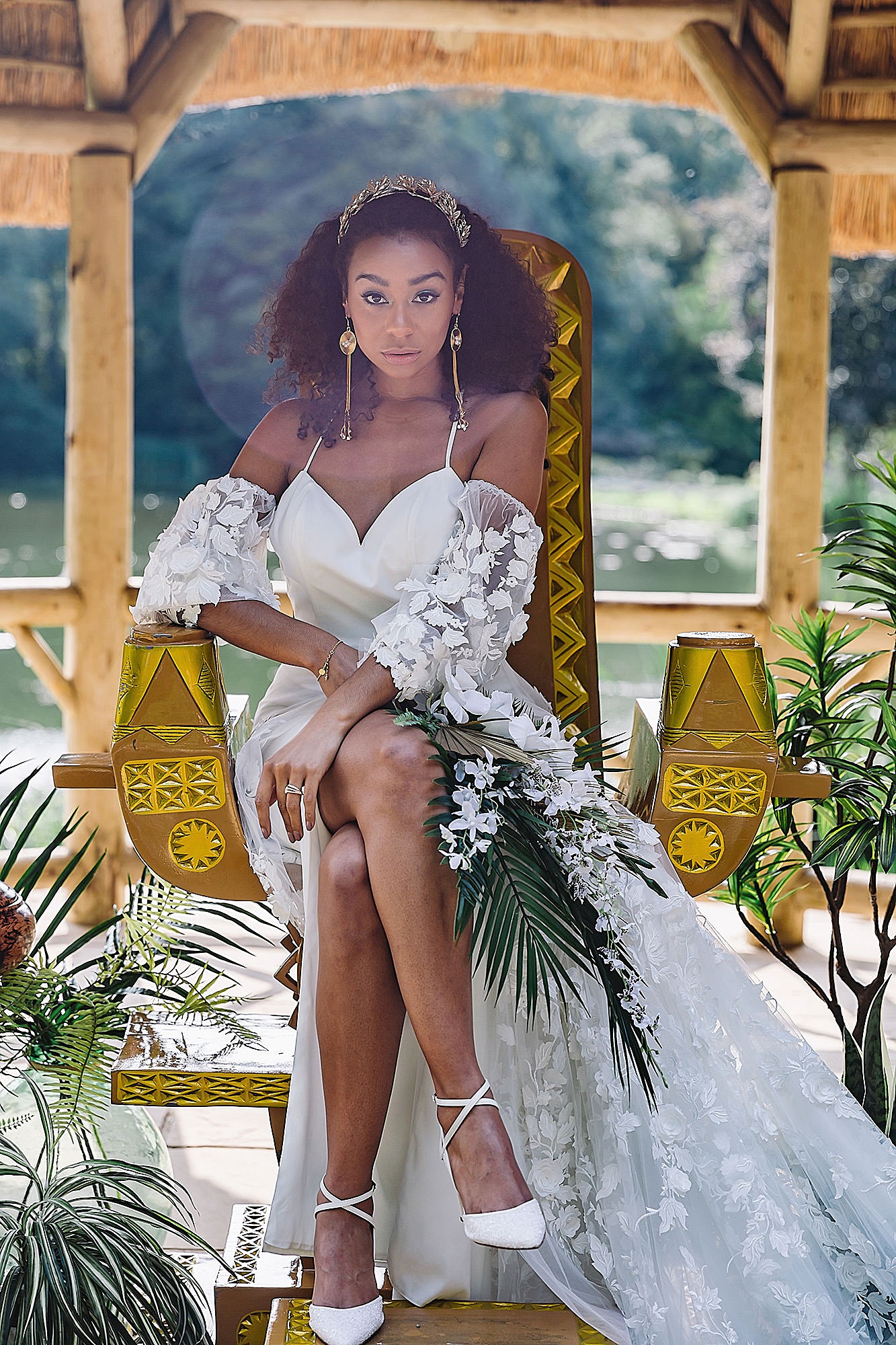 "For an extra special touch the getting ready robes created by Sherah celebrate individuality, boldness and confidence. The Cherry Loe bridal robe featured in the tropical concept is a kaftan style robe created with delicate tulle fabric and adorned with glitter and pearls perfect for the bride in search for a unique accessory to get ready in."
"Aflé Bijoux created finely crafted jewellery inspired by African traditions with the use of Adinkra symbols. The jewellery symbols represent a celebration of the beauty of the African heritage, timelessness and pertinence in the present days."
"The earrings and bracelet are a statement to tradition whilst blending the preciousness of the contemporary reality."
"The styling beautifully executed by Angels & Gypsies created a show stopping décor for couples who want to pay homage to their cultural roots whilst intertwining with modernistic features."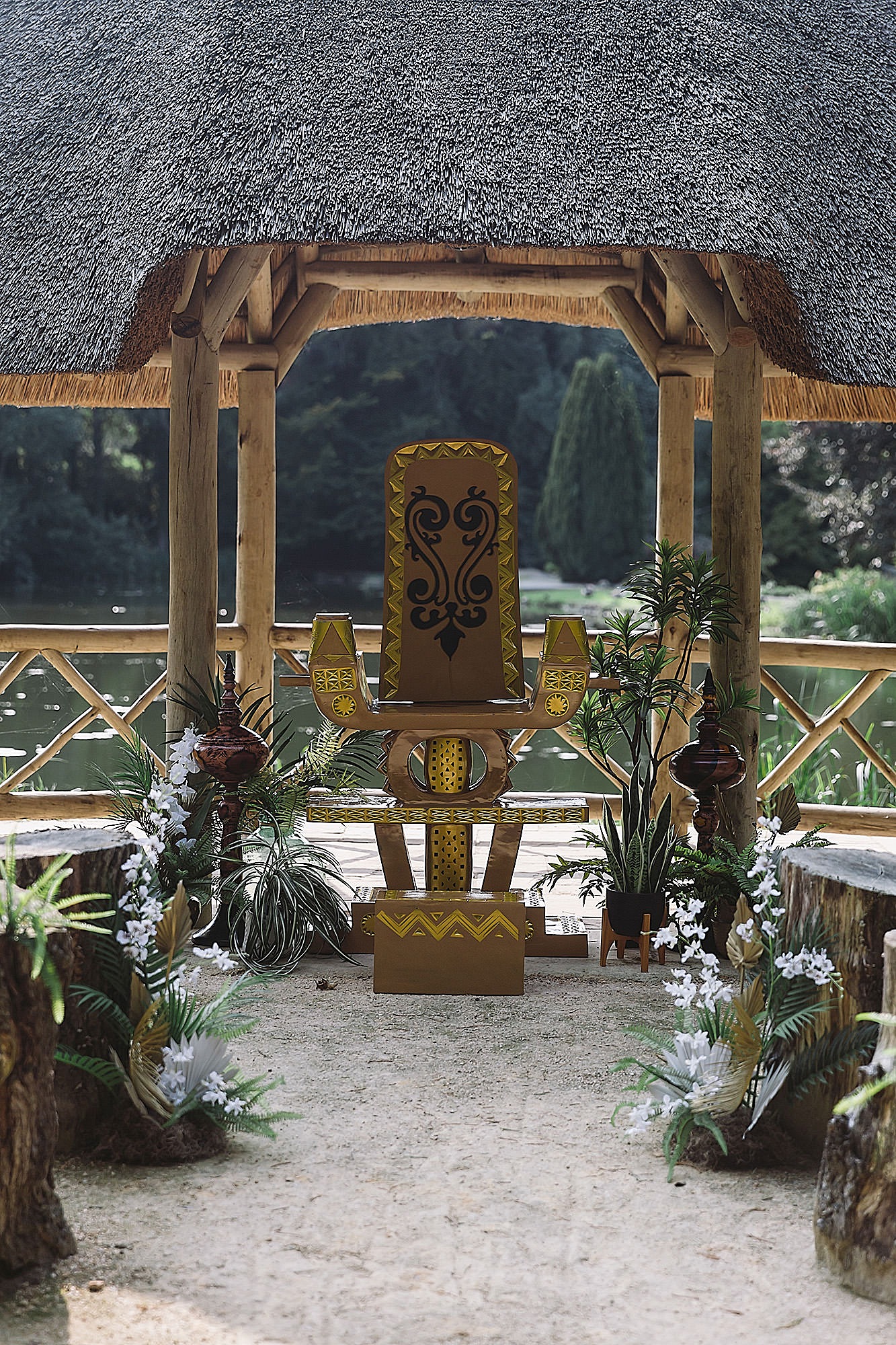 "Angels & Gypsies completed the styling for the tropical concept to include emerald green table cloth and napkins, further adding to the tropical outdoor feel with black cutlery, gold charger plates, gold napkin rings and a green patterned runner."
"Wilderness Prop Hire showcased their cake swing in this look and further props provided included green coloured glassware which added the perfect accent to the tropical styled table."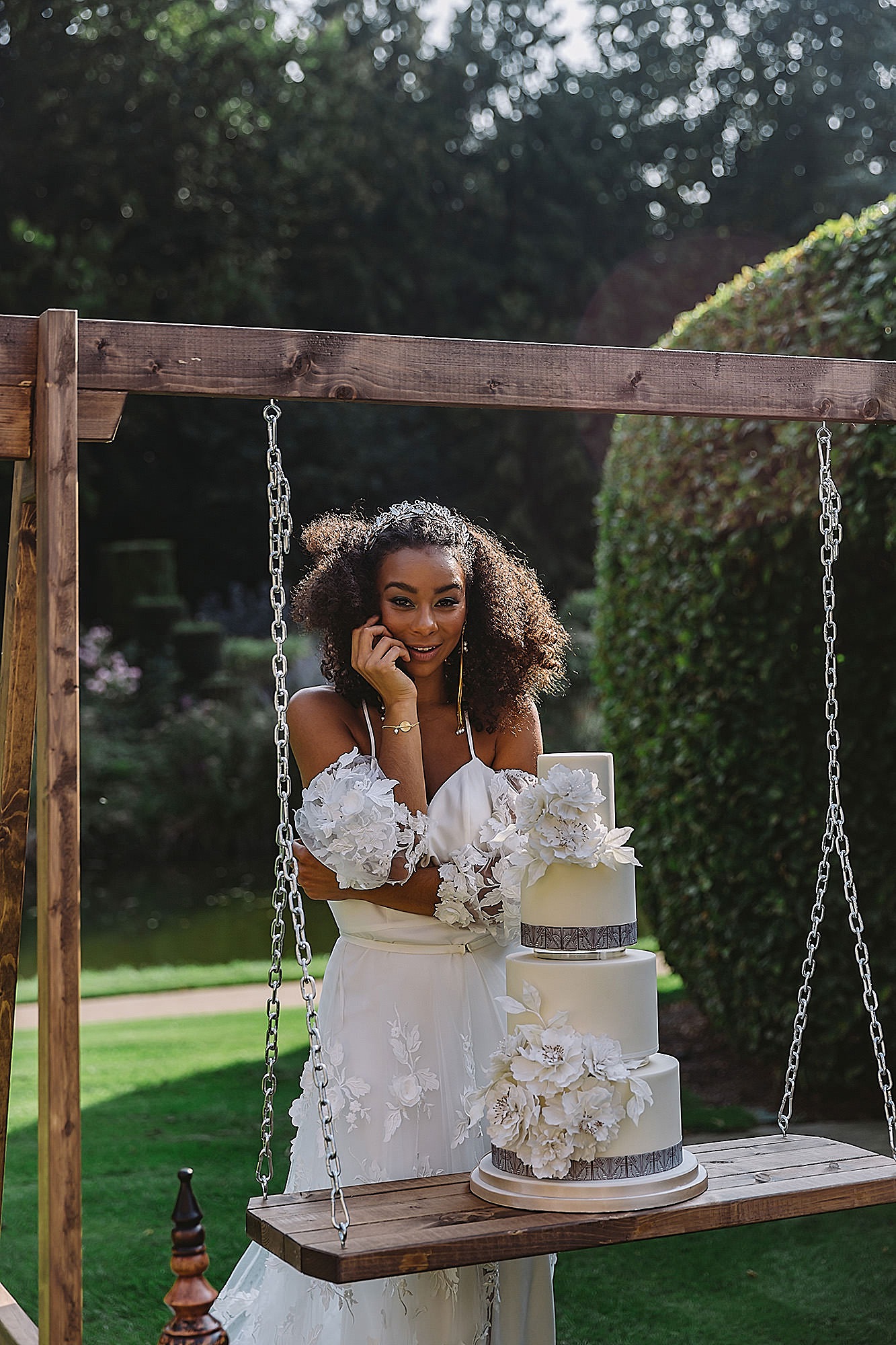 "The African décor pieces were courtesy of Adehye Luxury Events. All their pieces featured the beauty of the rich African heritage and culture whilst blending with a modern way of celebrating weddings."
"The throne took centre stage in the Lapa, geared to bring out the queen in every bride!"