I always enjoy writing about London weddings, probably because it's currently where I make my home, and so it's always fun to see familiar landmarks, but also so many of the hidden gems the city has in such abundance.
Today's relaxed celebration also boasts a gin and tonic and cocktail bar, a classic Routemaster bus, a temporary tattoo stand and photobooth, and doughnuts galore. Ruth, who works in leadership development and coaching, married her love James, who works in banking on the 7th March 2020 at the spectacularly beautiful Asylum Chapel in Peckham, South East London. They followed this up with a reception at the antique filled Georgian mansion, Brunswick House.
Emily Rose Photography

+ Follow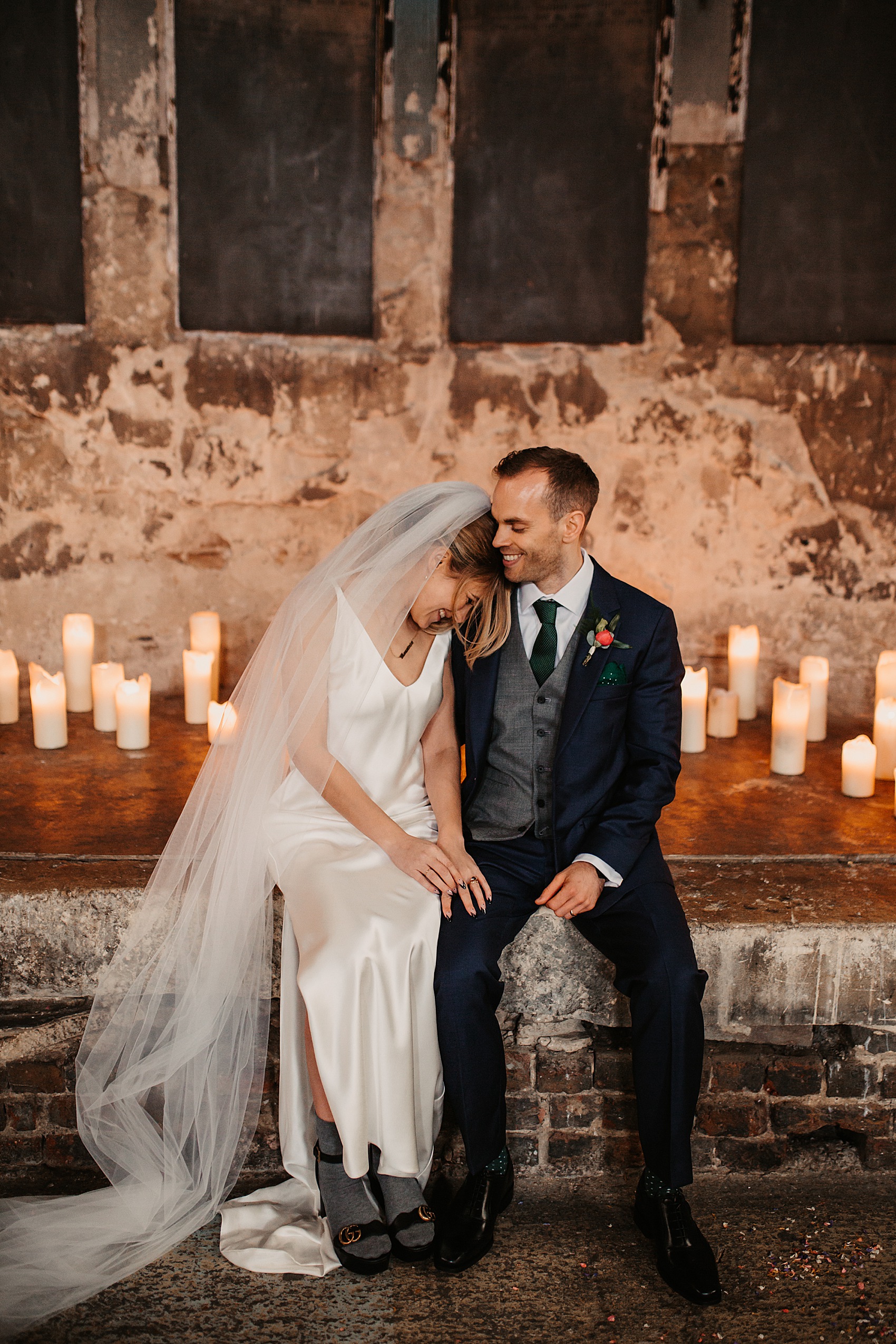 "We originally toyed with the idea of getting married in Ireland (where I'm from) but we knew that we wanted a really intimate ceremony and the majority of our guests would only be joining us for the after party. Most of our friends are in or around London, so we didn't think it would be fair to ask them to travel too far just for the sake of a few hours. We also met and have spent a large part of our life together in London, so it seemed fitting to celebrate our relationship there."
On her feet, Ruth wore Gucci platforms, which she chose so she would be able to wear them all day and night – and over and over again, too.
Earrings were gold drop heirloom pieces belonging to her Mum, who wore them on her own wedding day, and which had also belonged to Ruth's grandmother beforehand, too.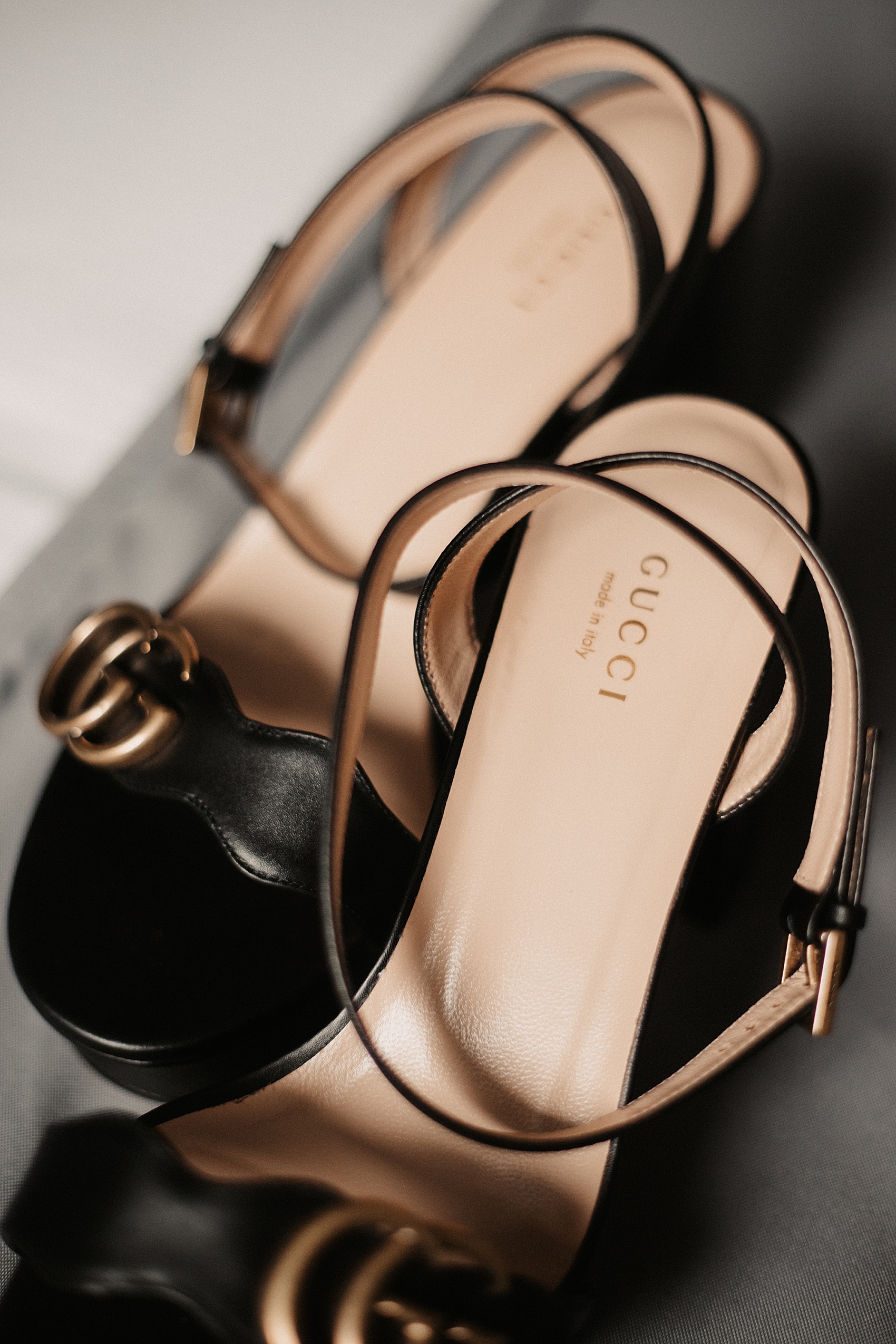 Ruth's softly tousled ponytail was styled by one of her best friends from home, Kathy McLean, and elegant bridal make-up was by Tabitha Thomas, who was recommended to Ruth by a friend. Dramatic nail art came courtesy of the super-talented BhamBNails.
"Tabitha's work felt like it matched my style and personality. I wanted something a bit sultry, and to add a darker lip for the evening party, and Tabitha understood exactly what I was looking for. She is also probably one of the coolest and nicest people I've ever met. I cannot recommend her highly enough."
"I was also gifted a beautiful garter from Hayze Boutique. It had two little rows of hanging pearls that peeked out from the side split in my dress, complementing the pearl details on my shoulders, which I loved as an added detail."
"I wore Jo Malone Wood Sage & Sea Salt mixed with English Pear & Freesia. It was a gift from our friend Sarah (the one who originally introduced James and I) because I admitted to her about two weeks before the wedding that I didn't have a perfume and didn't foresee having any time to go shopping for some."
"Scent is really important to me, and I'm obsessed with nice smells – luckily she knows my taste really well and picked a beautiful combination."
It's amazing to read that Ruth had such a lovely experience at her chosen bridal boutique – our Little Book members Heart Aflutter Bridal Boutique in East London. There she chose her beautifully slinky Cathleen Jia gown; slip dress in style with a low V-back and subtle train.
"The team at Heart Aflutter are amazing. I wasn't super comfortable or looking forward to dress shopping to be honest, and I knew I had a limited time given we were planning the wedding in six months."
"Portia put me at ease and made the whole experience really lovely. She genuinely listened to me, was so friendly and wasn't pushy at all. The first dress she pulled ended up being the one I went with."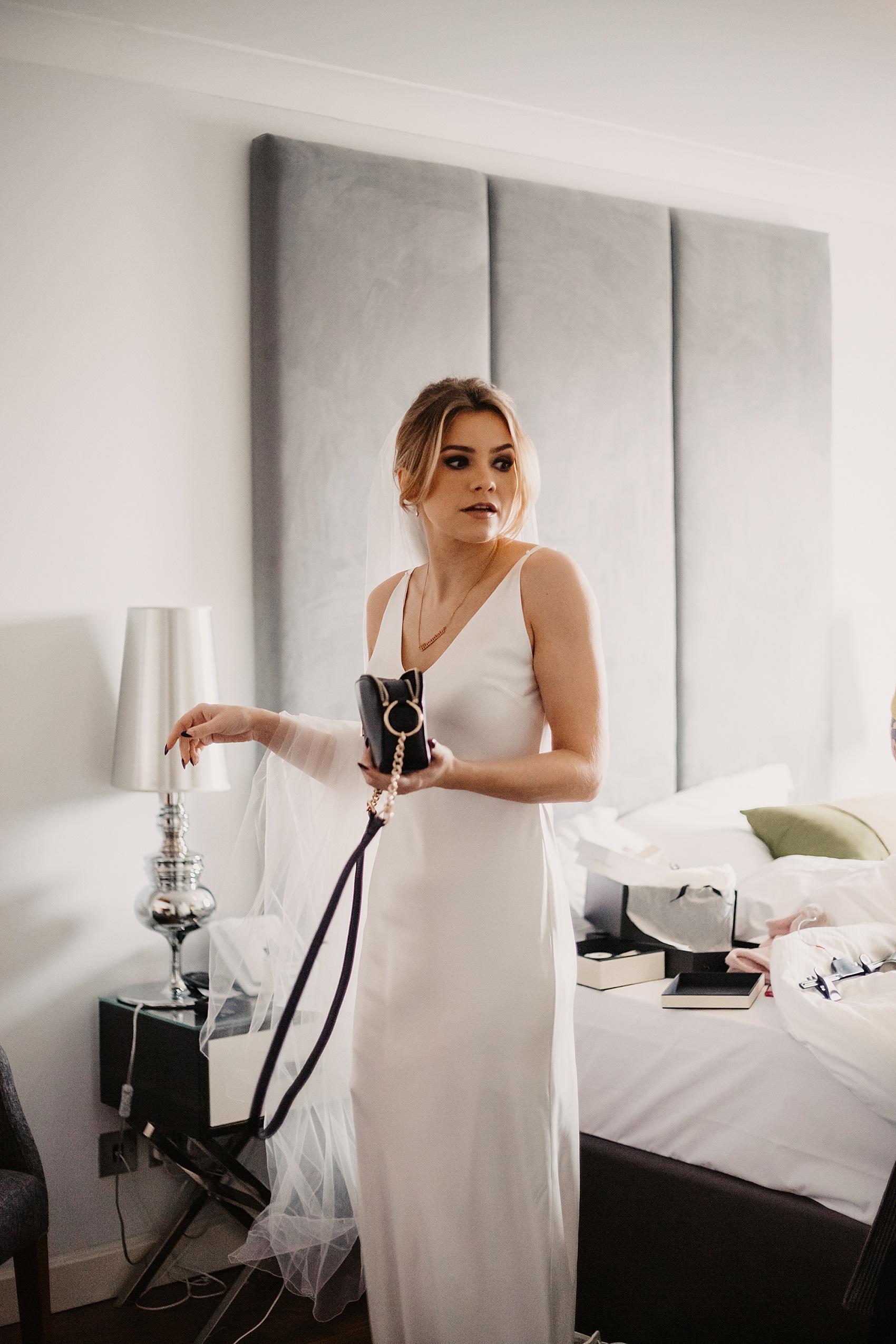 "I knew right from the beginning what I wanted my dress to look like – silk, sleeveless and with a V neck and low back. Everyone told me that I would probably end up choosing something completely different from what I had in mind, but I actually ended up finding a dress that matched my idea perfectly! What I loved the most about it was how unbelievably comfortable it was. It literally felt like I was wearing pyjamas."
"Sustainability is also important to me, and so Cathleen Jia's ethos as a designer meant a lot to me as well. Her dresses are designed to be wearable beyond your wedding day, and I plan on shortening and dyeing mine so that I can wear it for years to come."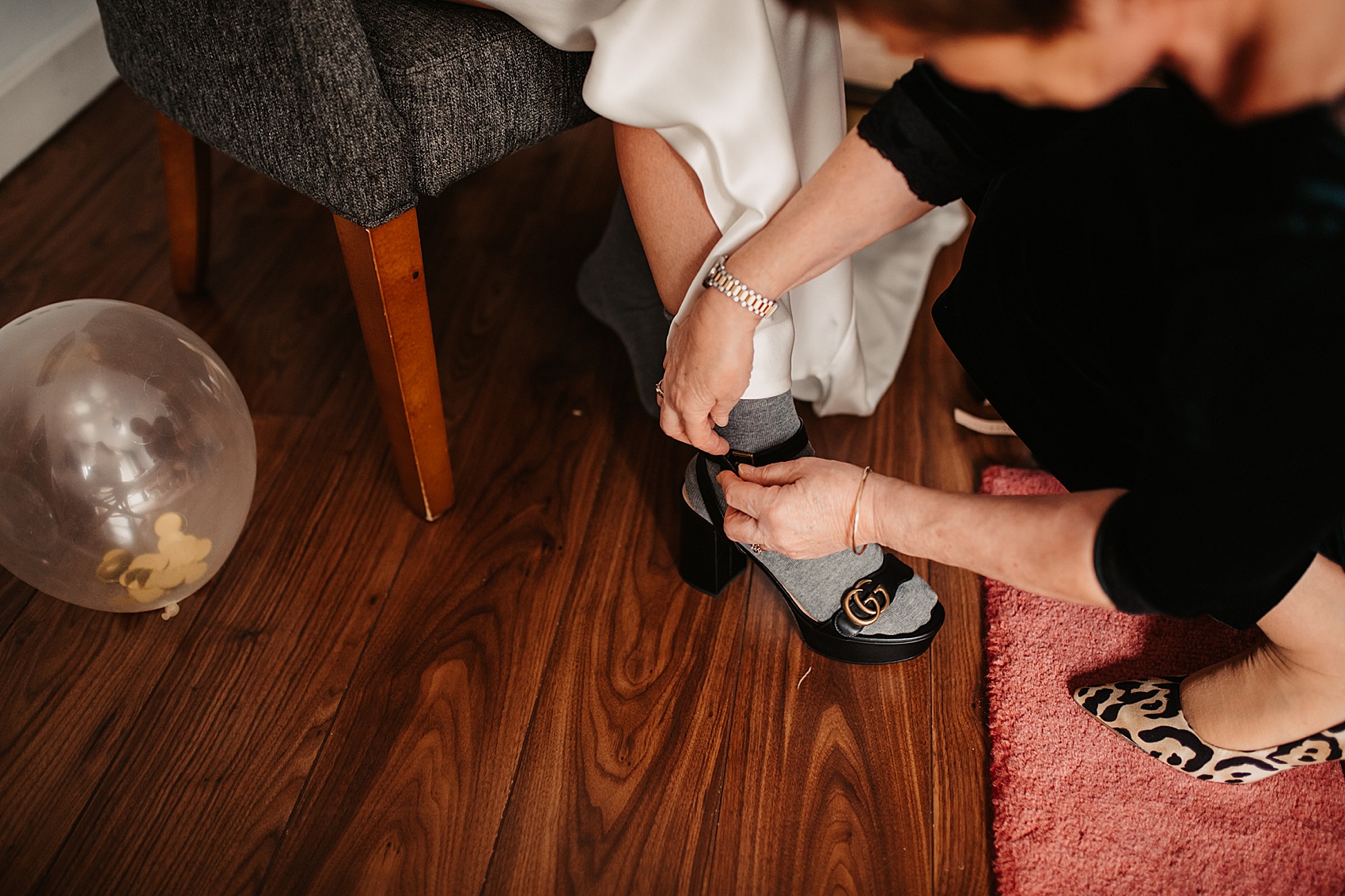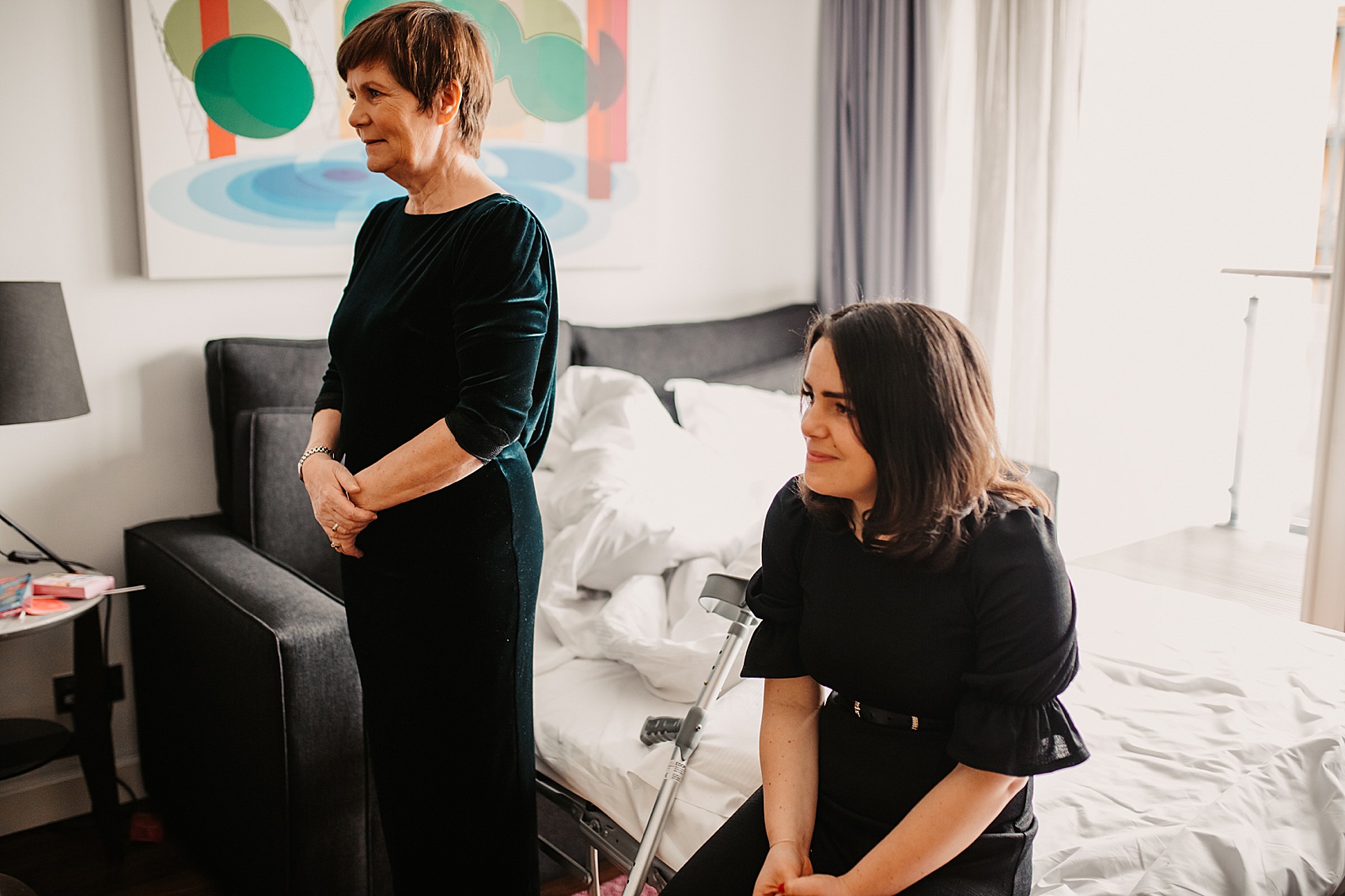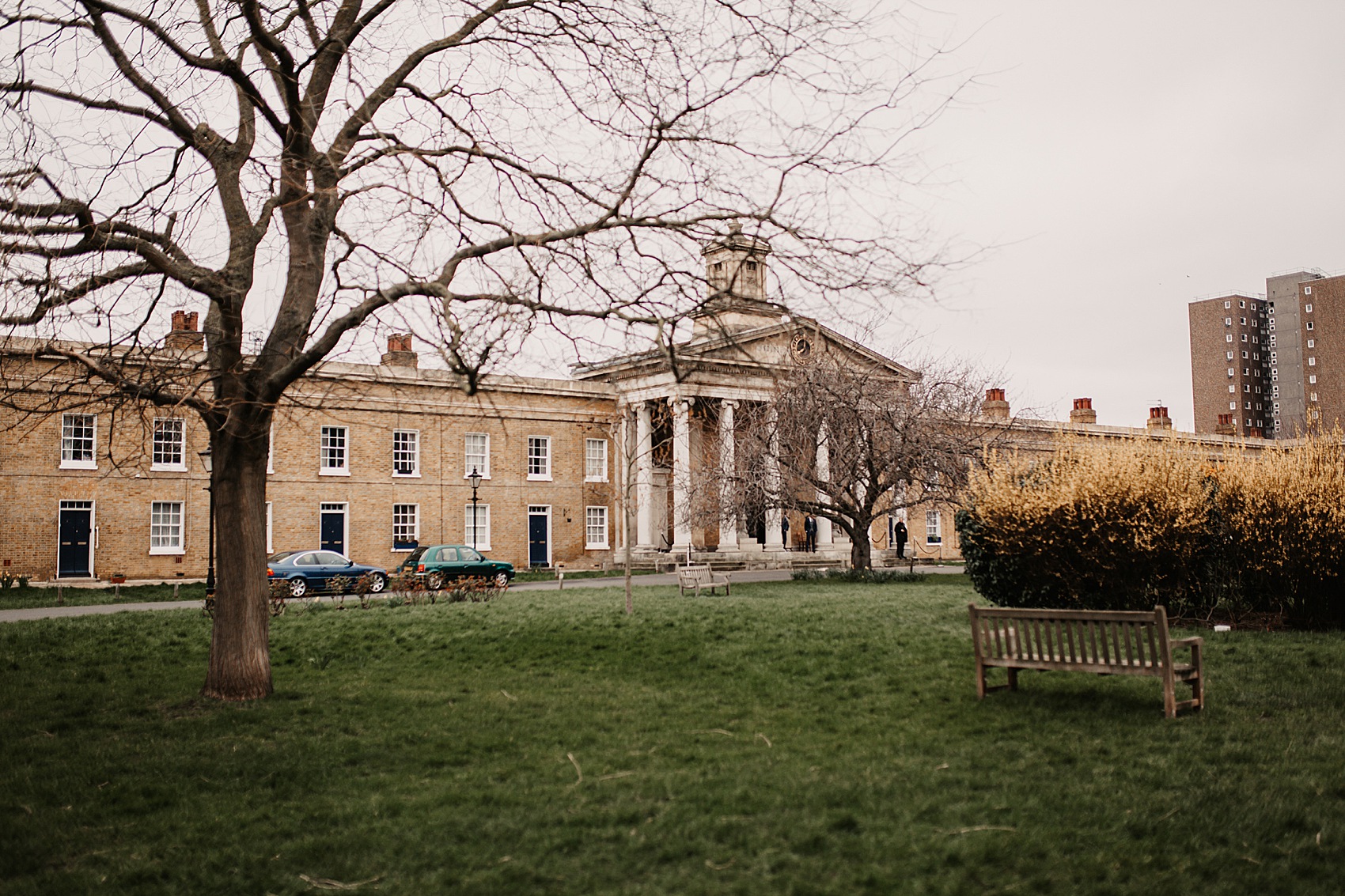 Over at Asylum Chapel, pillar candles were lit and festoon lights twinkled across the walls. A string trio from Stretto Ensembles via Encore Music played as guests gathered, and as Ruth's two nieces (as flowergirls) and the Bride and her Dad walked down the aisle, they played a specially arranged version of Harvest Moon by Neil Young.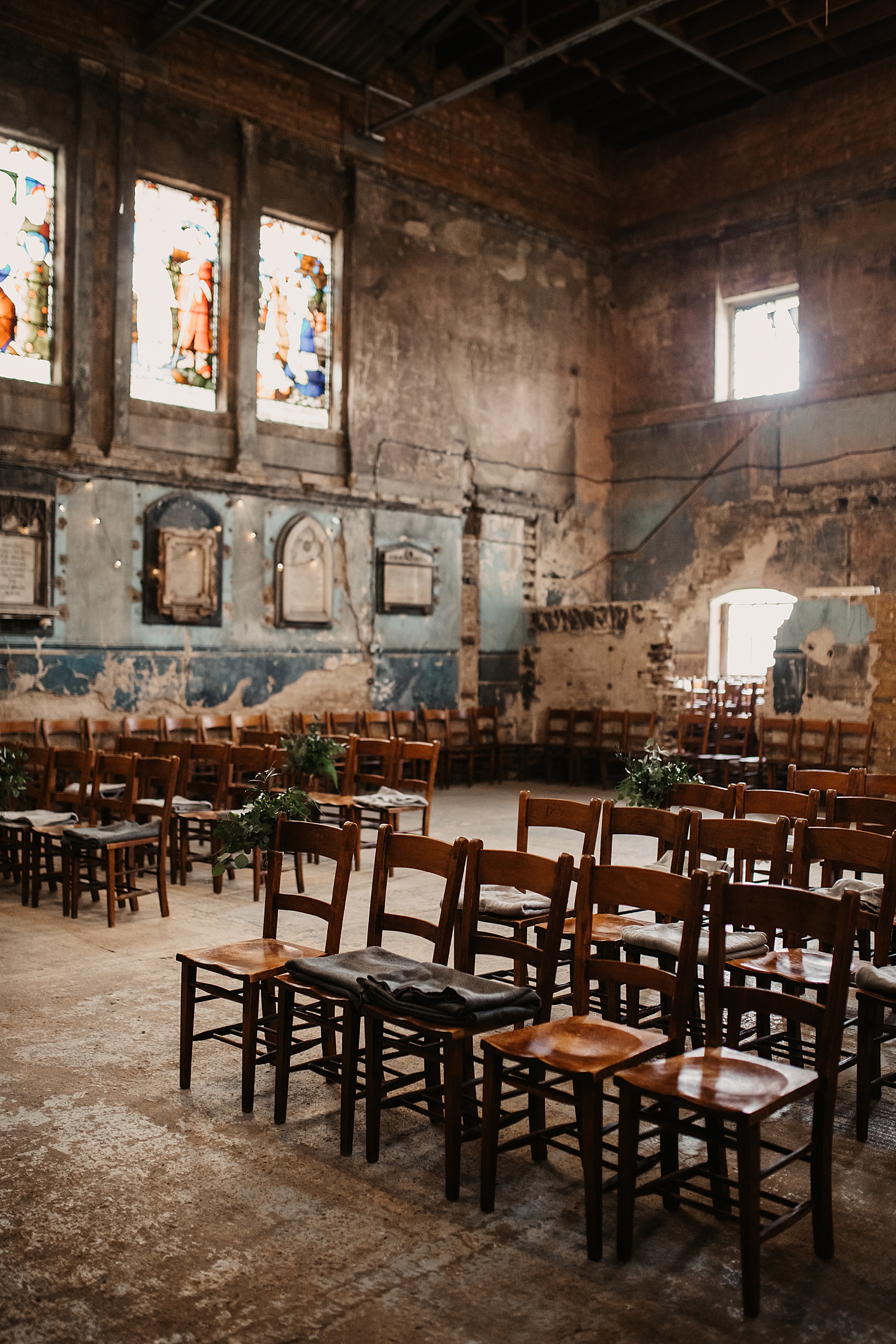 We've shared so many beautiful weddings at this incredible venue – see them all here.
"James found Asylum Chapel online, and as soon as I stepped inside I just knew it had to be our venue.We didn't hire a planner but we worked with Frances Marden at the Chapel to coordinate the logistics for the venue, and she was brilliant."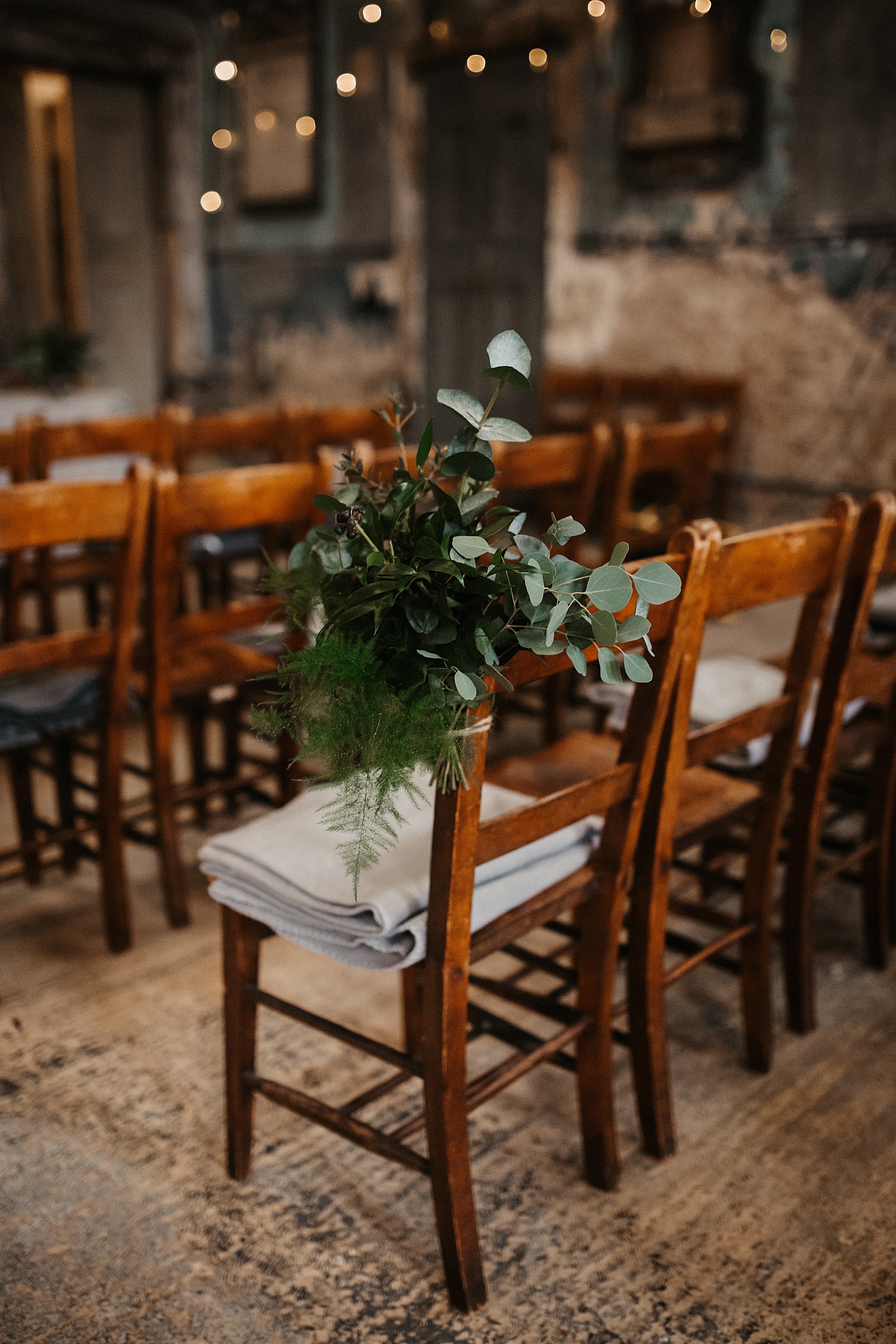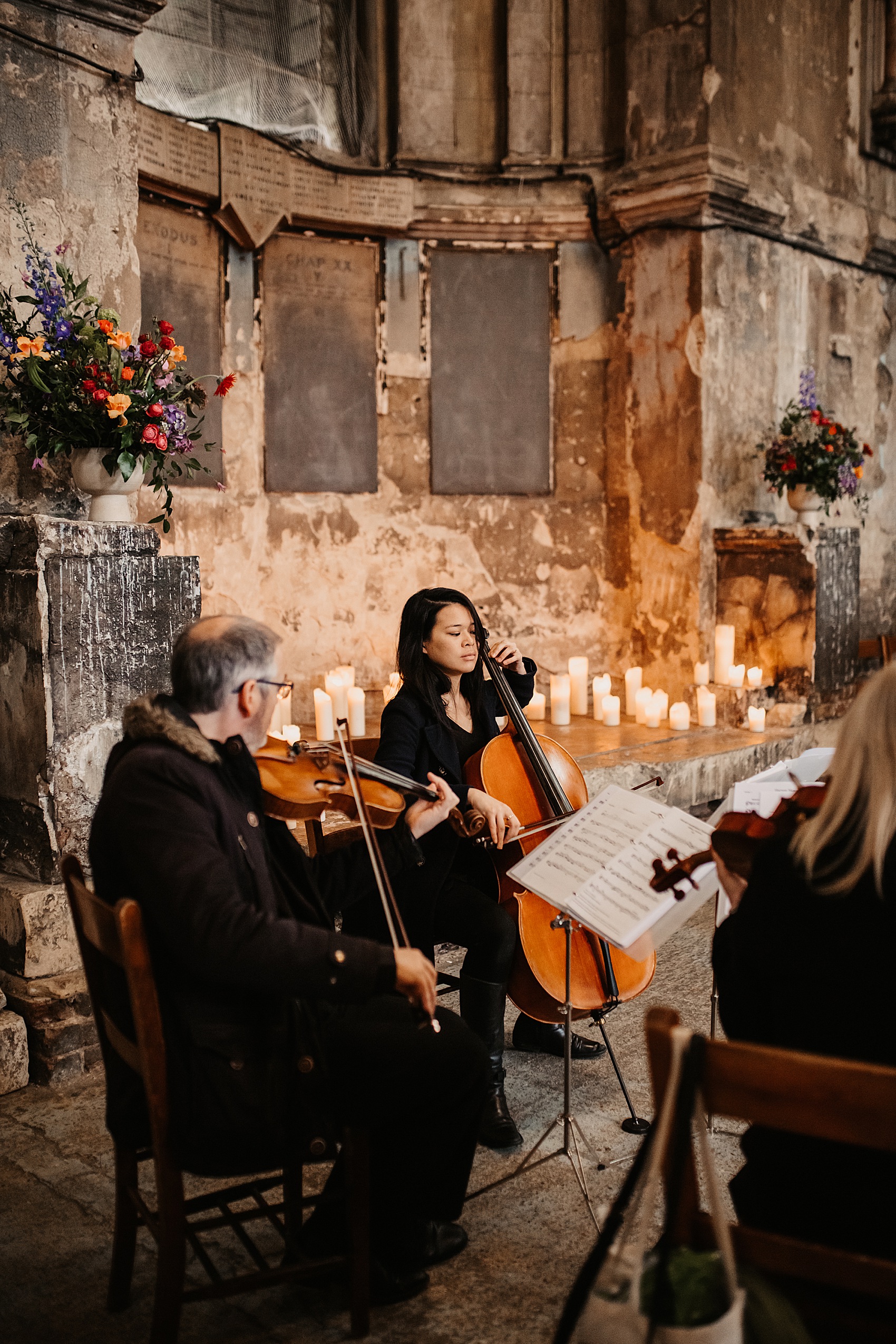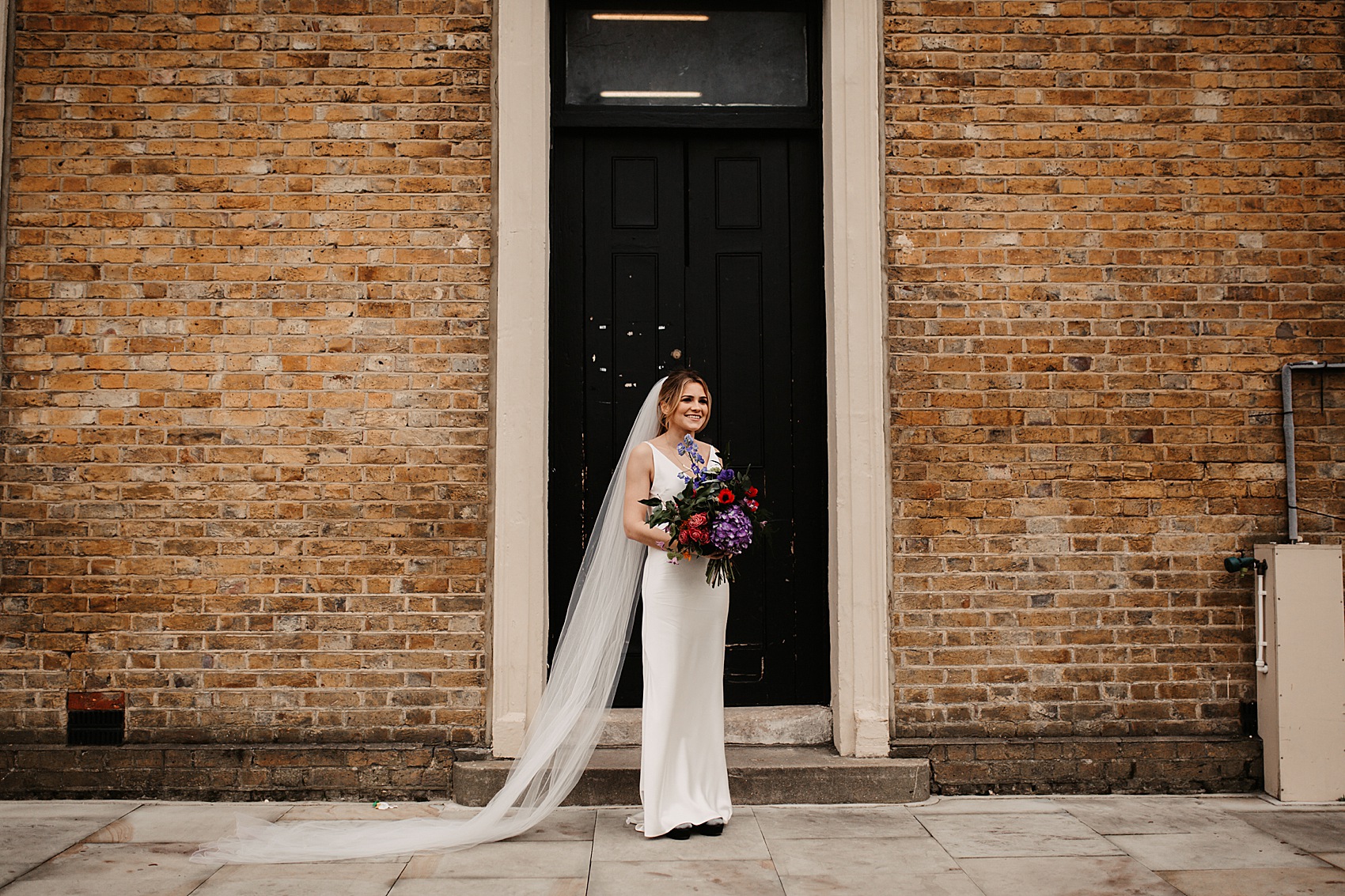 James wore a navy blue suit by Paul Smith, with a shirt, waistcoat and tie from T.M. Lewin, a green pocket square from Marks & Spencer, and shoes by Barker.
"James wanted something special that he could wear again. When he described what he had in mind the store assistant actually ended up pulling a suit from the stockroom that was out of season."
"It was perfect and it ended up being ridiculously discounted. The store also arranged all his alterations for the week before the wedding."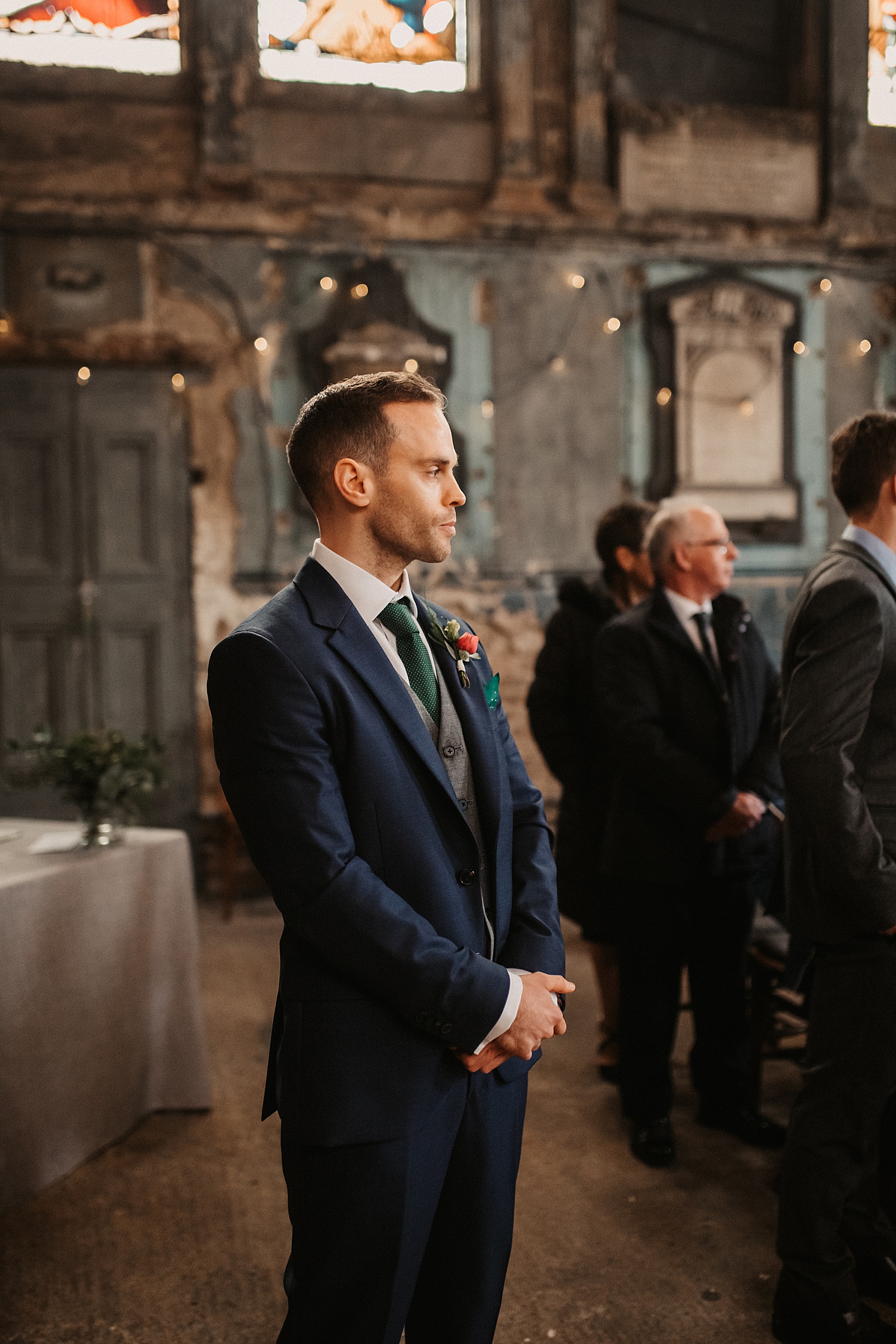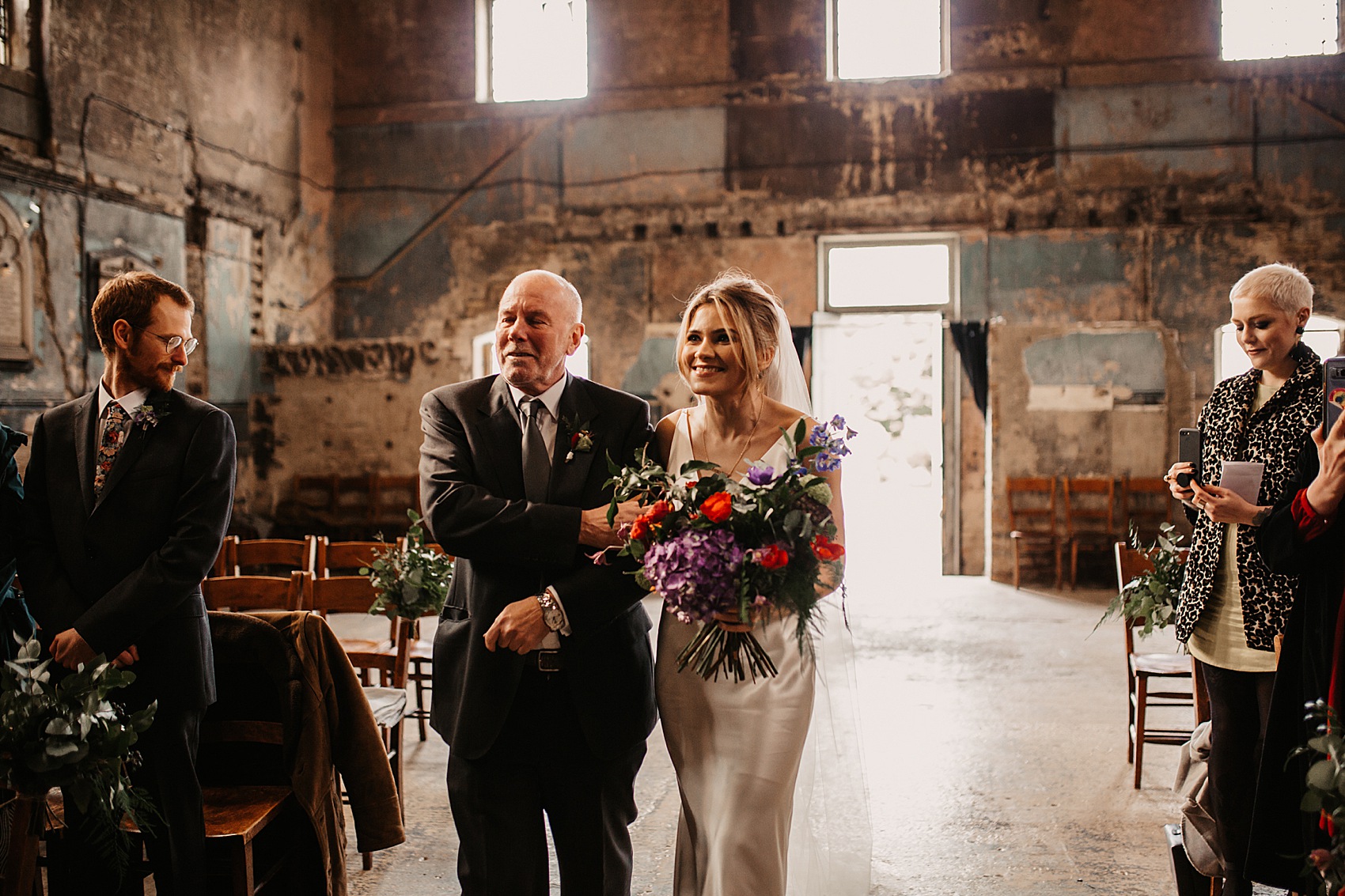 Ruth wore a custom-made nameplate necklace with James' surname by Hard Work, which was a lovely surprise for him at the ceremony, and a wonderful keepsake for Ruth to wear after the day. A finishing touch was provided by a chapel length veil borrowed from Ruth's sister, Hannah.
As part of their ceremony, the couple's friend Kathy read the English translation of One Hundred Love Sonnets: XVII by Pablo Neruda, which is a favourite of Ruth's.
Explore lots of more wedding readings here on Love My Dress
"Our wedding rings are both from Margaret Cross. Mine is a white diamond pave web that they customised to fit around my engagement ring, and James' is a plain gold band with the inscription 'Till death' inside."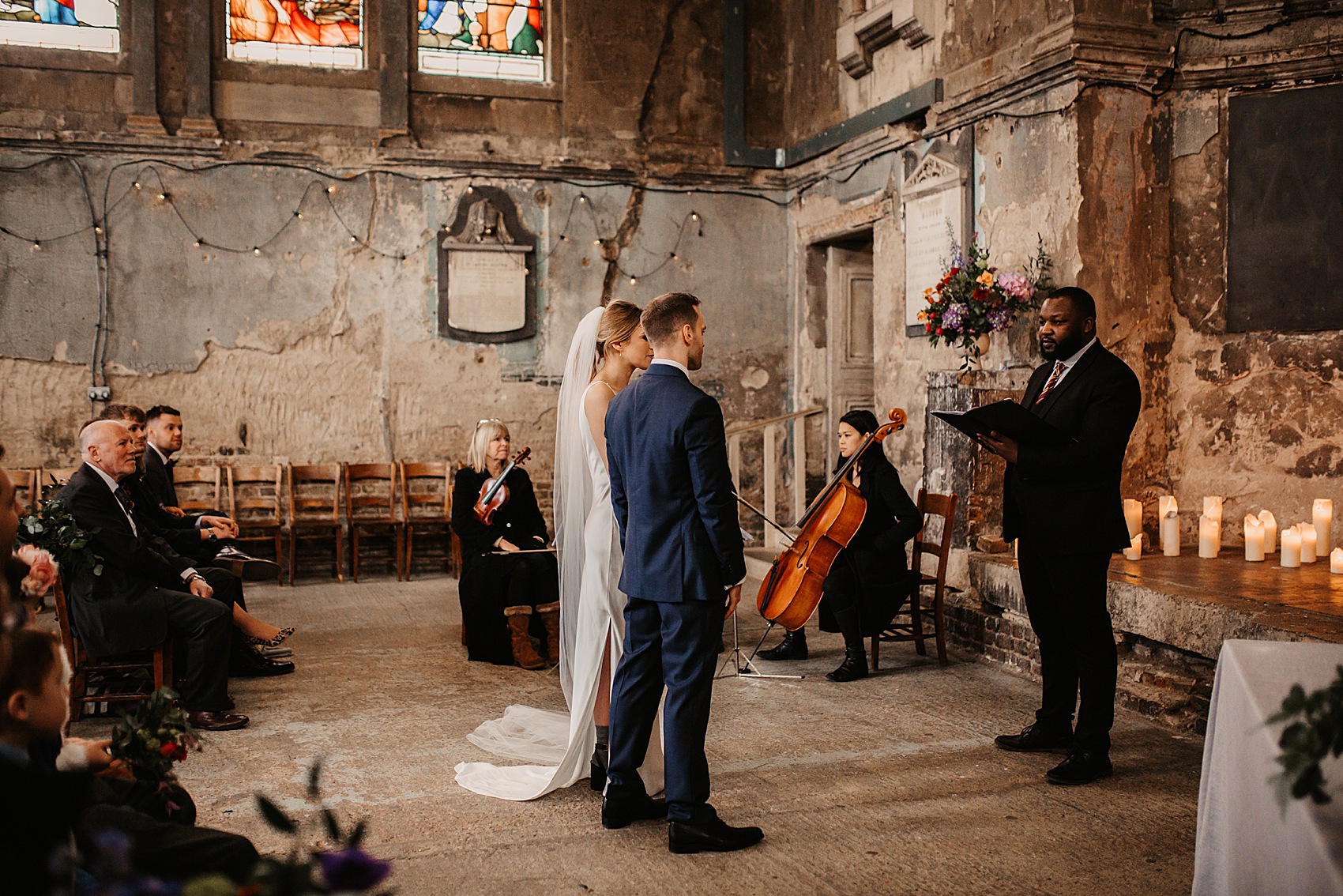 "A mutual friend Sarah introduced us and spent a couple of years trying to set us up. When Ruth moved to England and we met in person for the first time we instantly hit it off and started dating a few months later (much to Sarah's smugness and our annoyance at her being right!)."
"We got engaged in August 2019 – James proposed while we were on a walk along the Seven Sisters with a custom 'Galaxy Grey' diamond."
"As one friend put it, 'Proposing with a galaxy ring by the ocean, he really is perfect for you!' We got married just over six months later."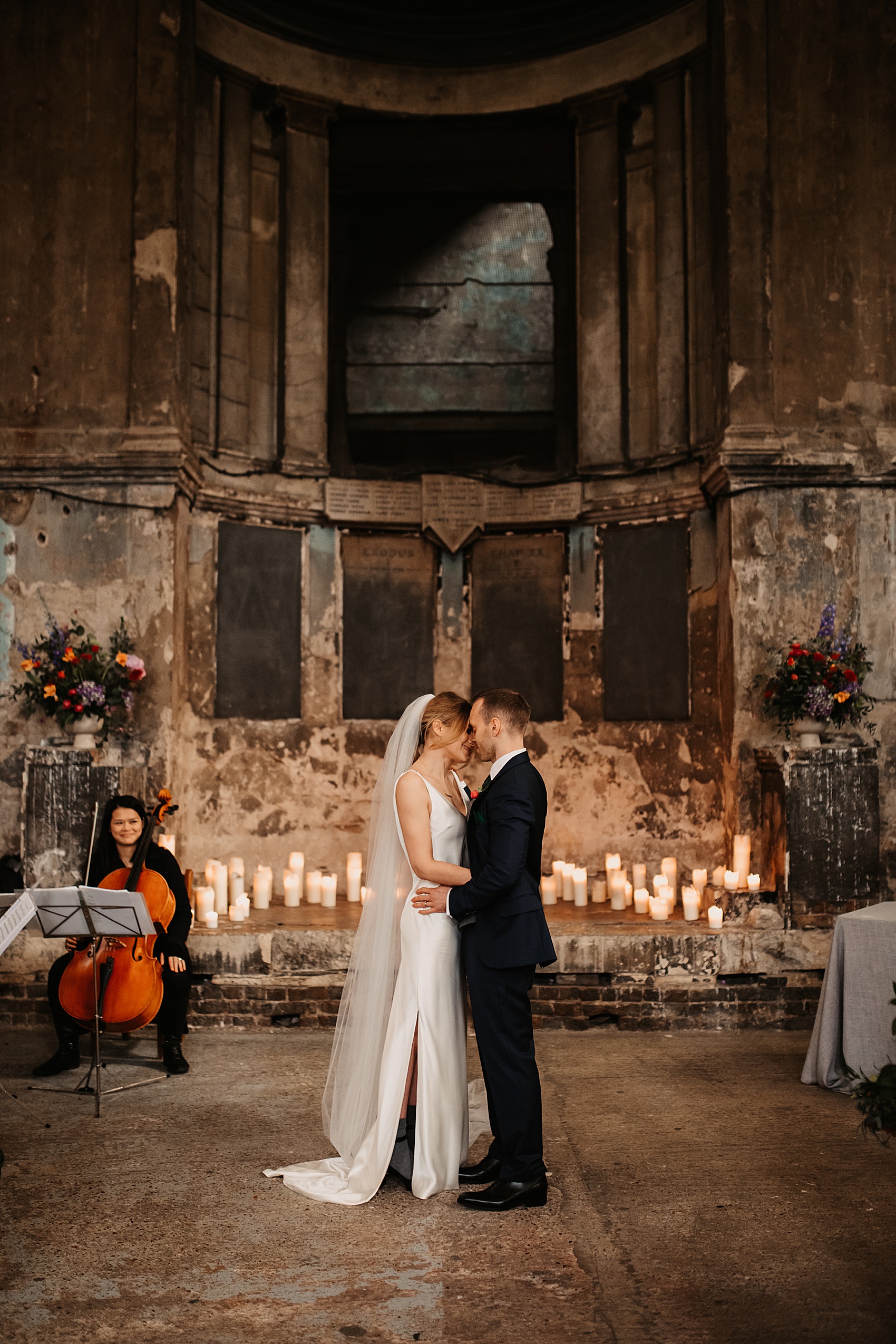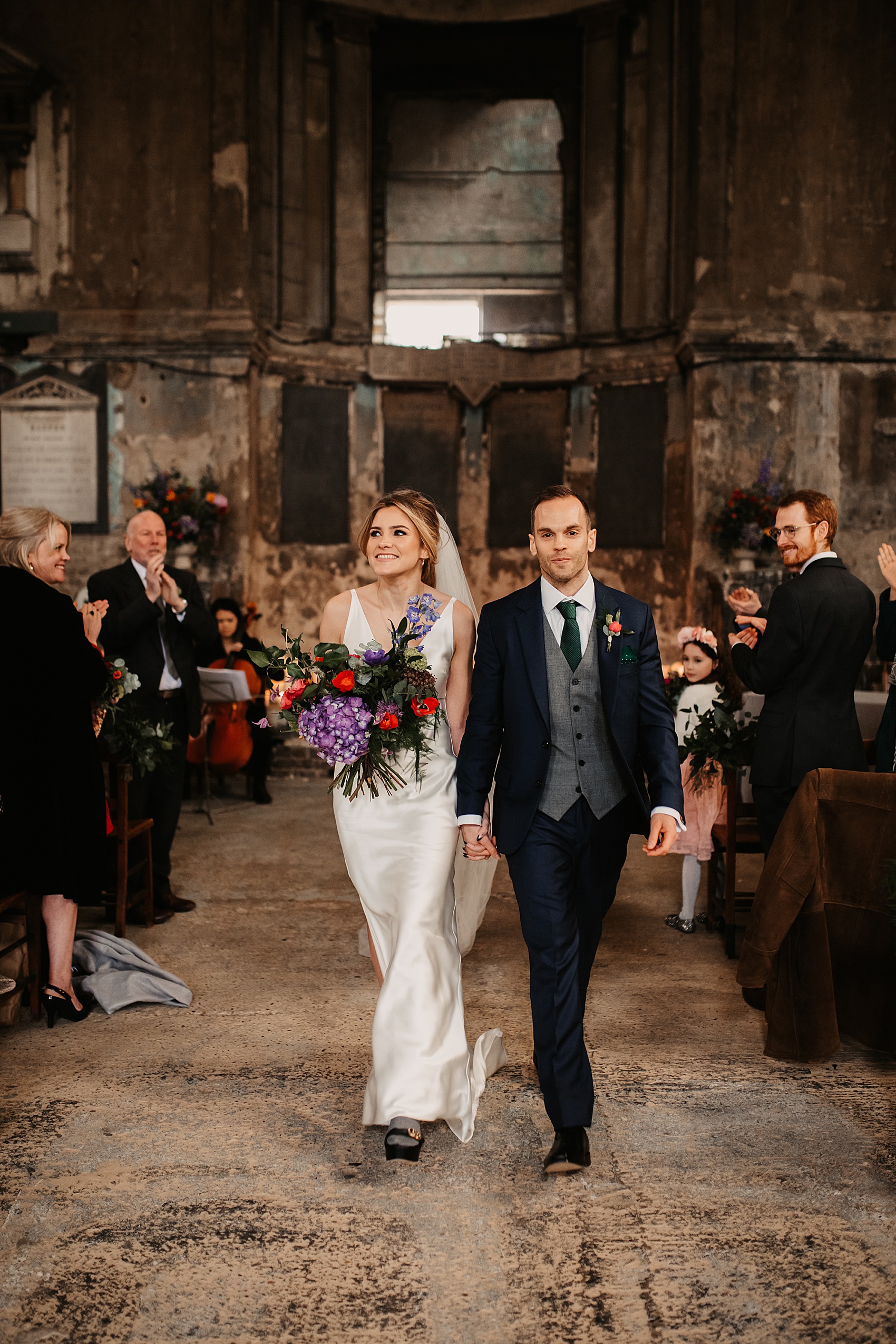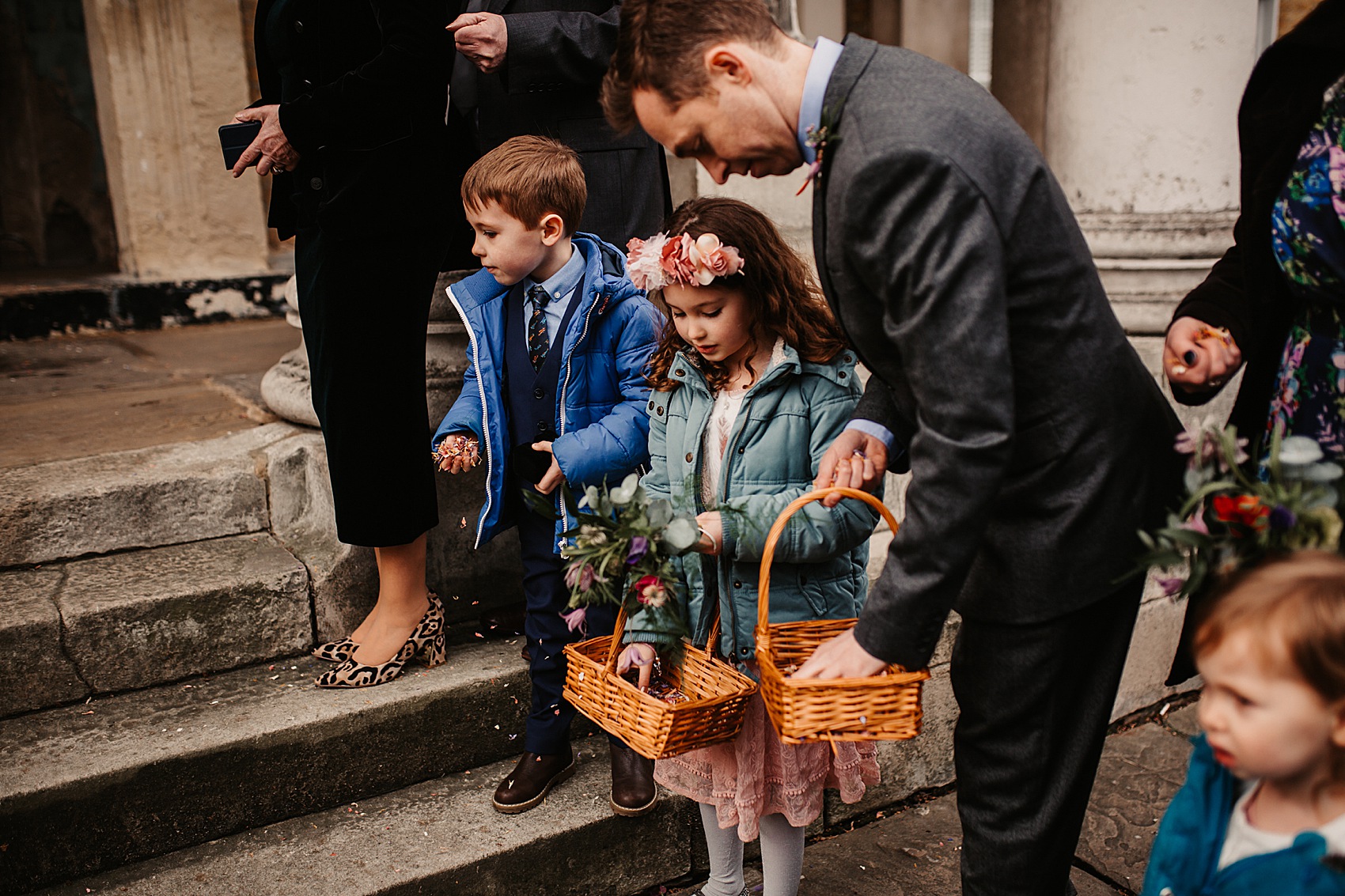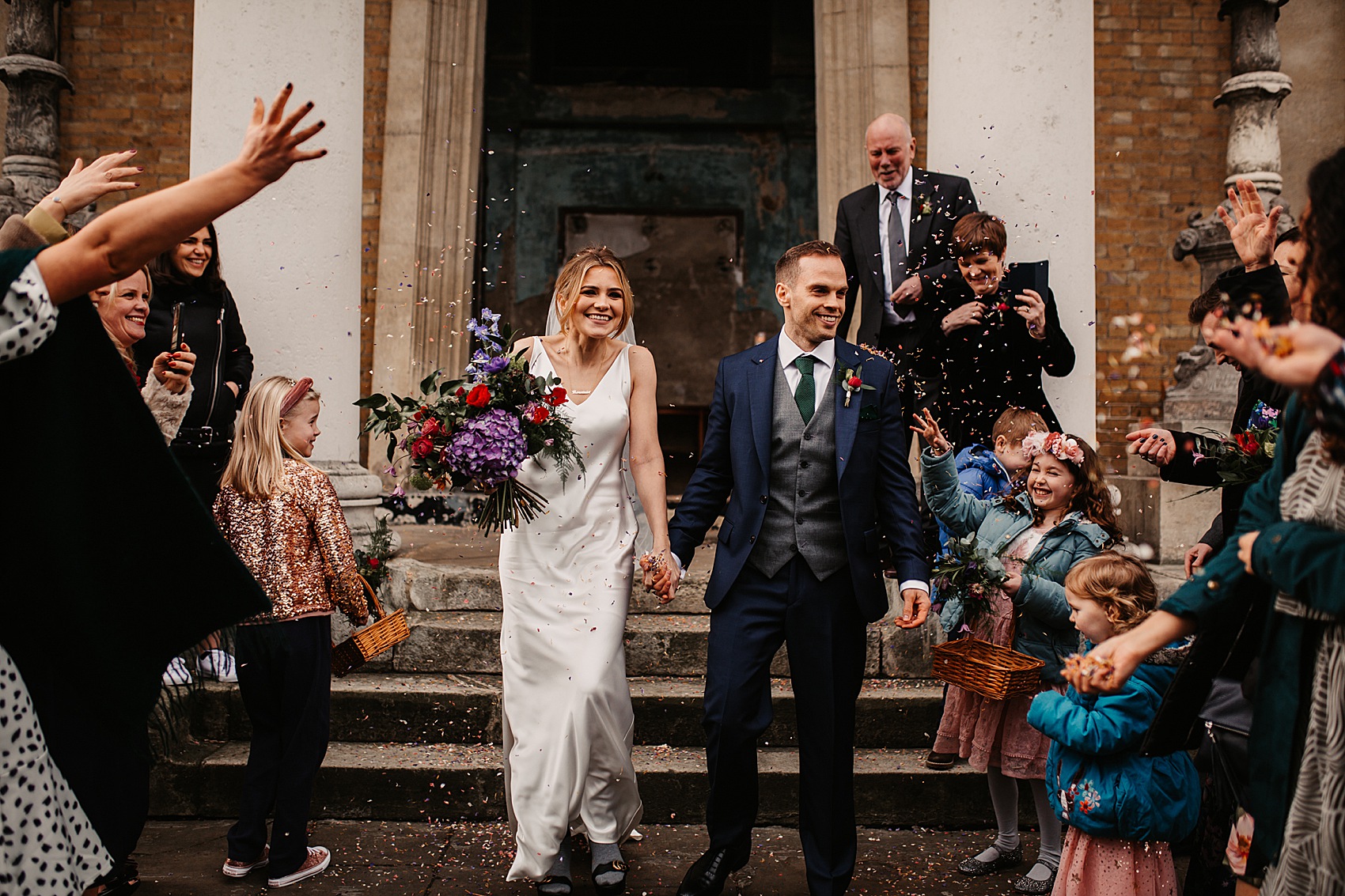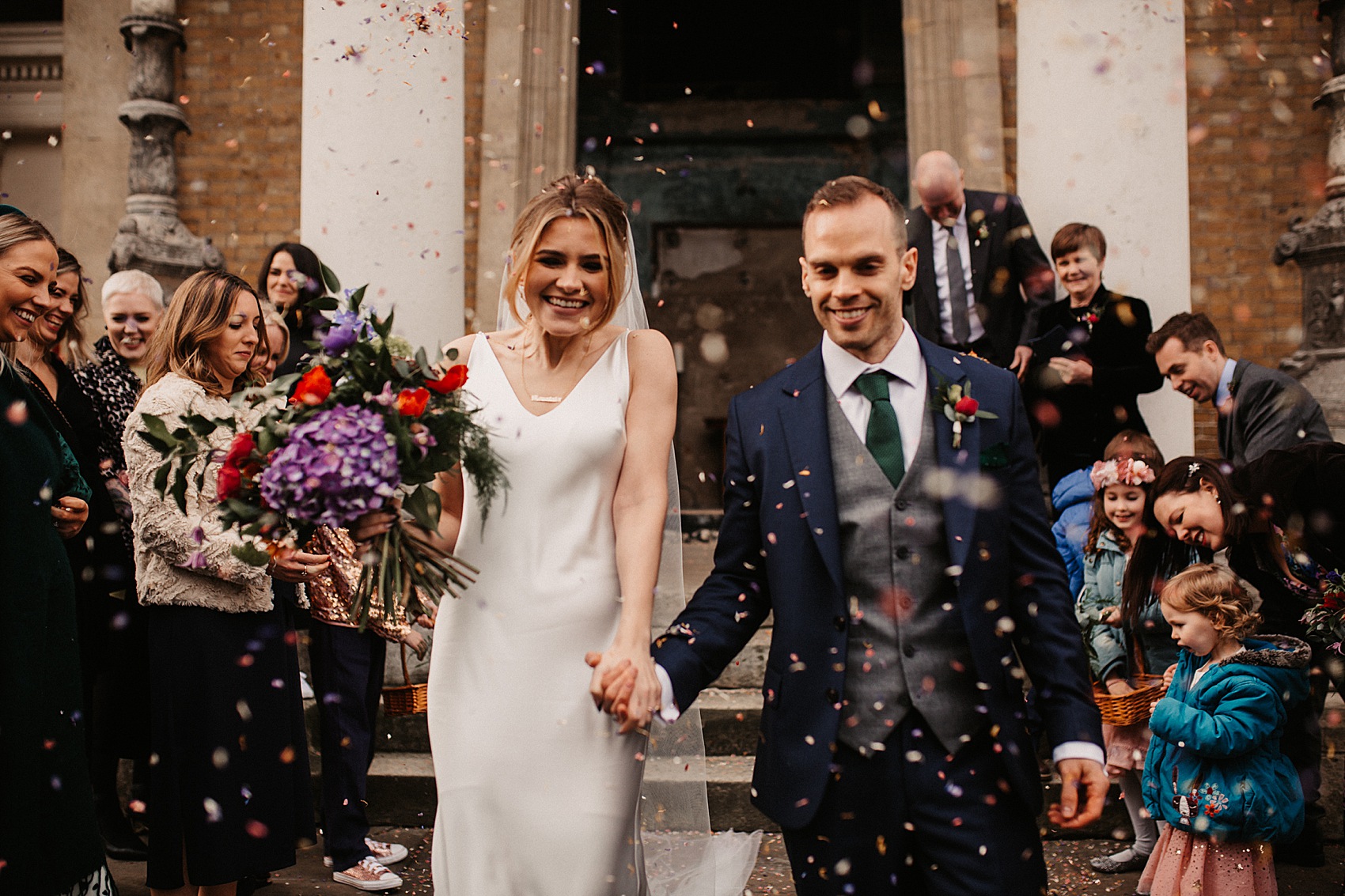 Photographer Emily Rose's love of people and stories really shines through in this touching and beautiful collection of images from Ruth and James' day. She took it all in through her lens, from big moments to small, blink-and-you'll-miss-them details.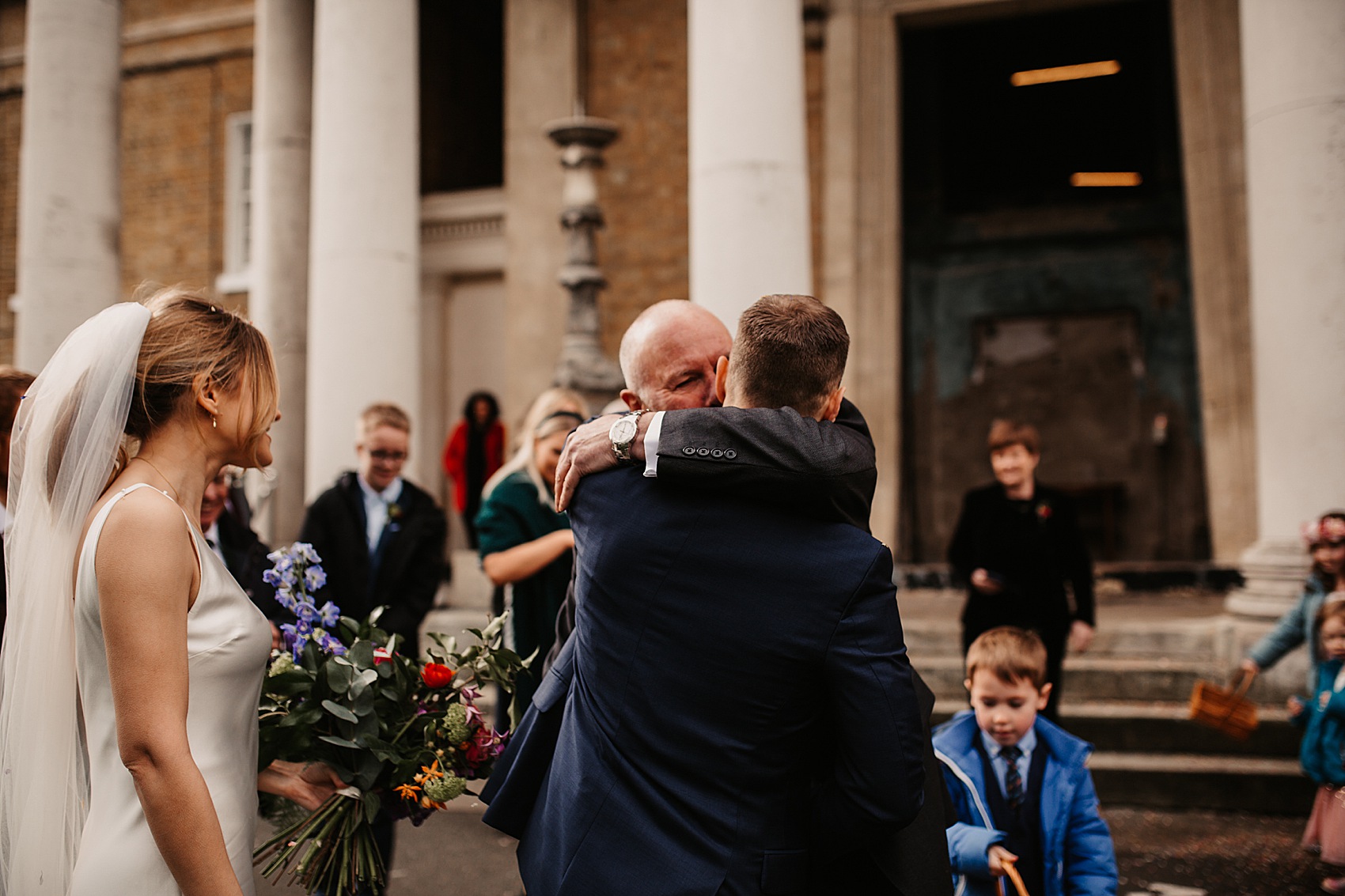 "We found Emily through Instagram when looking at hastags linked to the venue and immediately liked her photographs. The  biography on her website convinced us further as we had a few common interests (autumn and space in particular)."
"We had a shortlist of three photographers, but Emily quickly became our first choice. From her first email she was friendly, helpful, excited to discuss our ideas and came across as genuinely appreciative of the opportunity."
The communication leading up to the day was brilliant, and we have nothing but praise for her on the day. She managed to take photographs of all the moments, from more angles than it should be possible for one person."
"She didn't once feel intrusive, and she guided us expertly through the couple shots. When she left at the end of the day it felt like she was another friend at the wedding."
The photos we received were beyond our expectations, and  we are so thankful for how she captured the morning preparations, the venues and the moments. We would highly recommend Emily to other couples."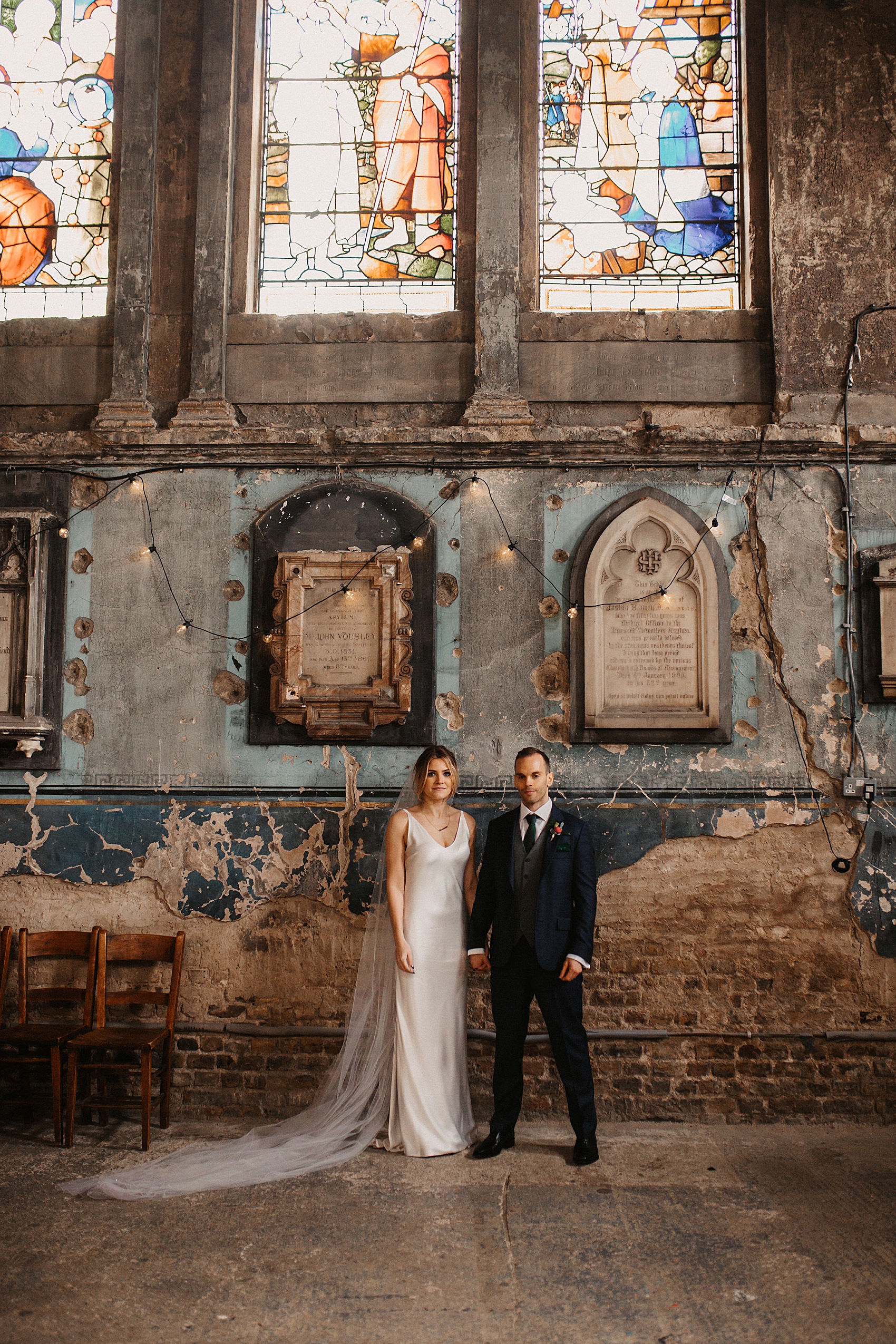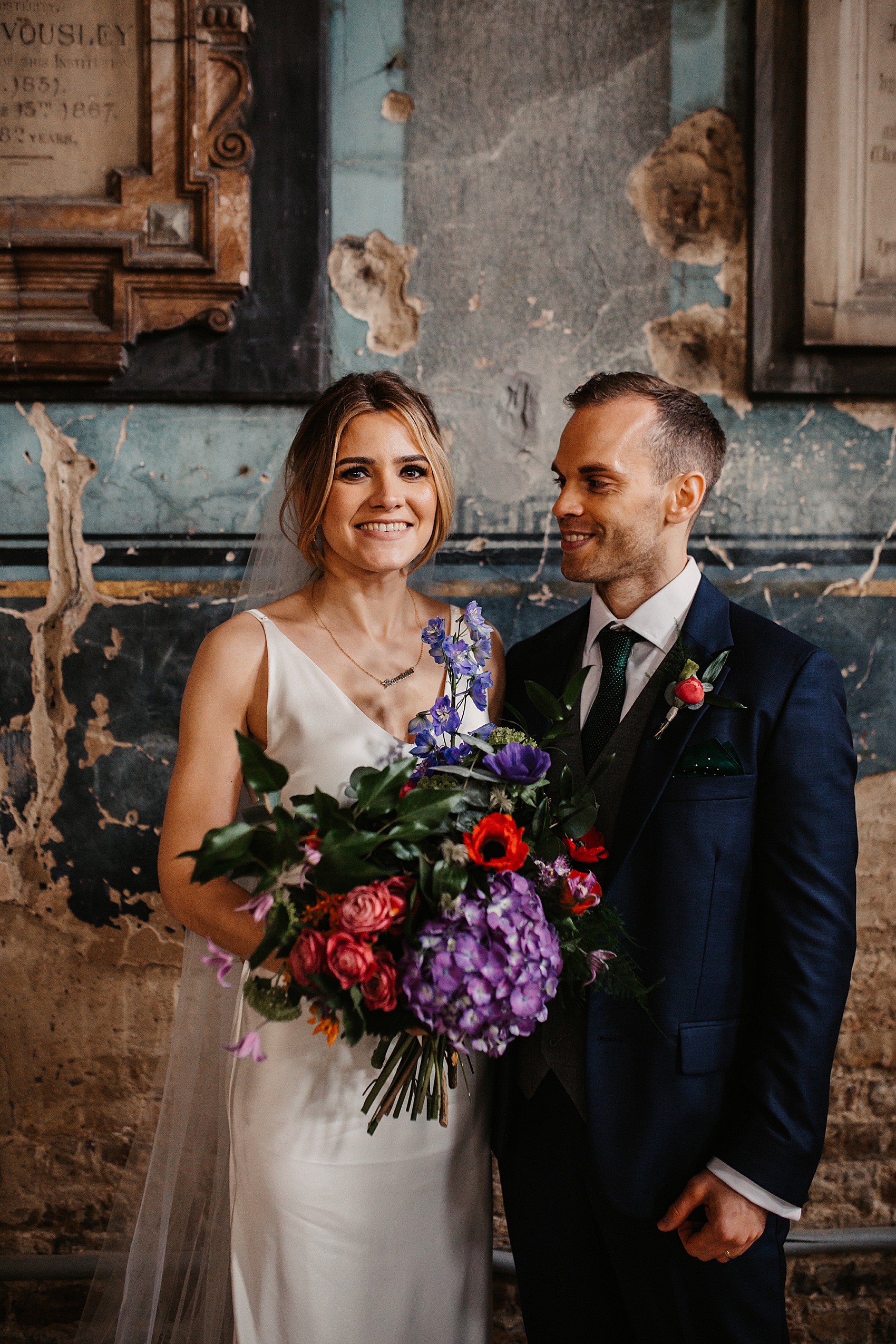 For the wedding flowers, Ruth knew she wanted bright jewel tones to complement the beautiful stained glass windows of Asylum Chapel, and Iona and Romy from Sage Flowers in Peckham created breathtaking and colourful arrangements, which included hydrangeas (Ruth's favourites) and roses.
"Iona and Romy just have the most amazing creative vision and we love everything they do."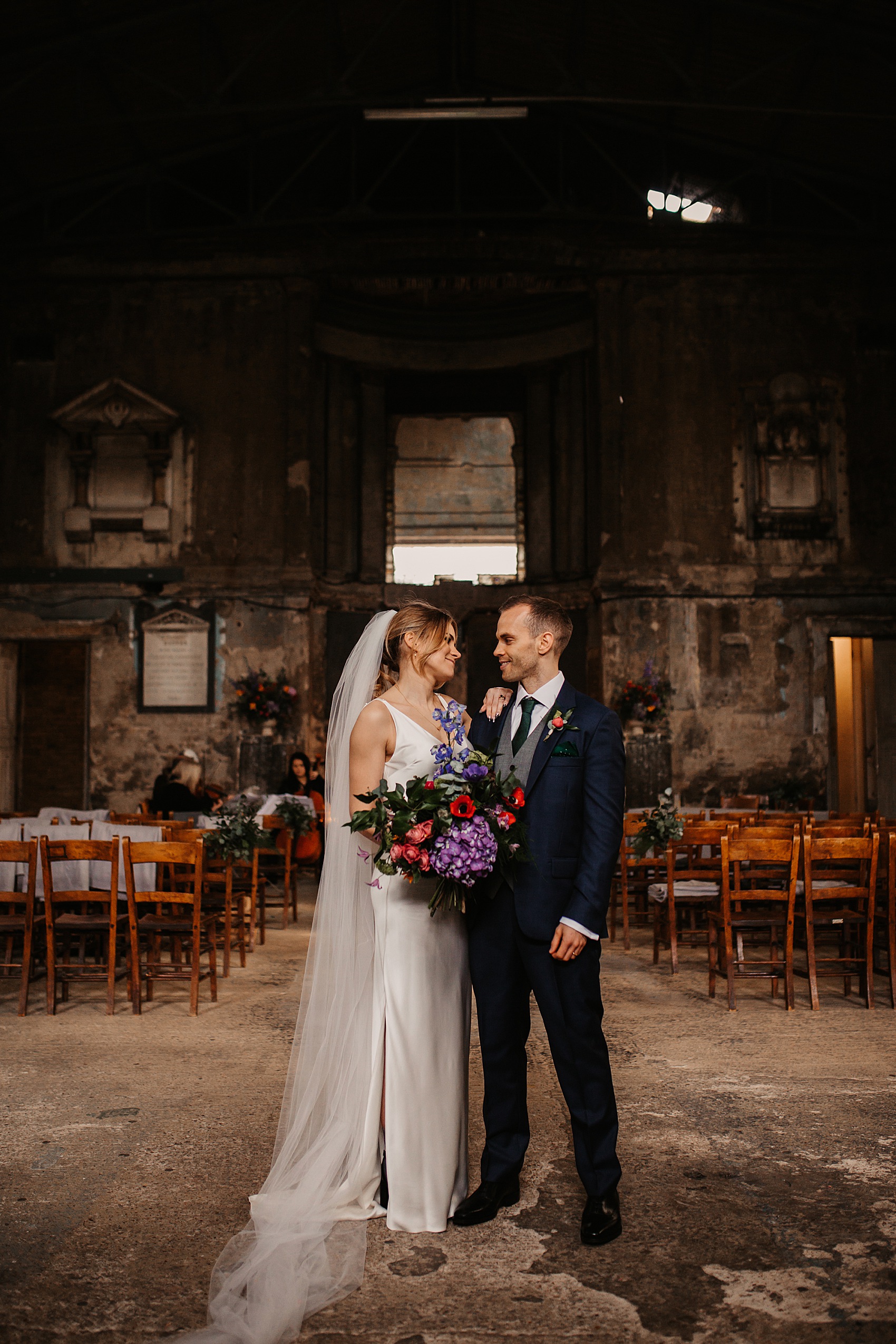 After the ceremony had concluded, the newly married couple enjoyed Krispy Kreme doughnuts with their loved ones, and drinks (gin and tonics, cocktails and soft drinks) delivered by The Travelling Gin Co.'s bicycle bar.
"The guys were extremely accommodating, and sorted us with a custom quote and order."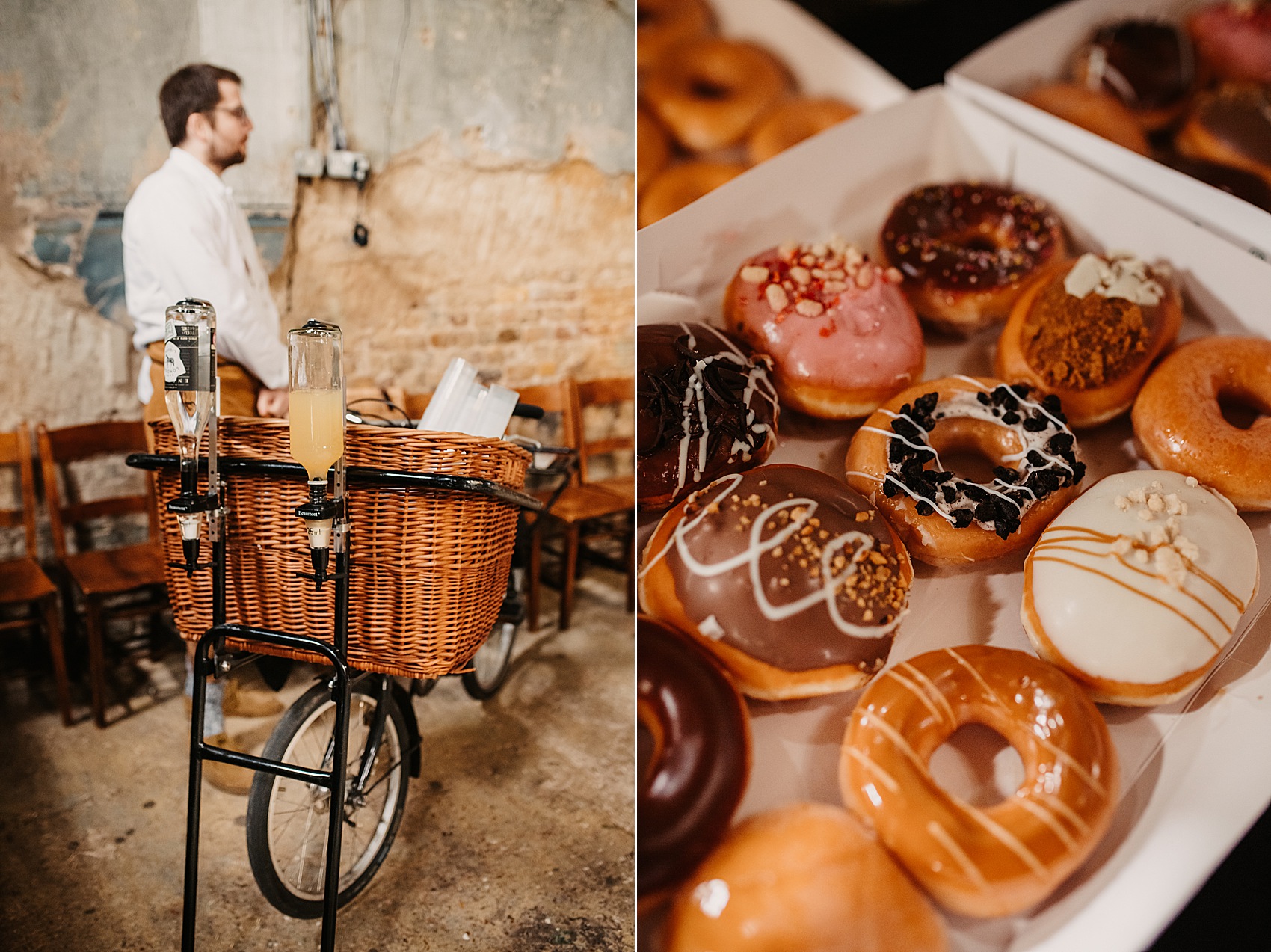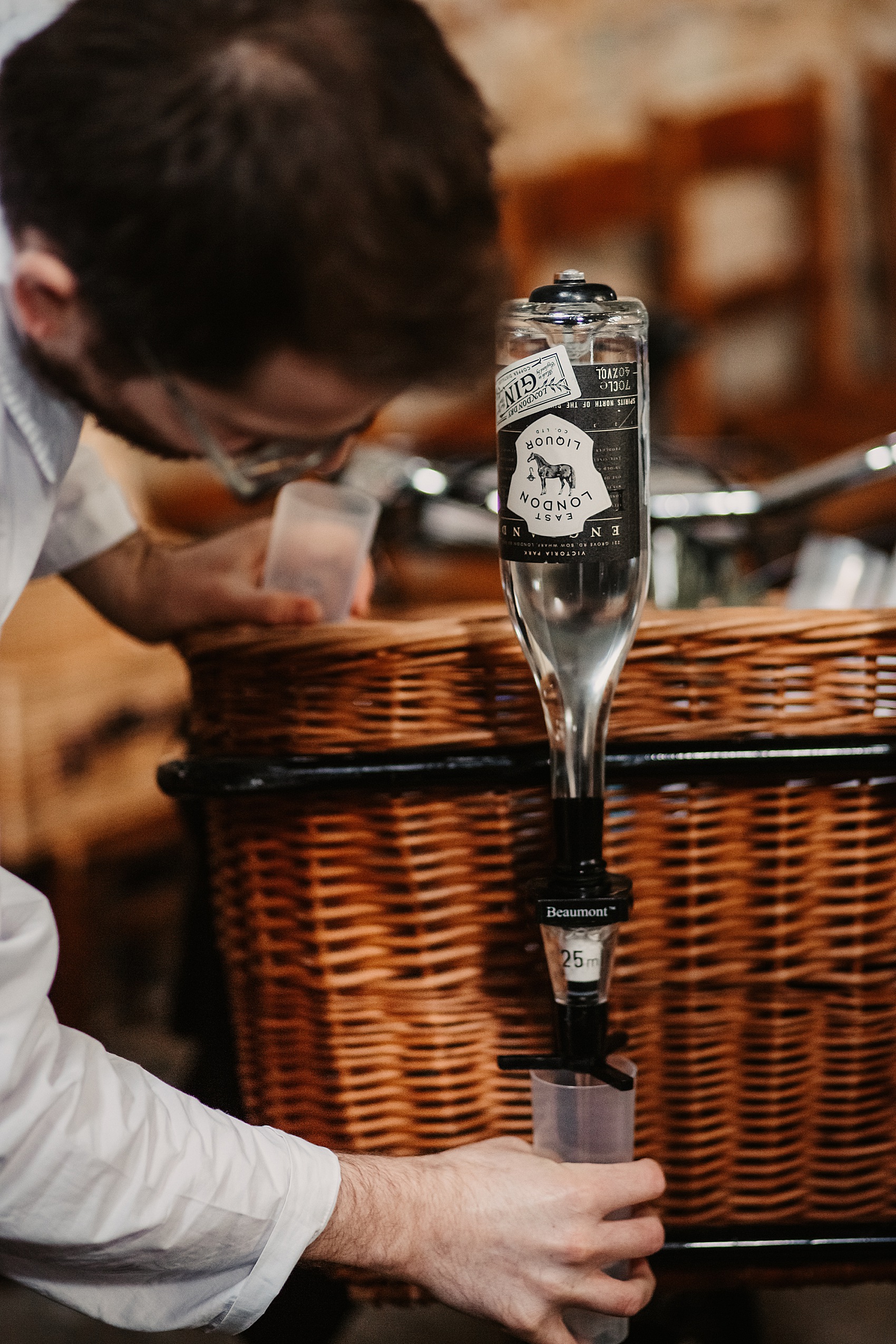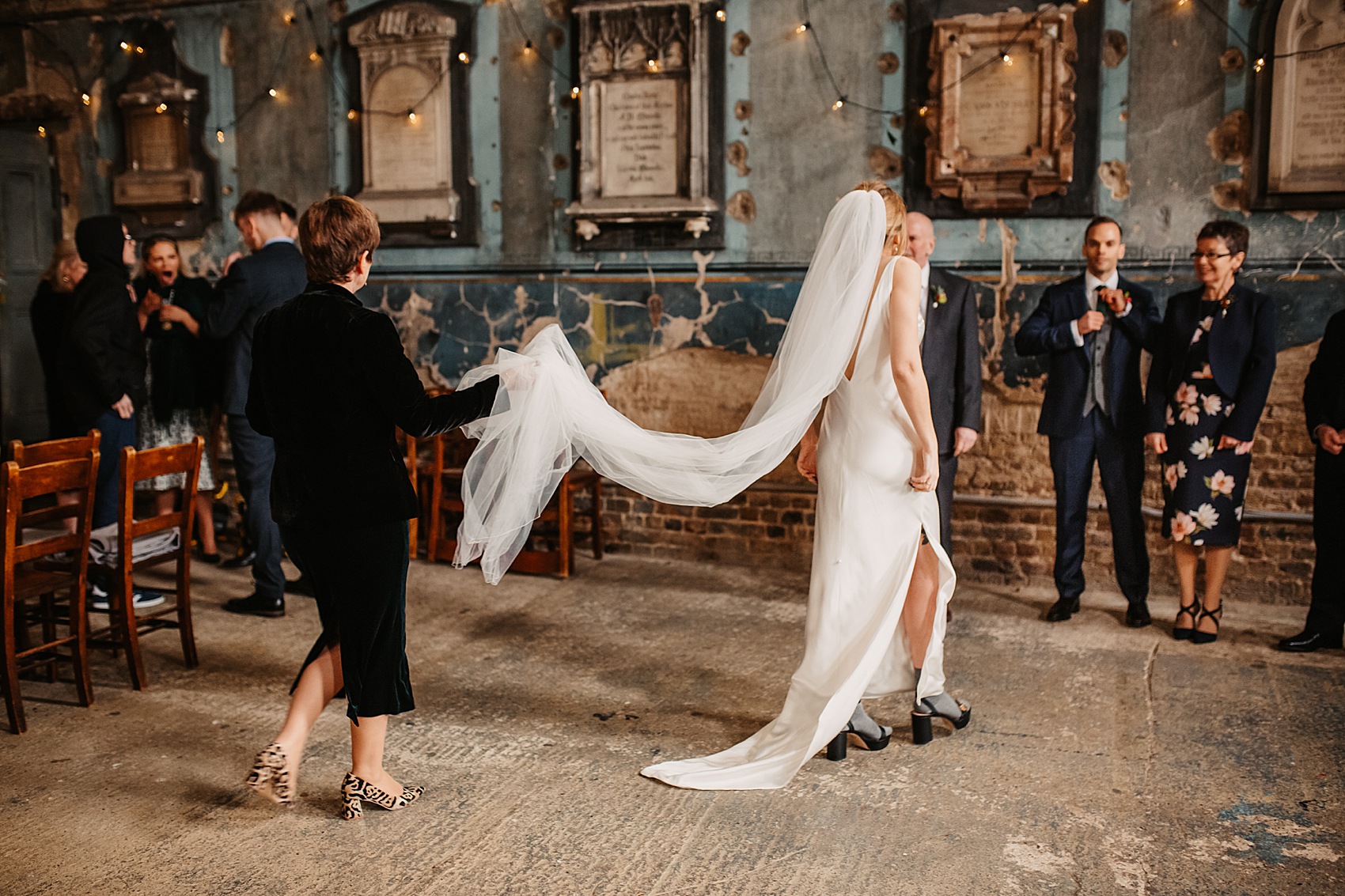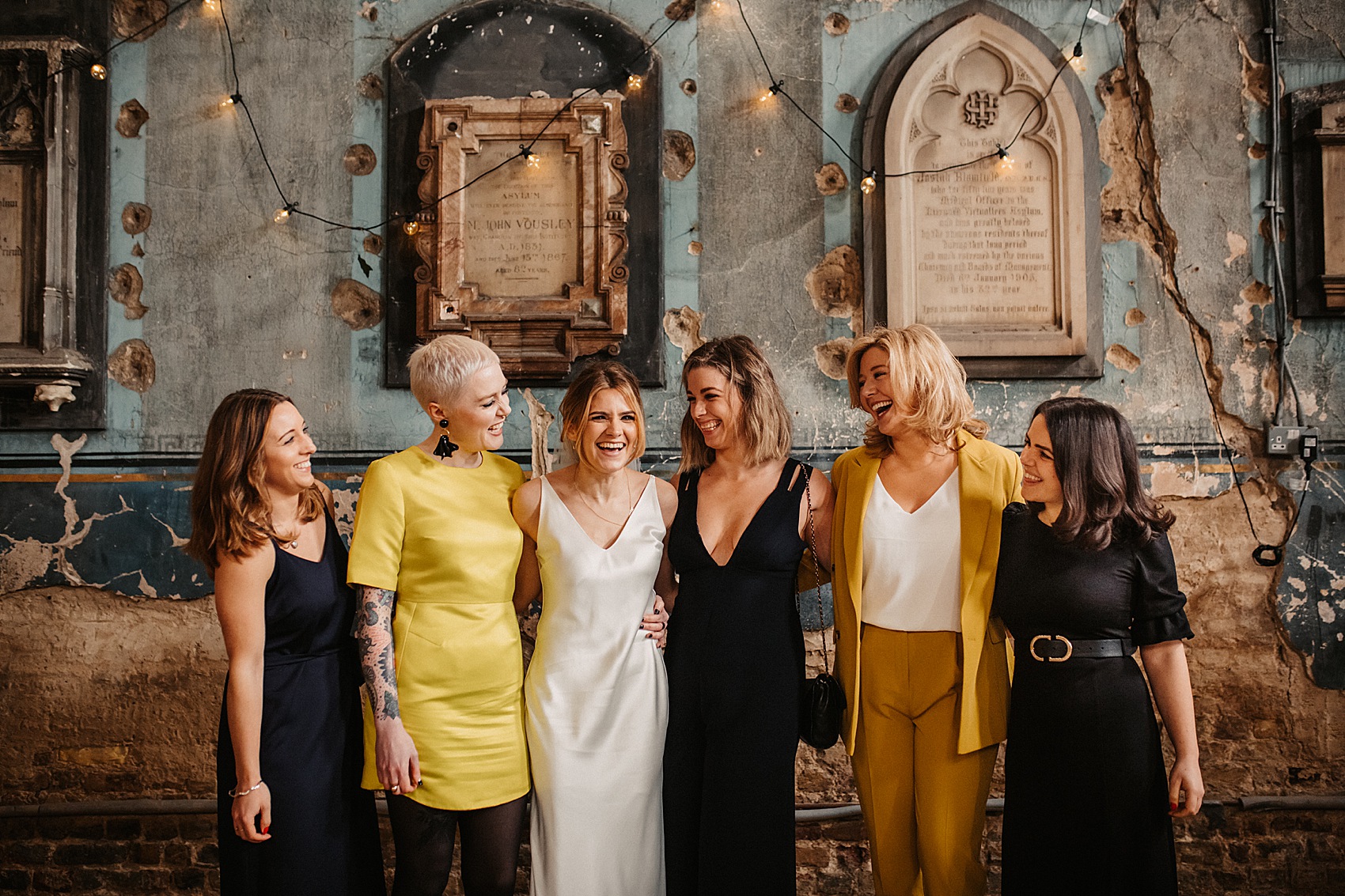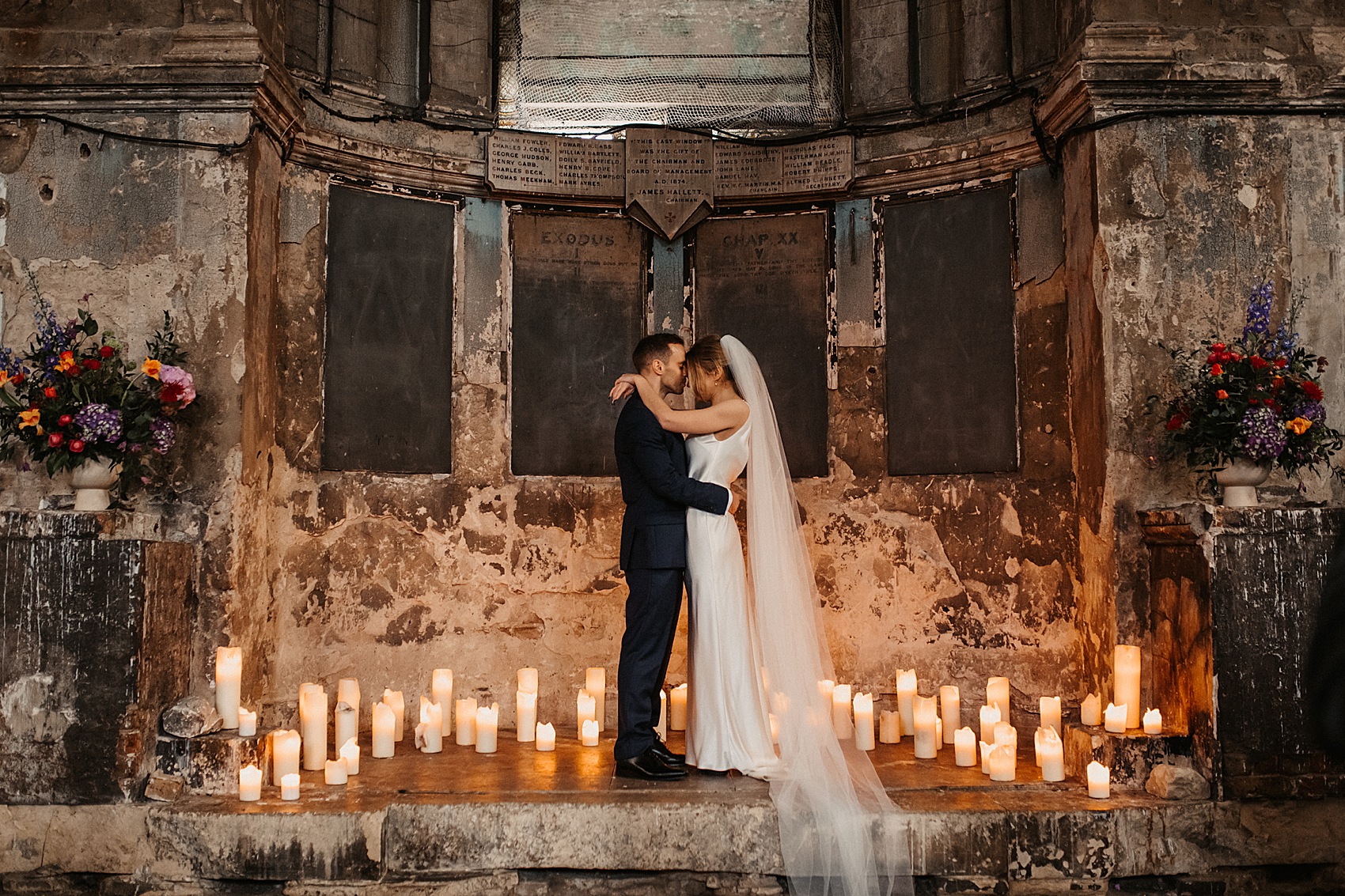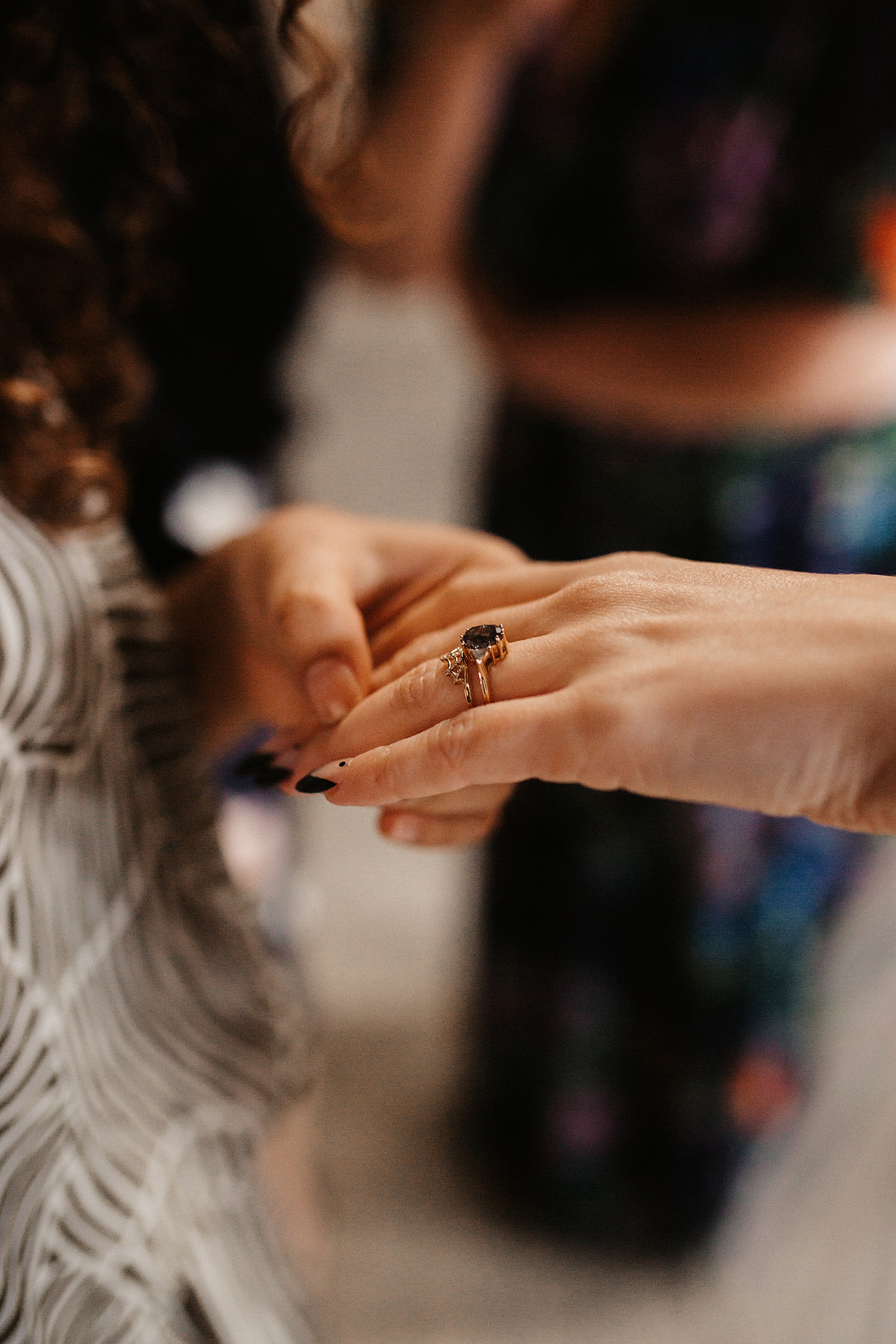 Earlier on in the day, transport to the Chapel was booked through Booking A Bus, and post-ceremony, everyone hopped onto a vintage Routemaster bus from Brian Jones Coaches.
"We chose both the venues because they had a really interesting vibe and didn't require much extra styling, which cut down on a huge amount of work."
"Asylum provide candles as part of their wedding package, and Sage made us two big urn displays for the front of the chapel as well as some pew ends."
"We then brought all those with us to Brunswick House and dotted them about the placed alongside some candles we had given them add to the ambience and cosiness of the place."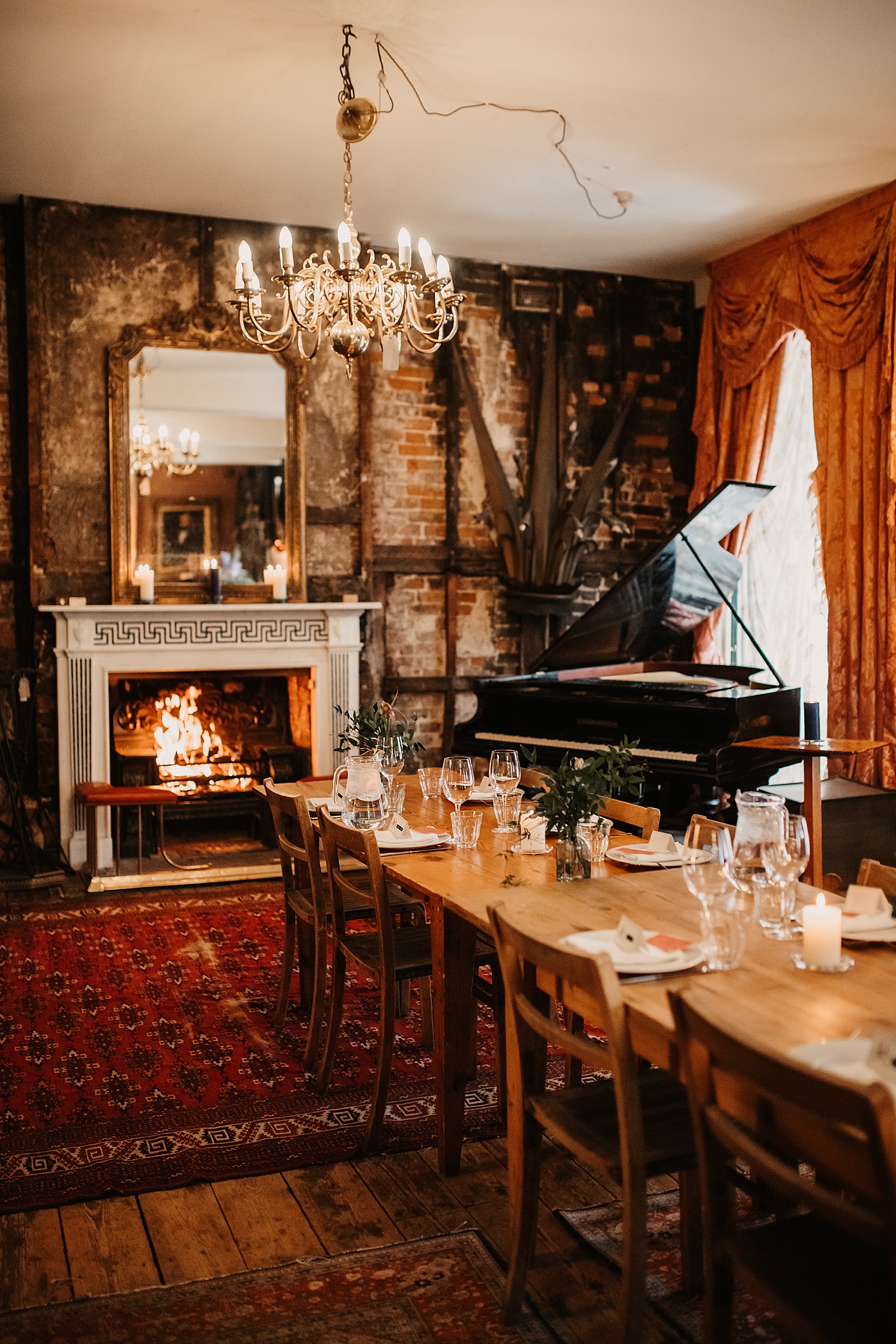 The weathered, historic beauty of both Asylum Chapel and Brunswick House complemented each other perfectly, and all stationery was designed by Ruth, or sent using Paperless Post.
There were 14 invitations needed for the ceremony, which Ruth stamped with a skull and crossbones design and a skull wax seal.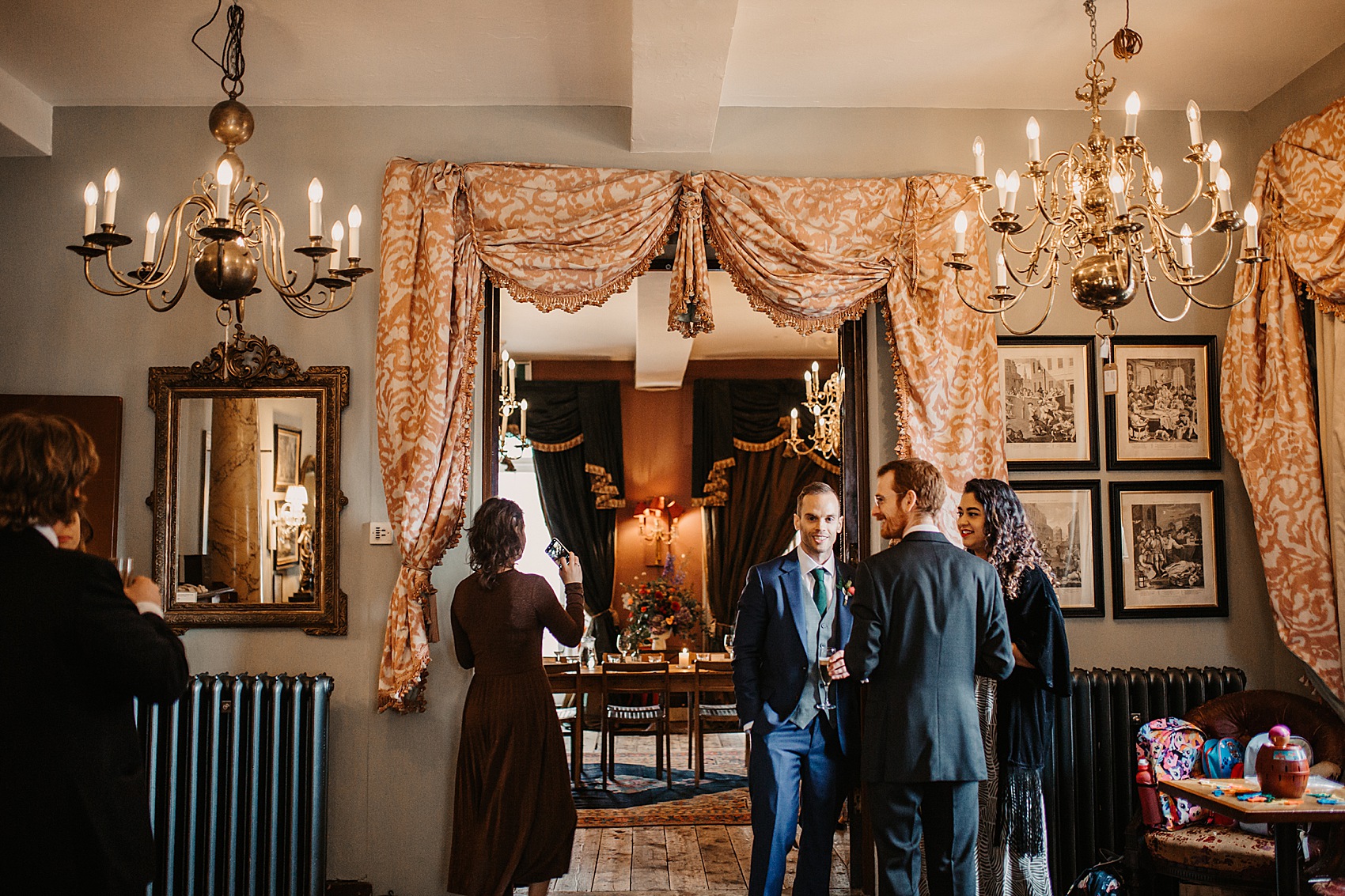 Brunswick House laid on drinks, and a sharing, feasting style meal served on the one, large dining table for all the guests. Later on in the evening, there were also bacon rolls and Welsh rarebit to keep everyone fuelled into the night!
"We both love music but have very eclectic taste, so ended up just hiring a PA system from Live Audio Production, and compiling our own playlists so we could tailor it to exactly what we wanted."
"We had one for the dinner, which was pretty relaxed and acoustic, and one for the party, which started with stuff we knew the kids would enjoy and then incorporated everything from hardcore and hip hop to 90's pop and power ballads."
"The last half an hour or so was filled with classic dance floor fillers, and we handed out glow sticks to everyone still standing."
"We didn't have any order of the day booklets and didn't need a table plan because we had so few guests and all just ate at one long trestle table. I made the place cards using the same stamp from the invites, and one of those old school emboss label makers."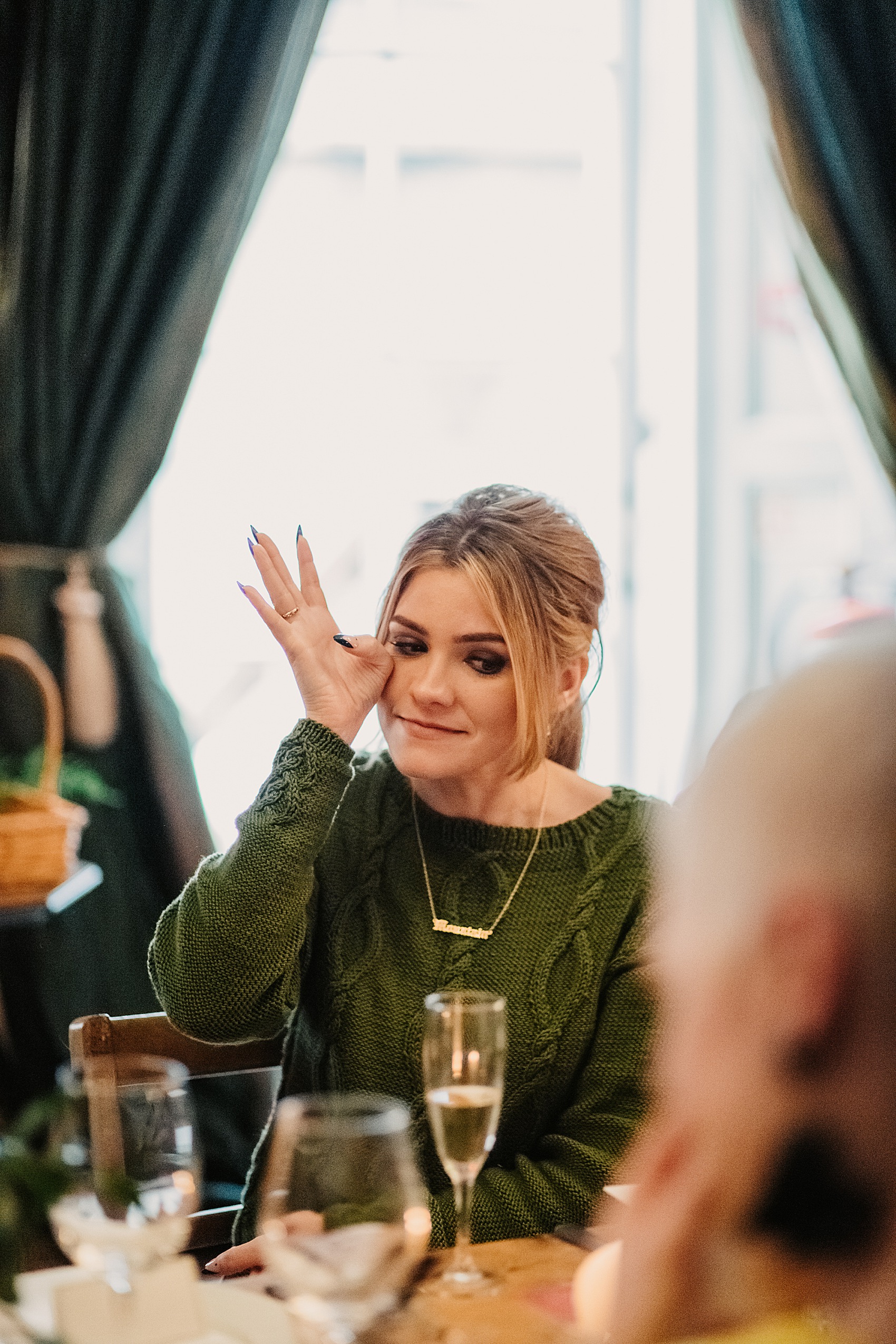 "Everyone received a Zoltar fortune card (like from the movie Big). We have a collection of them from different seaside trips we've taken, so thought it would be a fun addition and conversation starter. We got them as part of a mini Zoltar game from WH Smith."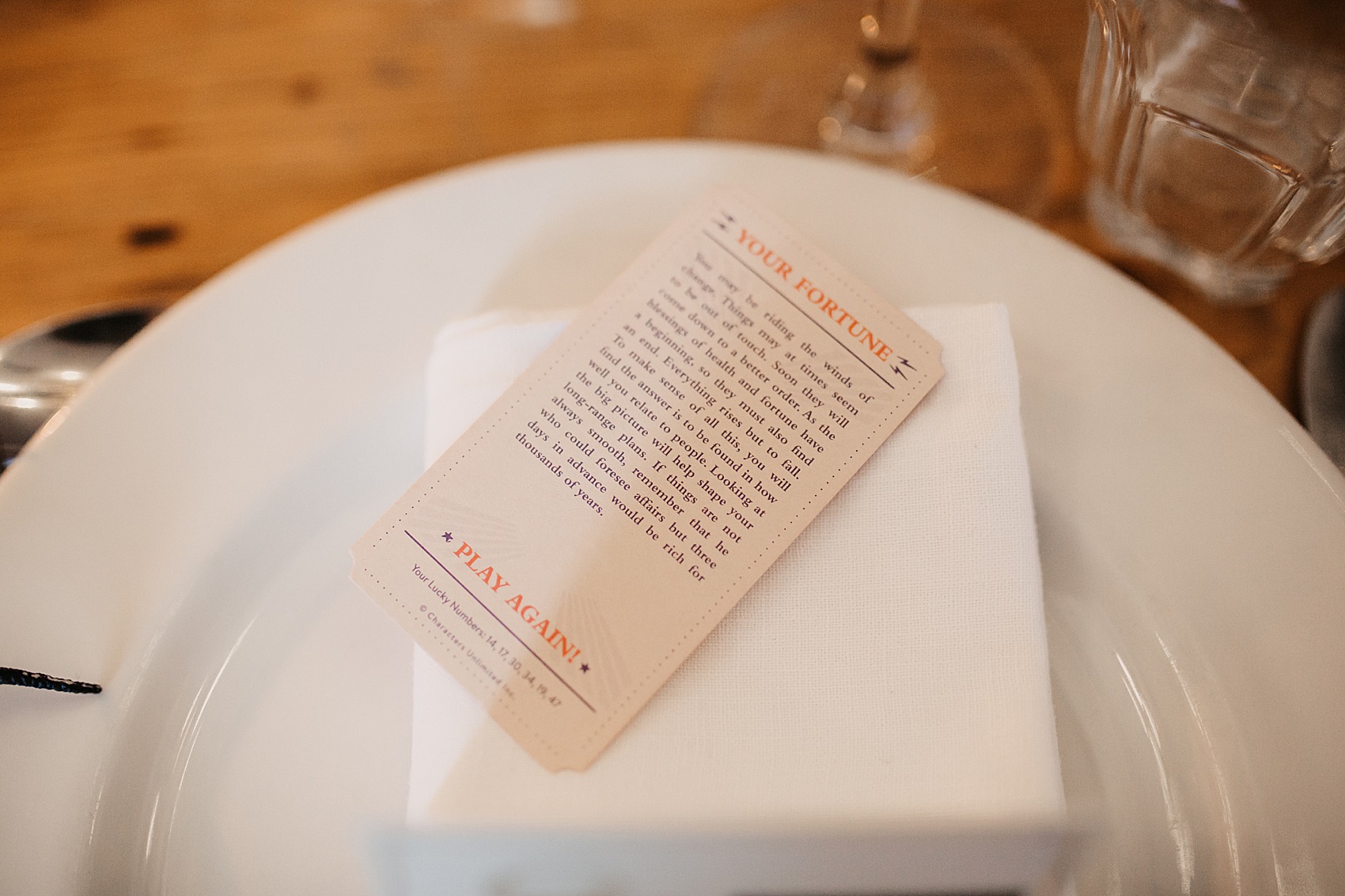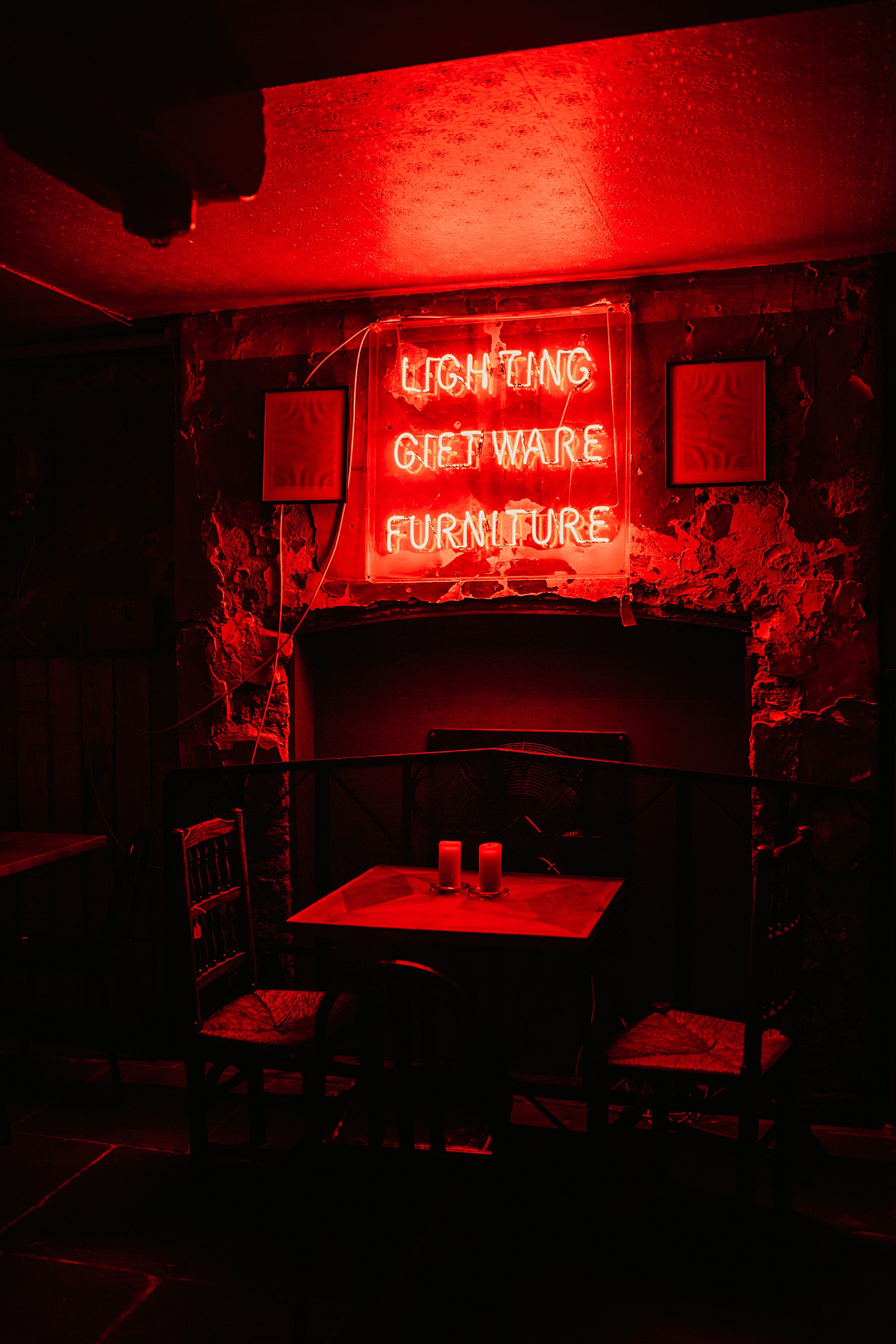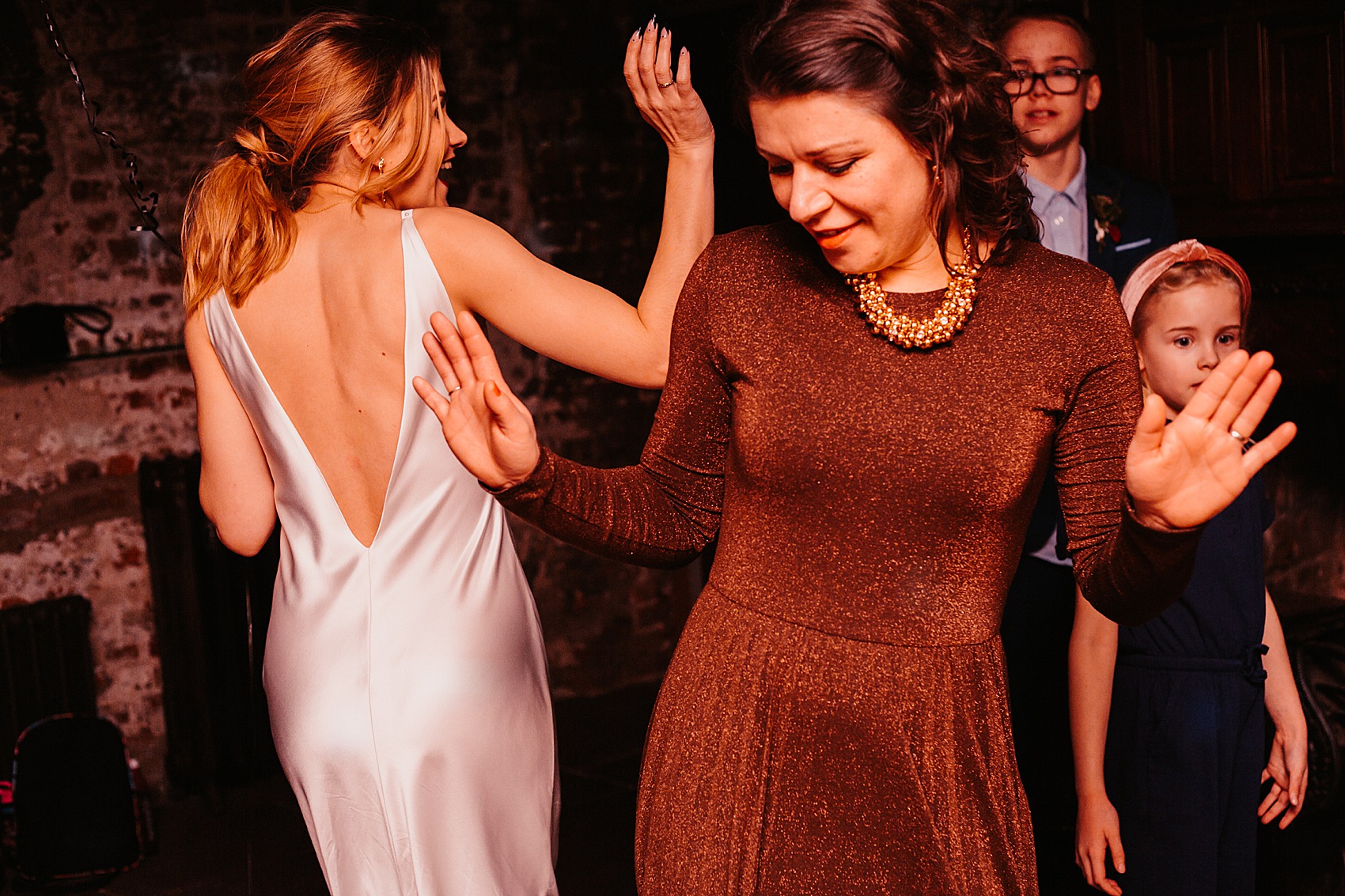 Ruth and James weren't at all keen on a first dance, but did have a brilliant last dance song in the form of Meat Loaf's I Would Do Anything For Love (But I Won't Do That).
"It was a great way to end the night – we won't forget for a long time the sight of friends and family singing along at the top of their lungs."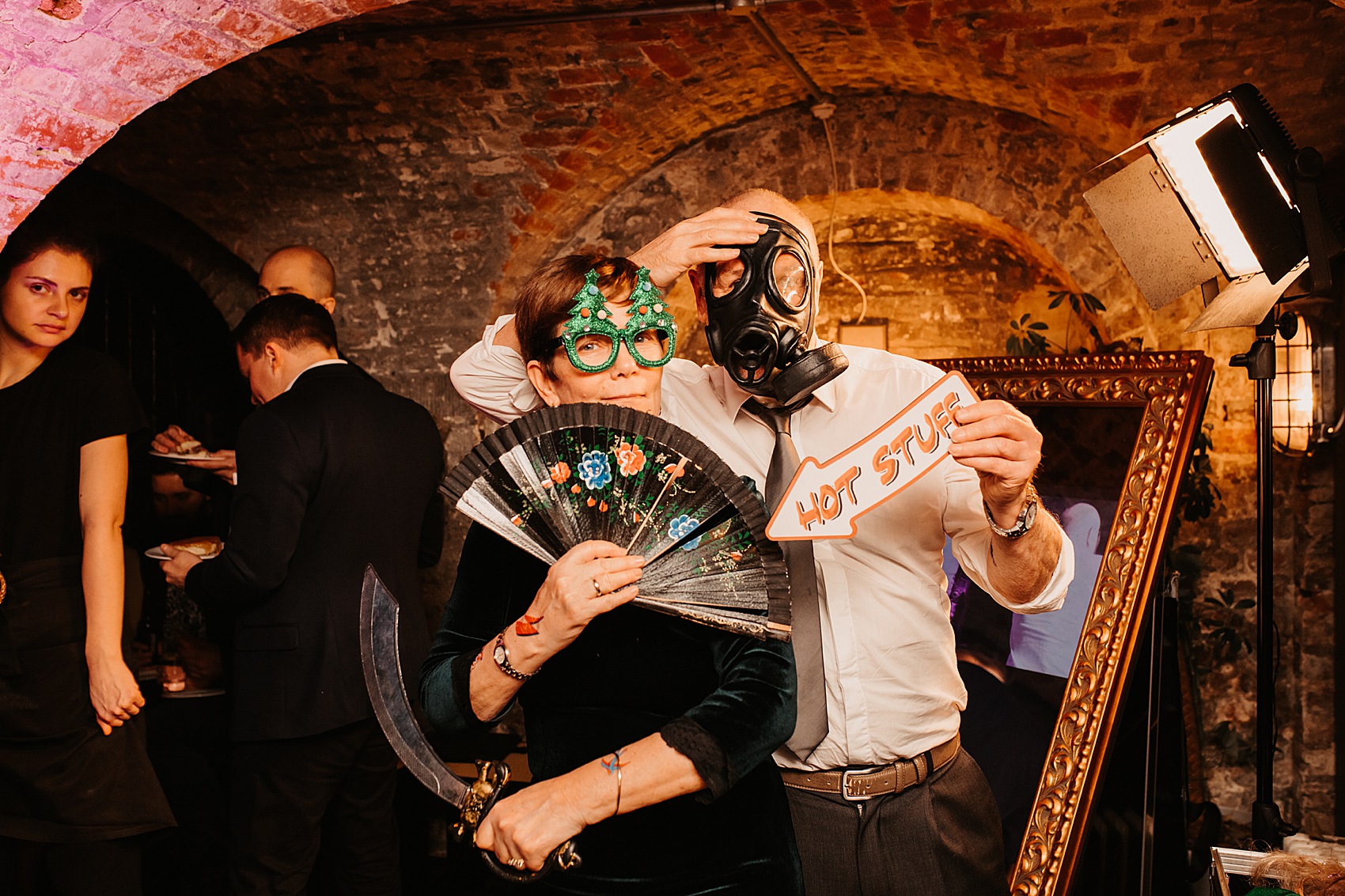 Words of Wedded Wisdom
"Honestly just do whatever you want and don't overthink it or let other people derail you. It's your wedding, your day – we didn't want to do certain traditional things that others may expect, and we have no regrets about not doing them."
"Also just remember to have fun on the day – you enjoying it is really all that matters, and you'll find that if you are enjoying
yourselves other people are too because they're just happy to see you both happy!"
"Don't let anyone tell you you can't plan your dream wedding in six months because we are living proof that you absolutely
can."
Ruth and James, thank you so much! Your day looked like so much fun from start to finish, at two absolutely glorious London venues. Many thanks to Emily Rose Photography for these spectacular images, too.
With love,
Laura