Hello loves, how are you doing? Are you following the wonderful What About Weddings campaign on Instagram? There has been a HUGE amount of work undertaken by the campaign this week – follow if you can as we'll be sharing something lovely you can get involved with over Valentines weekend.
Floral artist Lucy of 'To A Mountain Daisy' married Stephen on 12th September 2020. The couple got ready at Ardrhu House in Fort William, held their ceremony at Glen Etive, followed by photographs at Glencoe and ended the day with an evening meal at Inverlochy Castle, also at Fort William.
Belle Art Photogarphy

+ Follow
"We chose the area as it's beautiful but usually so busy with tourists, we found because of covid restrictions it was quieter than normal and felt we should take advantage of this."
"Stephen and I met on Tinder six years ago. I was living in Glasgow and Stephen in Loch Lomond at the time."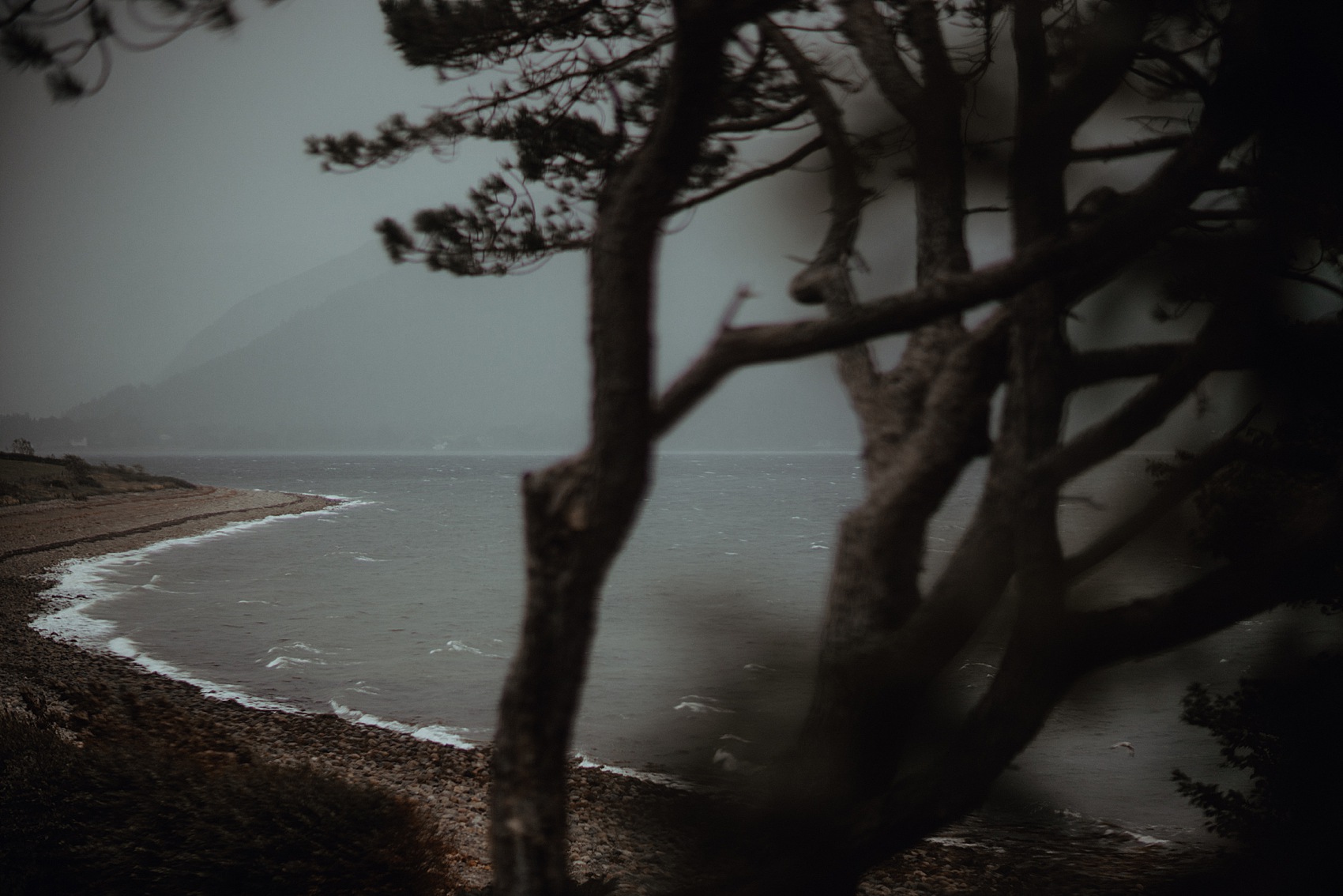 Lucy wore "Oneg by Sabon' as her wedding day scent.
"It's my favourite scent that has been discontinued but Stephen found me a bottle somewhere online. I wore my late grandmothers Kimono while getting ready in the morning, something I always said I would wear as a child."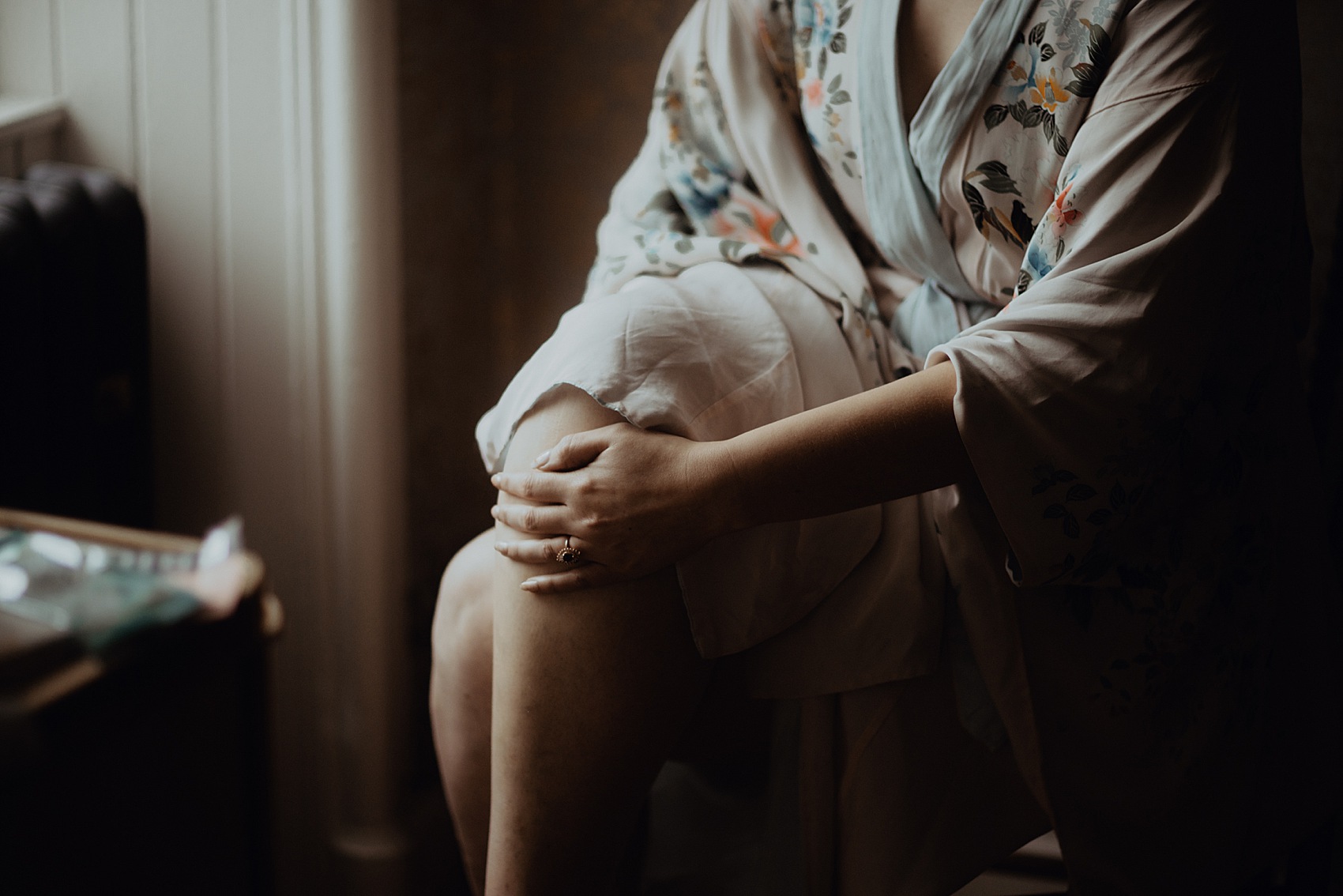 "Stephen proposed on his Birthday in 2019 on a beach on Anglesey in Wales. Stephens a proud Welshman so felt important to him. Stephen proposed after a long walk across the sand, he got down on one knee with a doggy poop bag in one hand and the ring in the other. I did not see it coming at all."
"We felt after our large wedding was cancelled that we needed to really focus on what we wanted to do. Glen Etive/Glencoe was important to us as it has so many memories from drives, camping and it's just so beautiful its almost overwhelming, I think a few Scots would consider it over rated because it gets so busy and there is so many beautiful locations in Scotland but for us it still stands out as one of the most breathtaking and certainly the closest."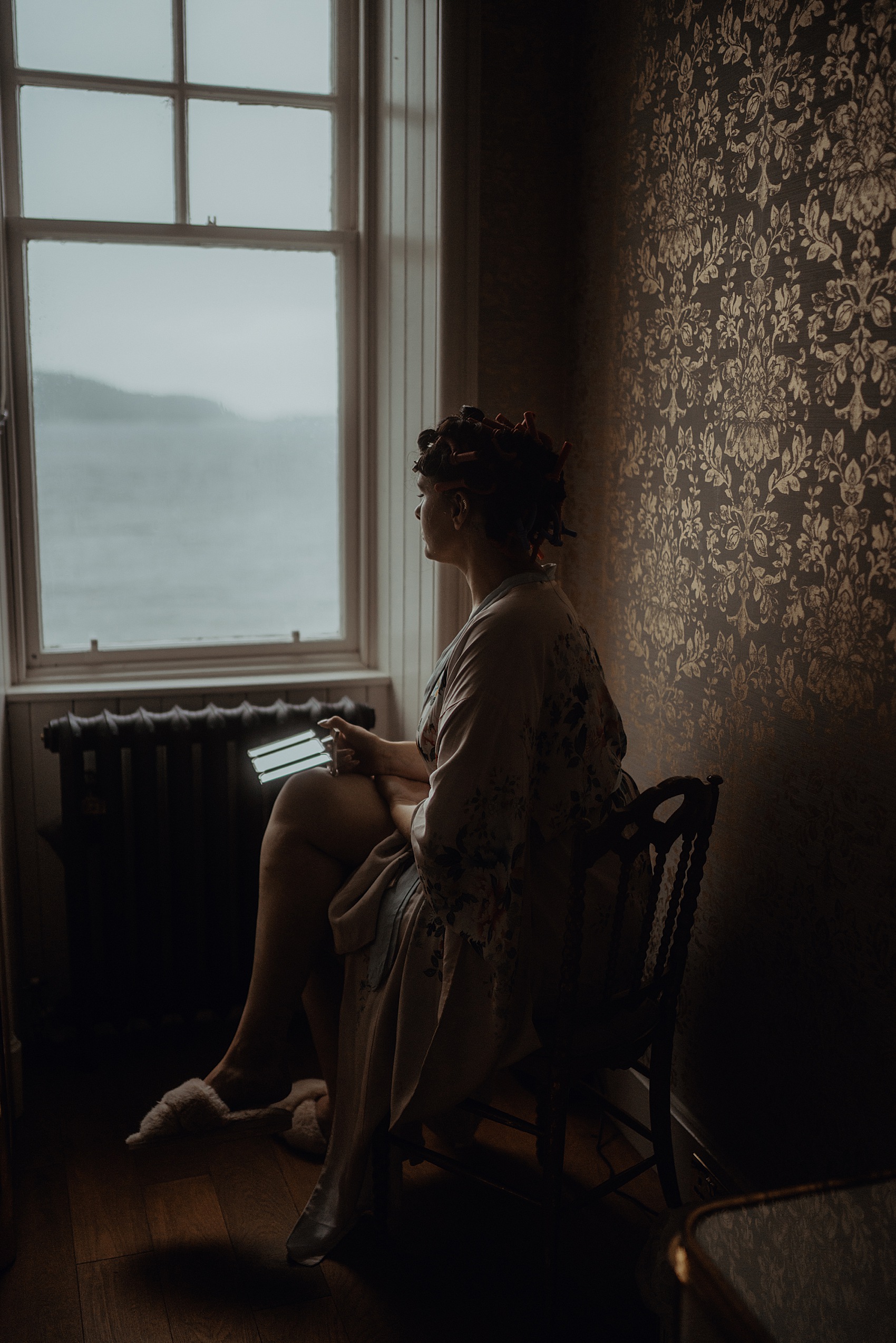 "We would have considered a Scottish Island but our dog Phoebe doesn't love travelling in the car. Glencoe is 3.5 hours in the car from our home in Dumfries & Galloway while Skye is over six hours."
"We were due to marry on the 27th June 2020 with around 100 guests but postponed our big wedding around the start of May. Our new wedding date was in September. "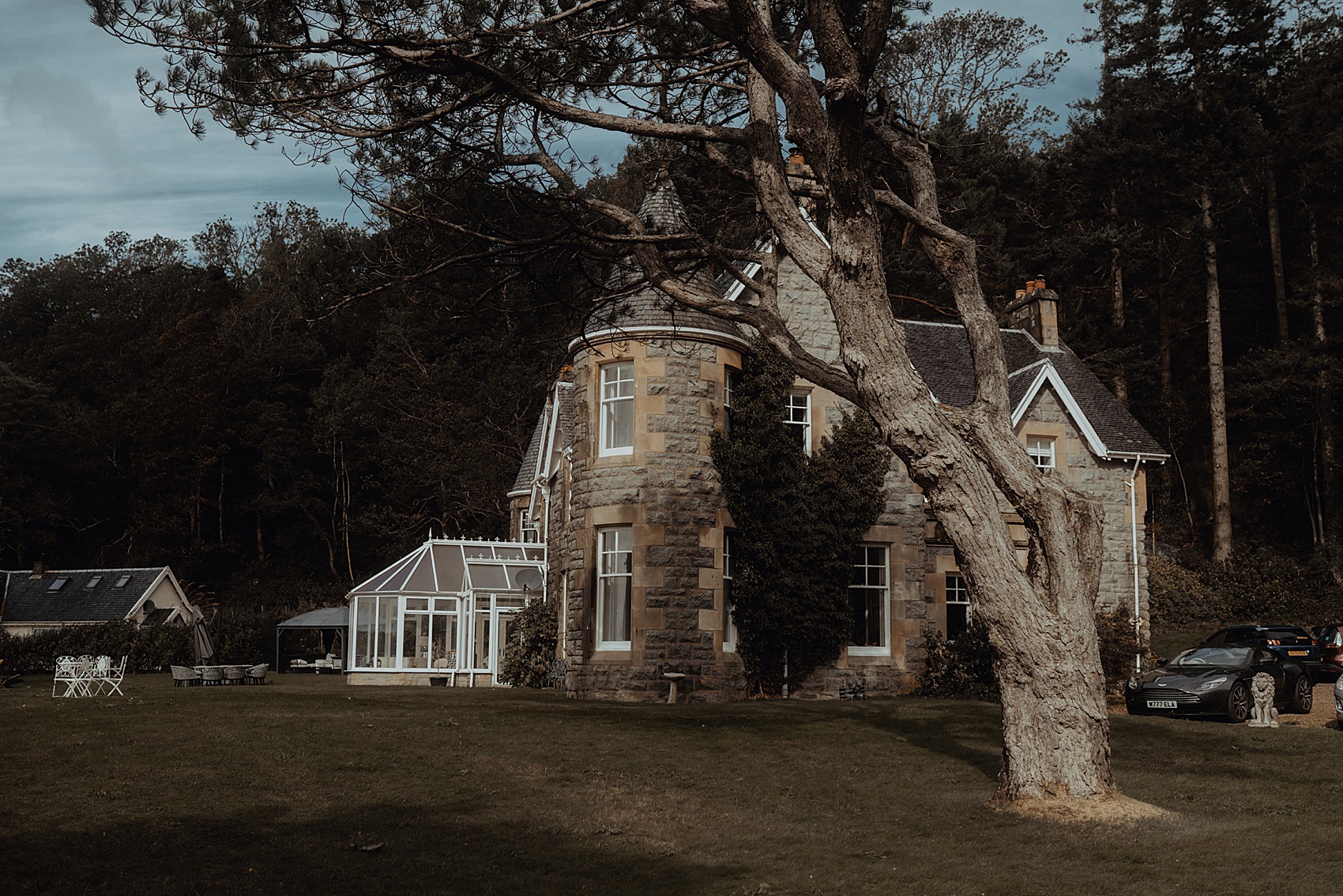 "By the time we celebrated our 'un-wedding' day in June, we decided the uncertainty of everything made our day too stressful and we were not enjoying the lead up to it so we told family and friends we were going to change our plans."
"We decided to have our Photographer and videographer as witnesses and our dog the only guest."
Lucy wore two dresses on the day, a White by Vera Wang design in the day time and a Needle & Thread gown in the evening.
"I decided to have two dresses as I really wanted two bouquets and to have a more casual approach as we had changed from a Castle wedding to a hillside elopement and I did't want to walk up a hill in my big dress. I'm so clumsy on a normal day!"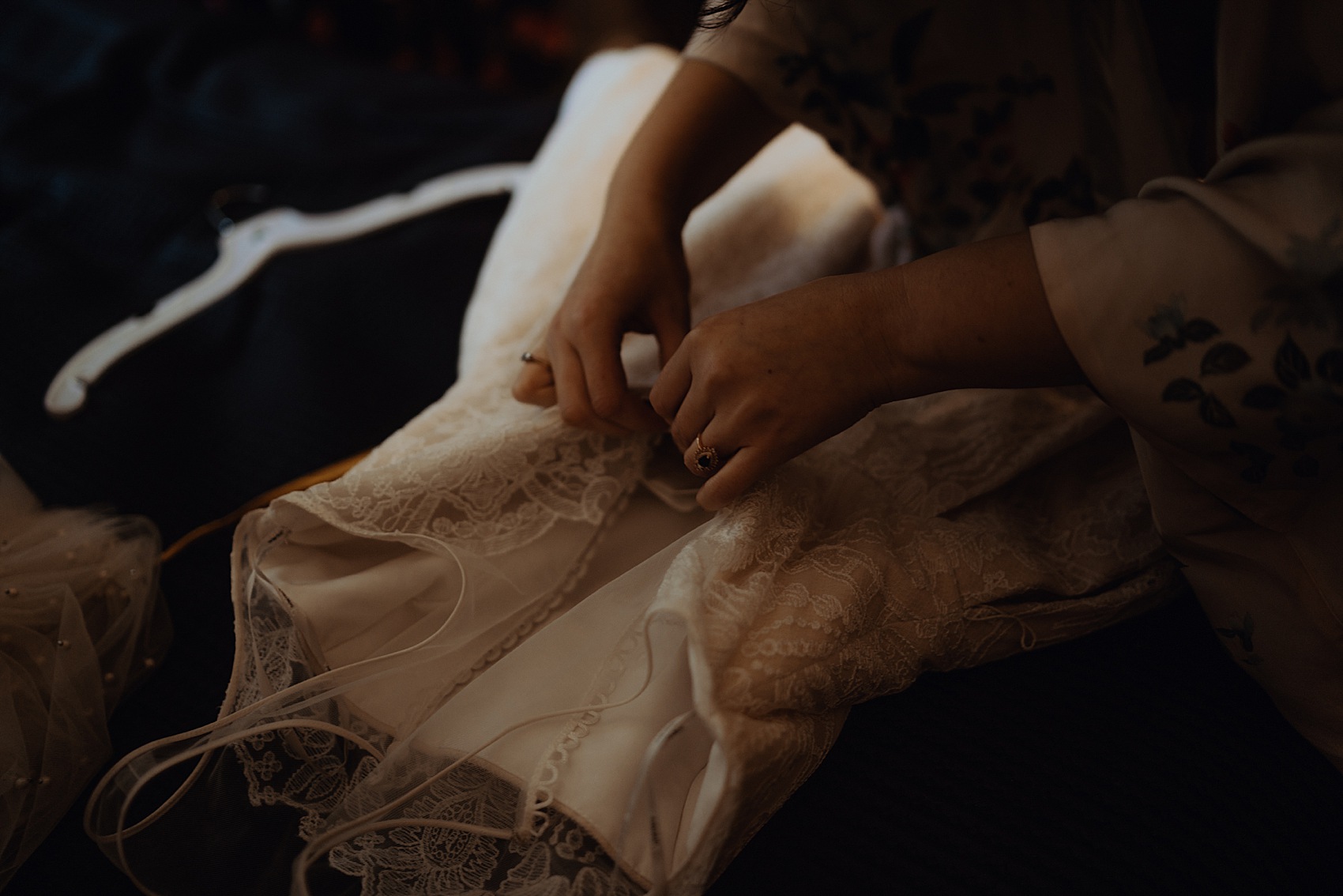 "I wore my own veil through the day, I made my veil myself as I wanted to attach a flower crown that I had made and I had always pictured including pearls."
"I then wore my friends veil as something borrowed in the evening that nearly blew away!"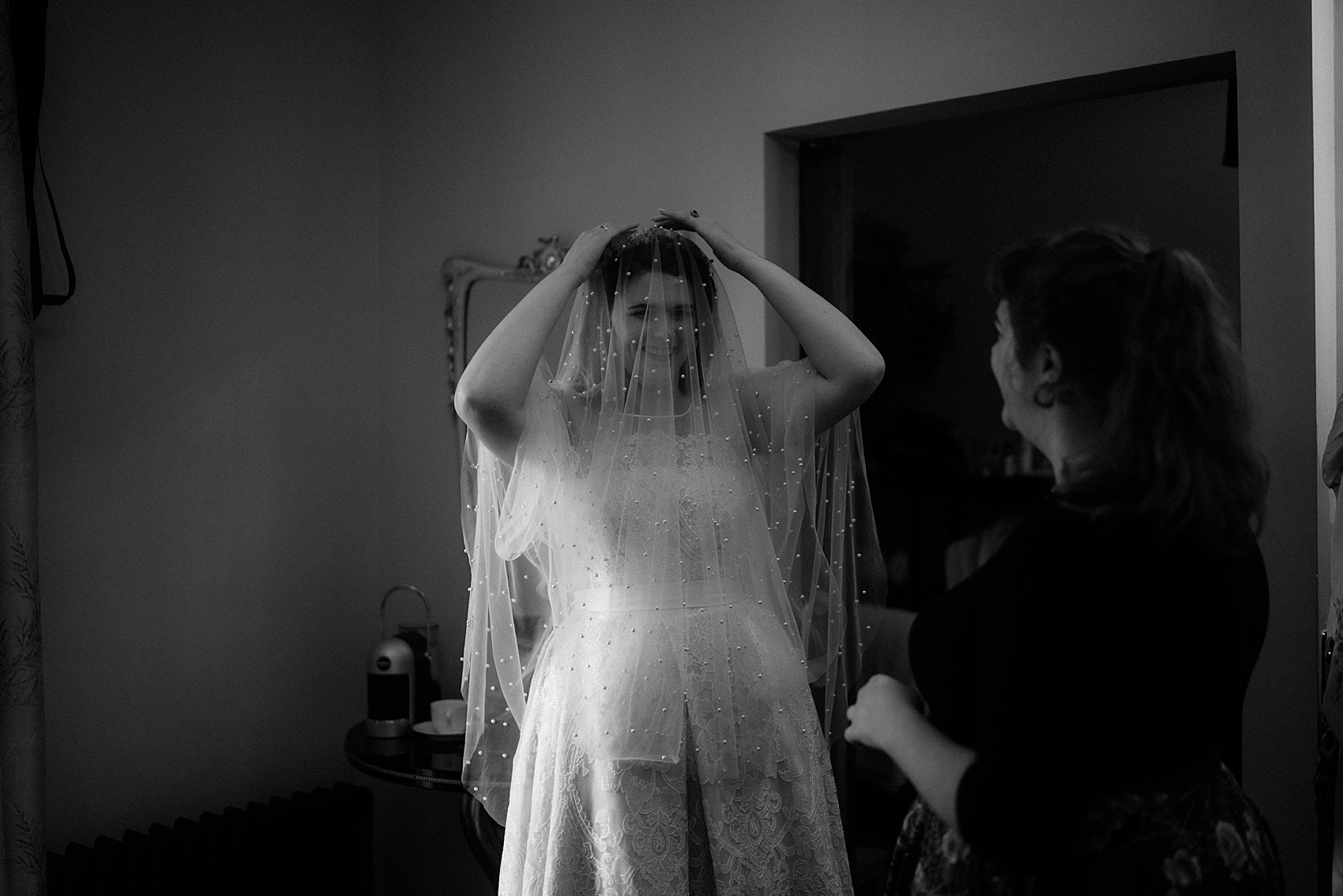 "In the daytime, Lucy wore a pair of vintage boots that she found for a dollar when living in New York. In the evening, she wore a pair of Monki cream boots."
"I would tell every couple who is currently planning that they deserve to and WILL safely get married no matter what is going on around you and will feel like everything your dreamt up and more."
"Our elopement was the third time planning and there was times along the way that made me feel like everything was against us and my self esteem was pretty low but all we wanted to do was get married and be Husband and Wife."
"Everything was so perfect even if it was nothing like what we had originally planned!"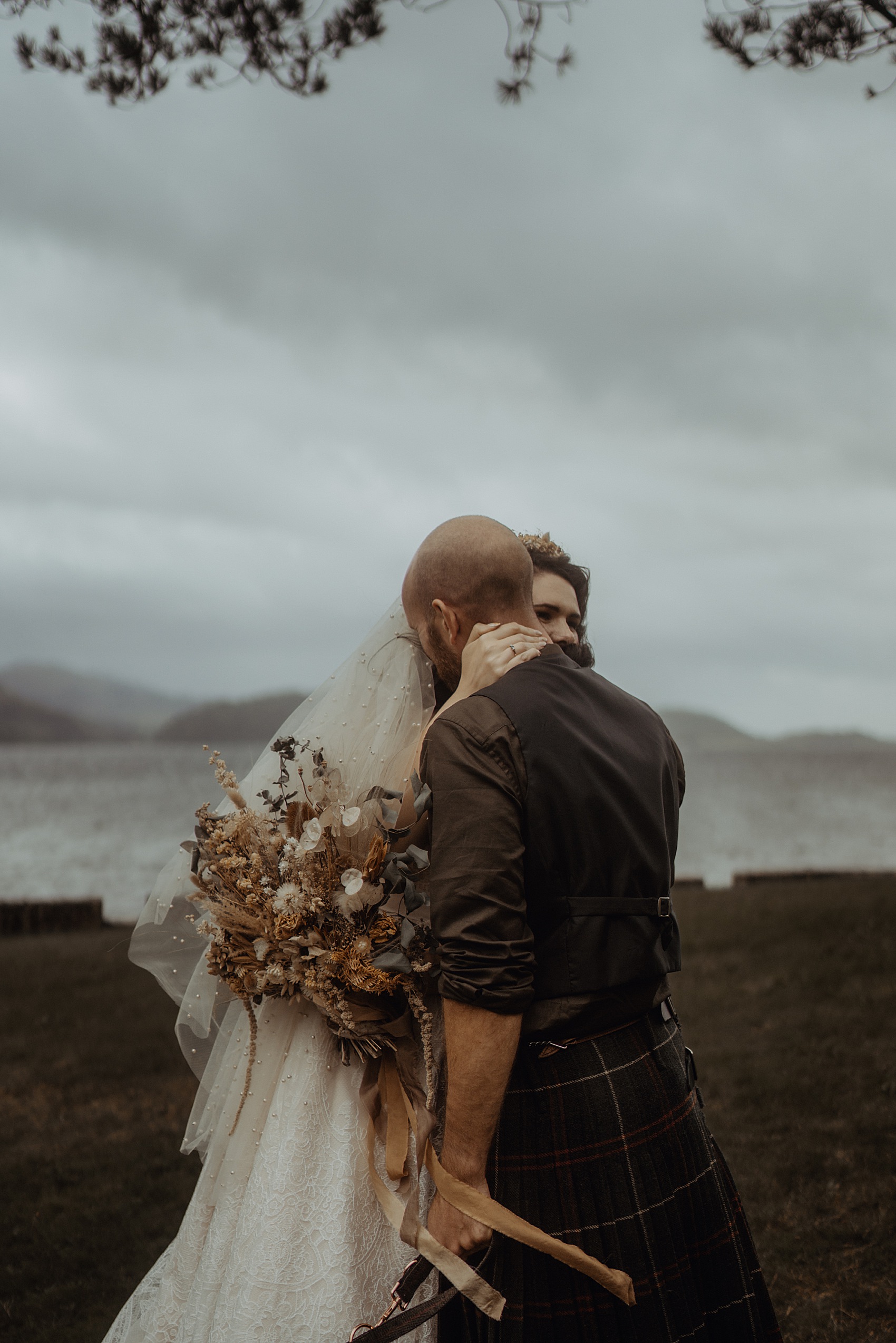 "Our original days stationery was by Sona Paper Studio, I went to Uni with Sam and loved her designs and how easy everything was working with her. Unfortunatley we only got as far as Save the Dates followed by sending out Unsave the Dates!"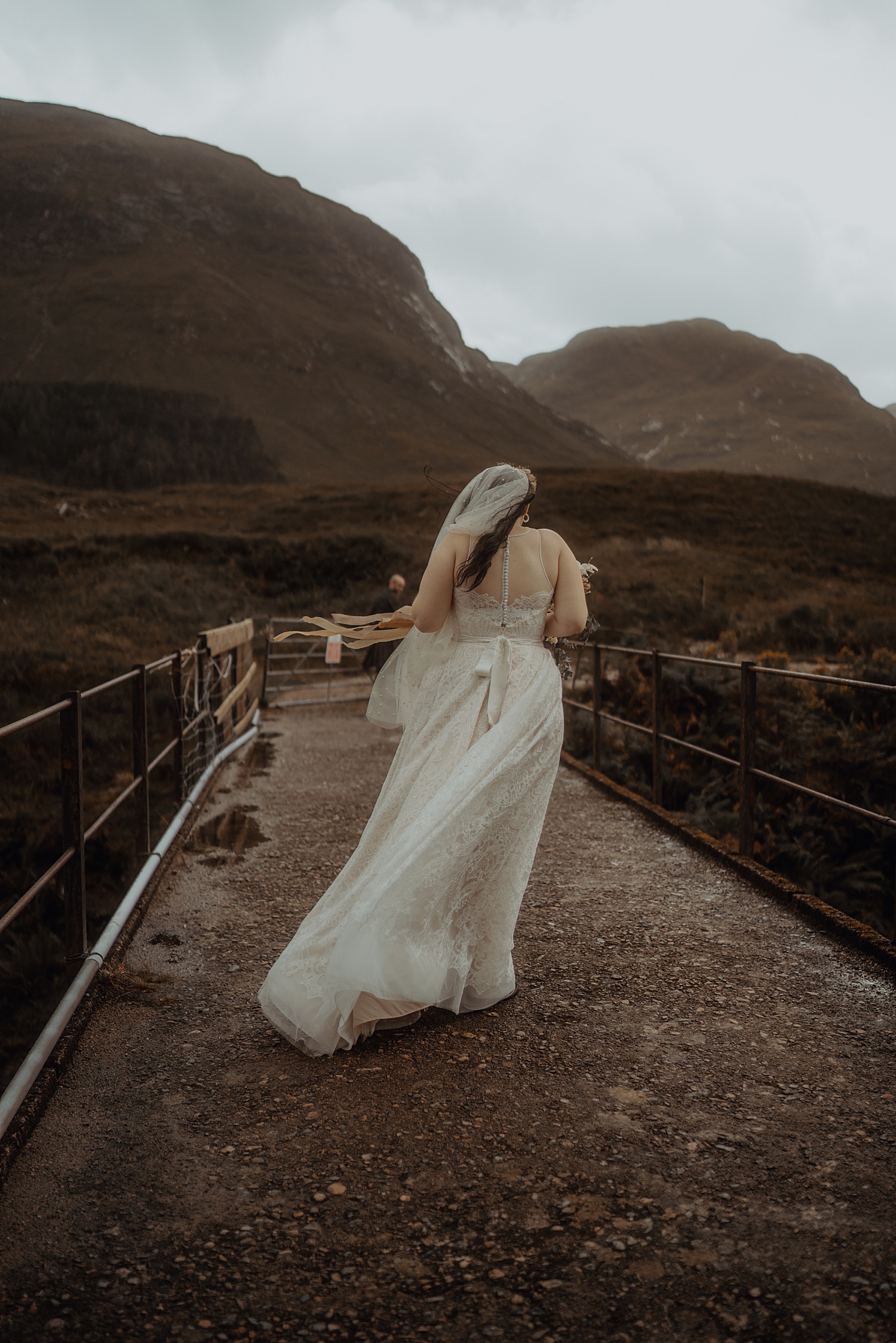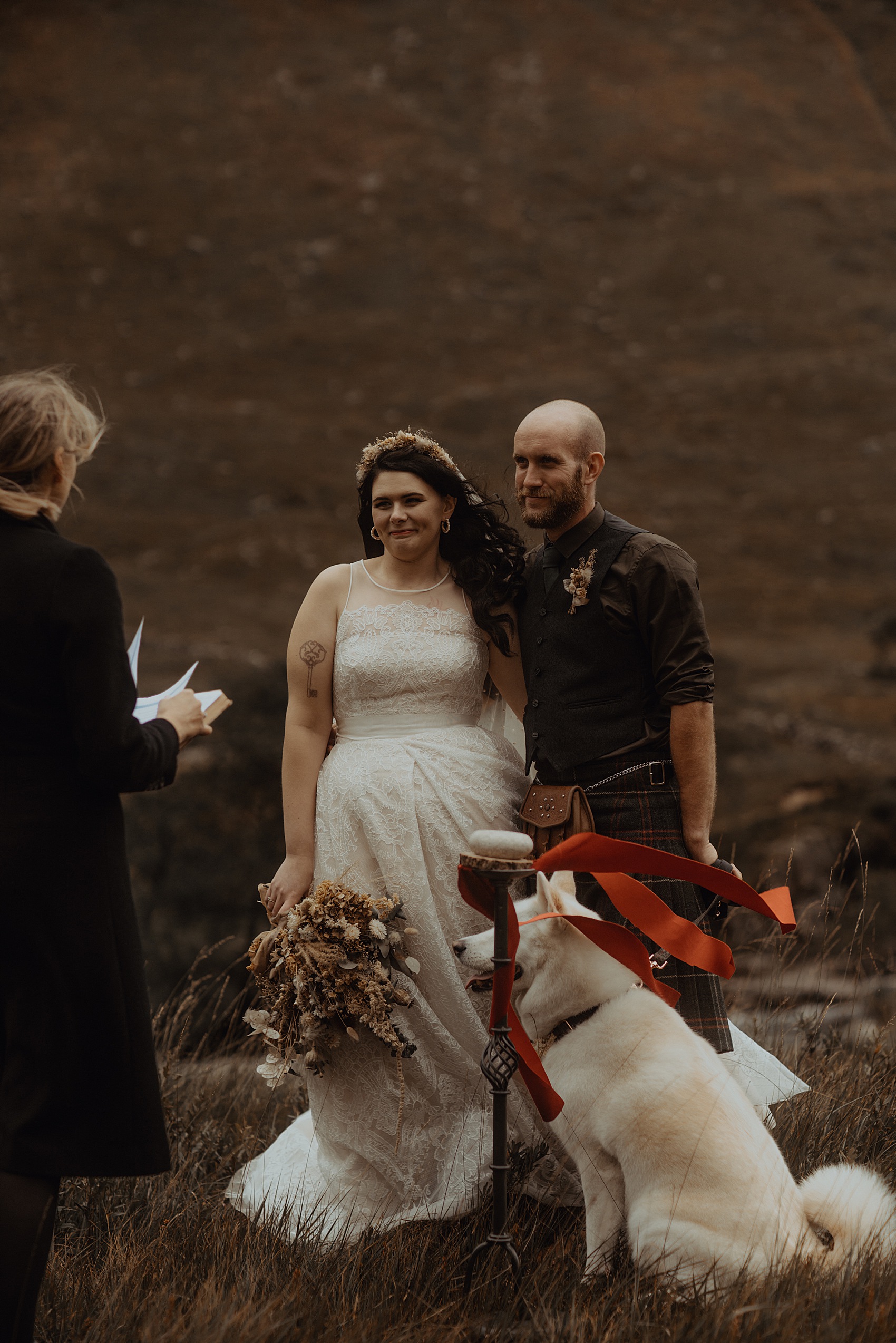 Lindy of Aye Do Ceremonies officiated over the couple's outdoor ceremony.
"Stephen and I both wrote our own vows which we really wanted to do but thought we would struggle as we are not very soppy people."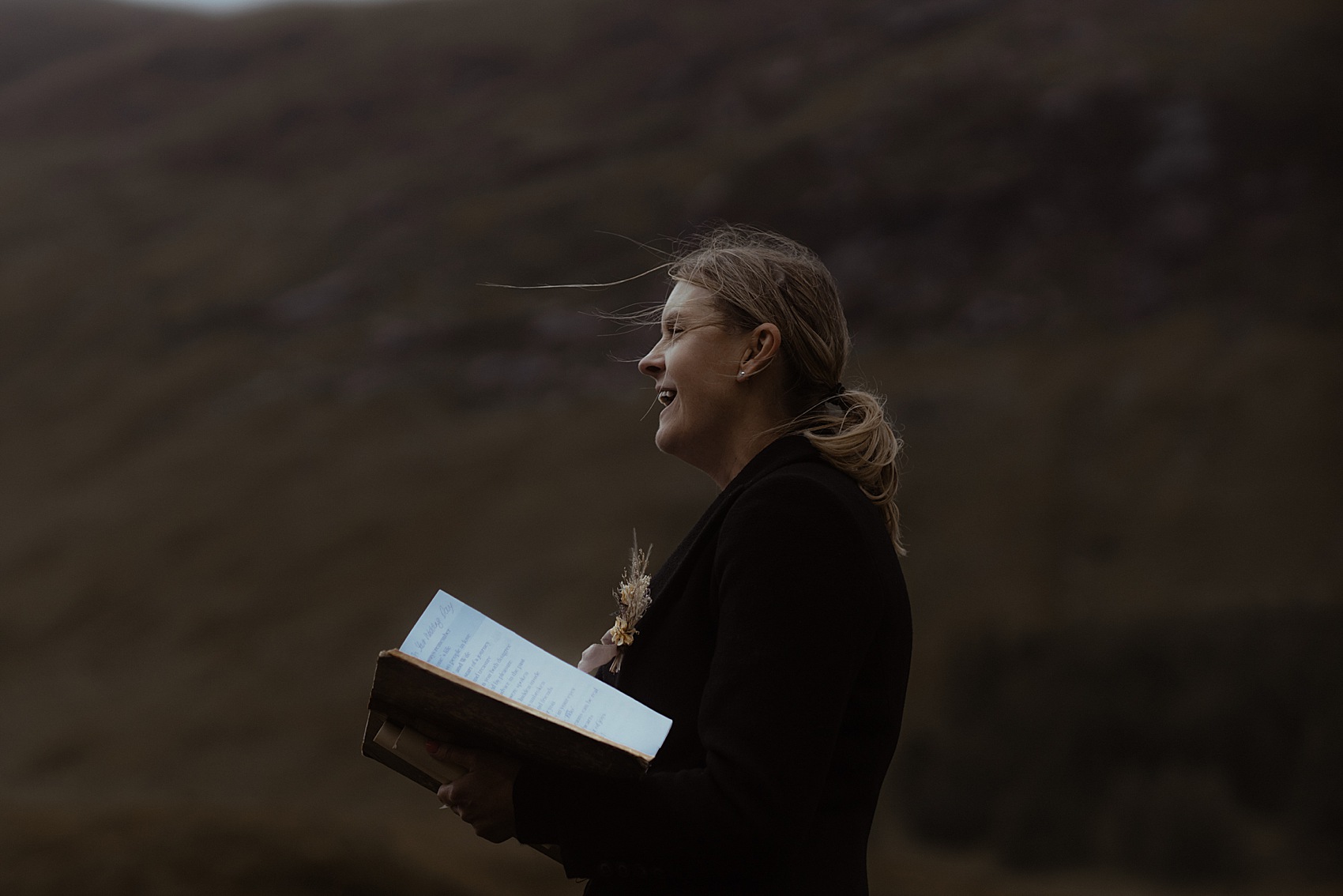 "In our ceremony we included the drinking from the Quaich ritual, which involves drinking whisky (which I hate and Stephen loves) which made for some funny photos!"
"Our favourite part of the day was waking up together and having breakfast while reading cards from all our friends and family, we really remembered how important the whole day is and that it can still be important and relaxed as it's just about us."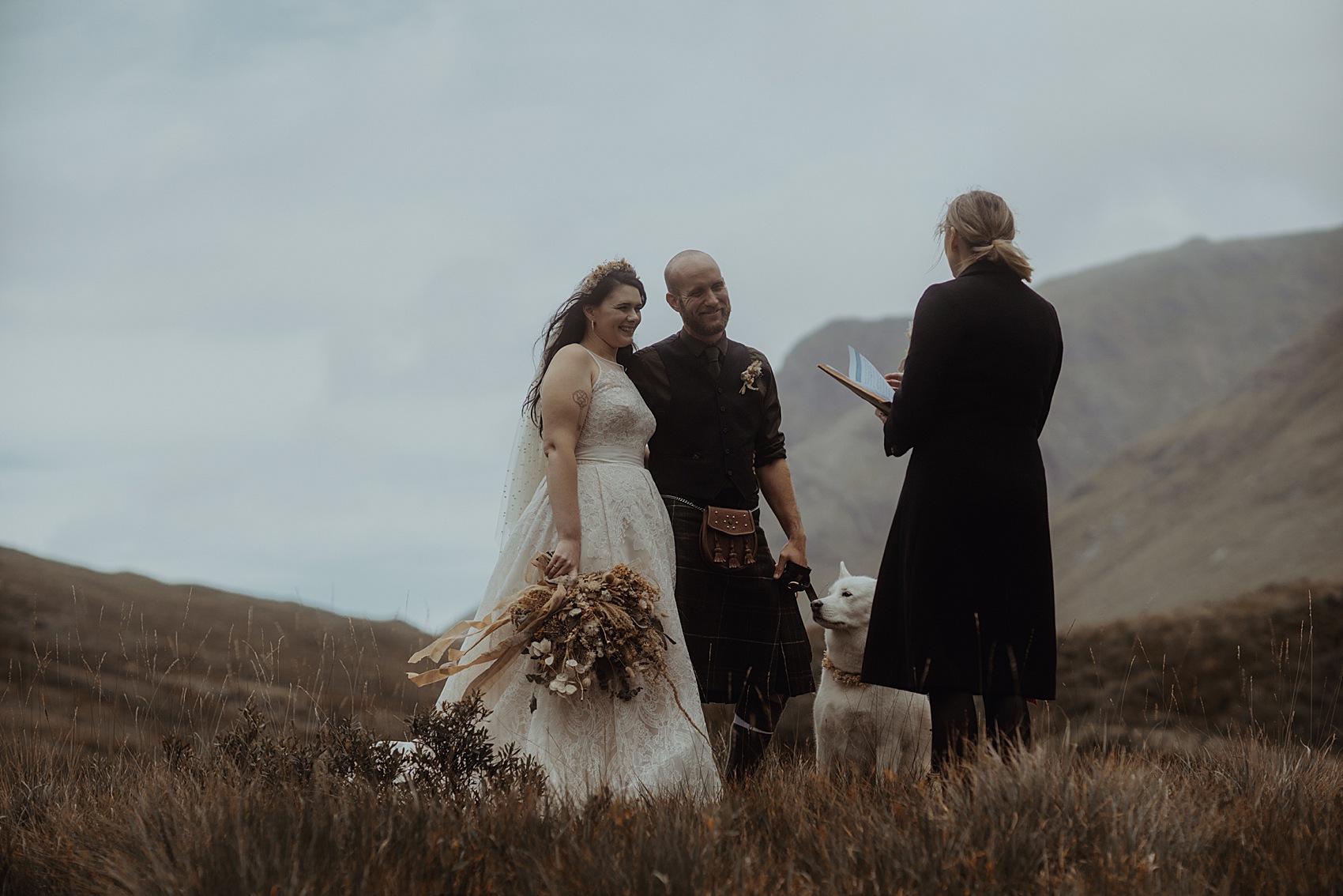 "Our funniest moments was realising we were on our way to the ceremony and forgetting our umbrella, we just had to embrace the elements of the yellow weather warning! And we got a selfie from the car with a big stag, we felt so privileged."  
"We feel we should have always planned an elopement and we should have realised a wee wedding isn't any less of a wedding than a big party."
"I originally planned on fresh florals, but the more I thought about it, I felt dry florals would mean I could pre make my bouquets weeks in advance and if it was rainy and windy they would hold up a lot better."
"It also meant that I have keepsakes from our day. I gave one of my bouquets to my Mum and the other is an arrangement in our living-room."
"I fell in love with Becy's of Belle Art Photography's work when I came across it on a friends Facebook. Before ever planning our wedding I knew I wanted to choose a dark, emotive photographer."
"I work with a lot of really talented Photographers working in the wedding industry but I never had any interest in capturing anything other than beauty and emotion and Becy creates fine art imagery that really makes me feel something."
"Becy was great to work with, she somehow makes these stunning images while being effortless and I felt so comfortable to be around her."
"She was such a calming presence on our day and when we received our images back I sobbed. I still can't believe they are us."
"Stephen chose a Heidi Gibson ring as my engagement ring and I really was blown away with his choice. Stephens ring is made of a walnut wood (because he love trees so much) set in rose gold (to match my rings) he bought this from Etsy."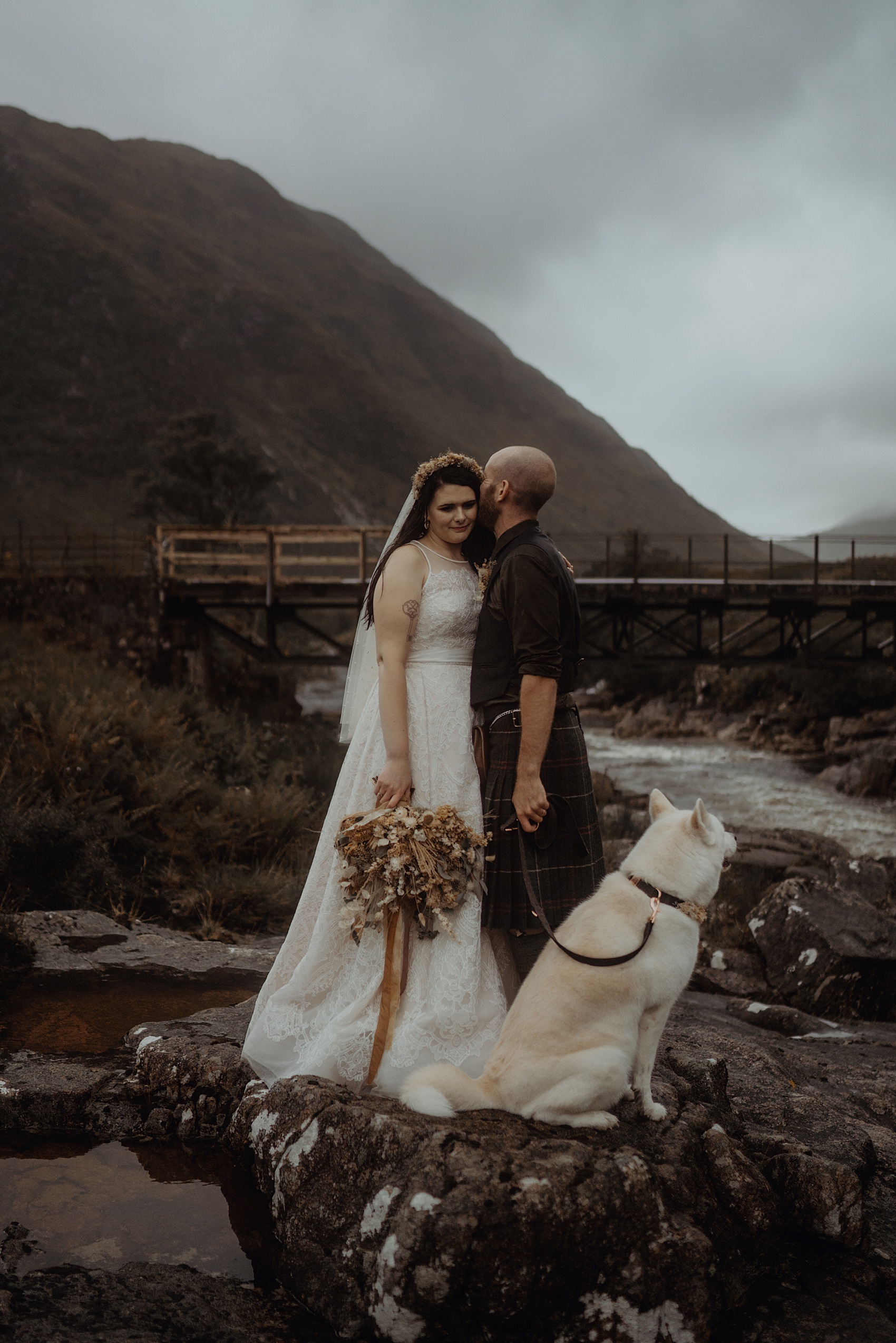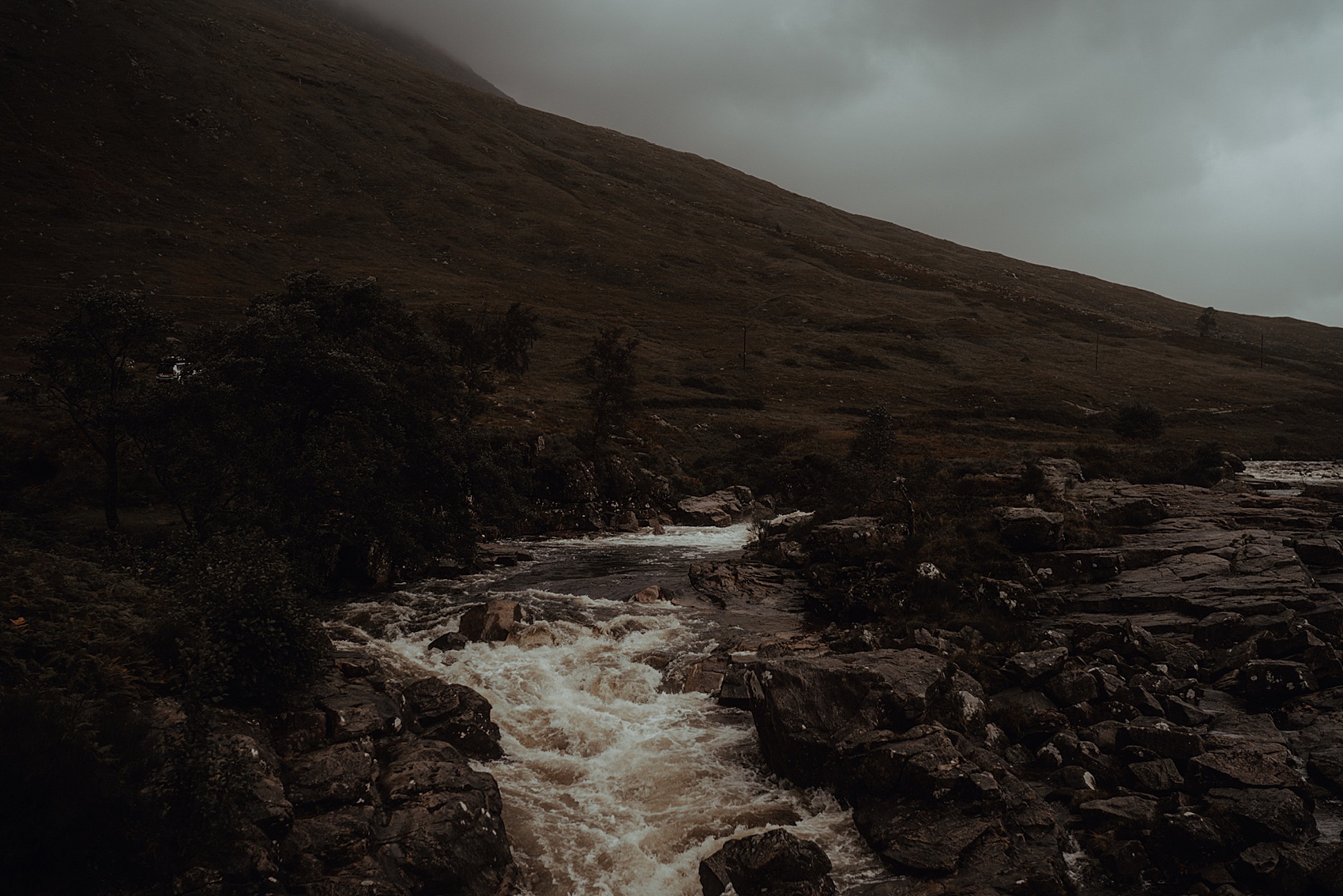 "After our ceremony and even in the rain we had a picnic of cake and champagne in a woodland close by. Stephen had made a wee branch tipi to sit under and I made a few florals that we could build and attach really quickly."
"Fat Bottom Girls Cakes made our delicious cake. It was a pumpkin spice sponge with mascarpone latte cream icing. I worked with Fat Bottom Girls on a wedding together the year previous and our client had the same cake, after smelling it and not getting to taste it I knew that cake was for us, I love a Pumpkin Spice Latte!"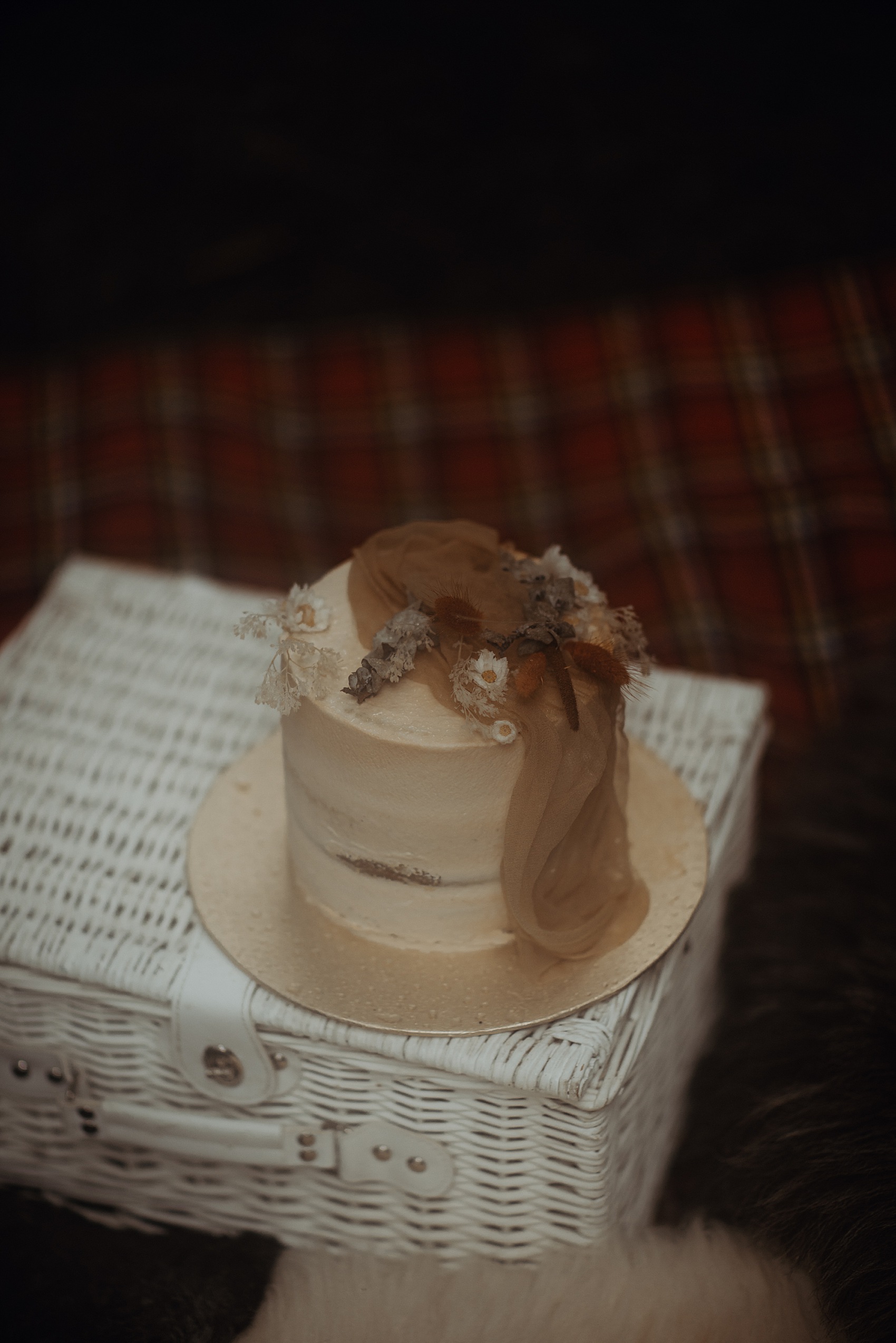 "I was glad we got to change our date into Autumn so I could have my dream cake! Obviously our cake was a little big for just the two of us but we managed to get through half of it ourselves over the weekend and froze the rest so we could share it with family.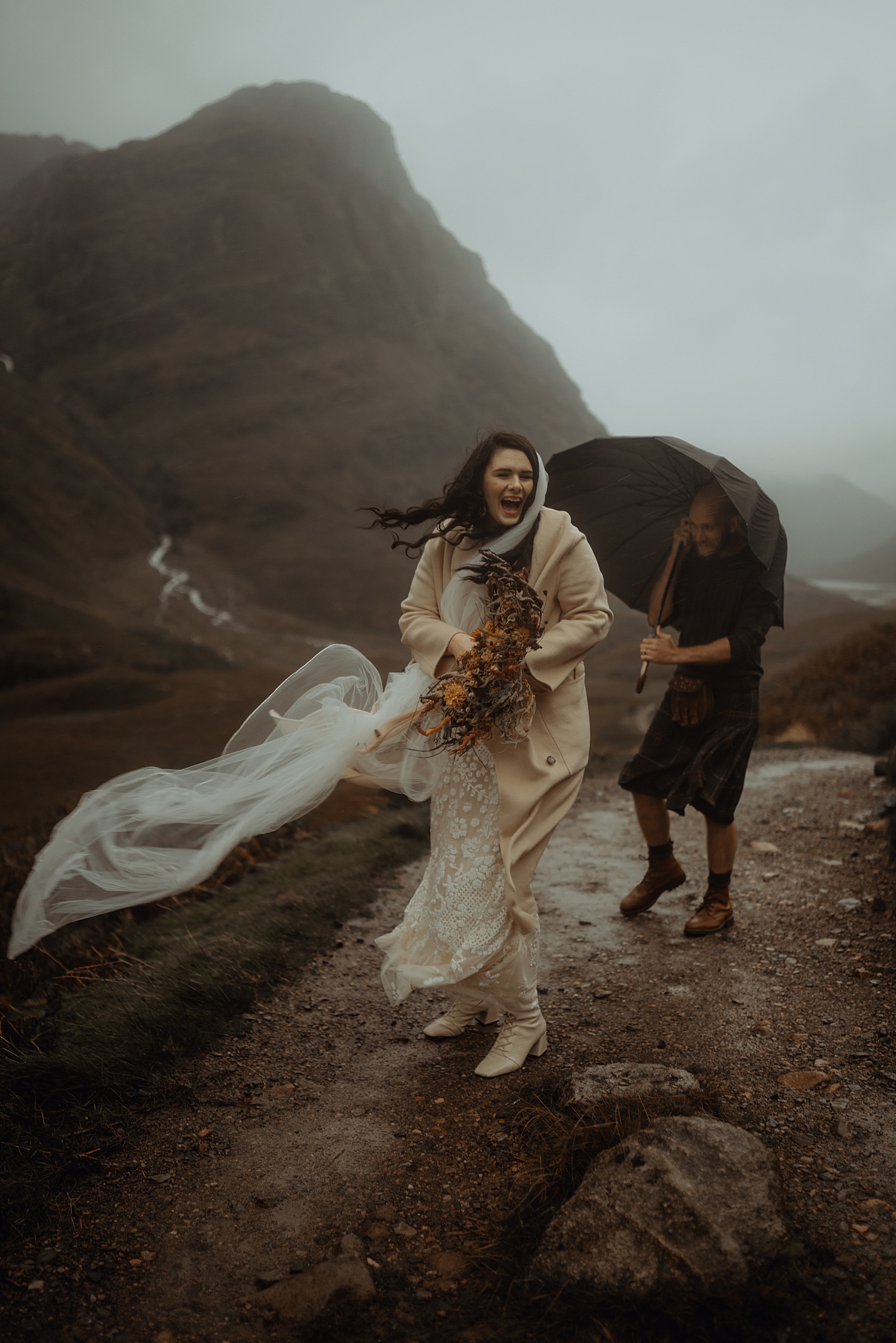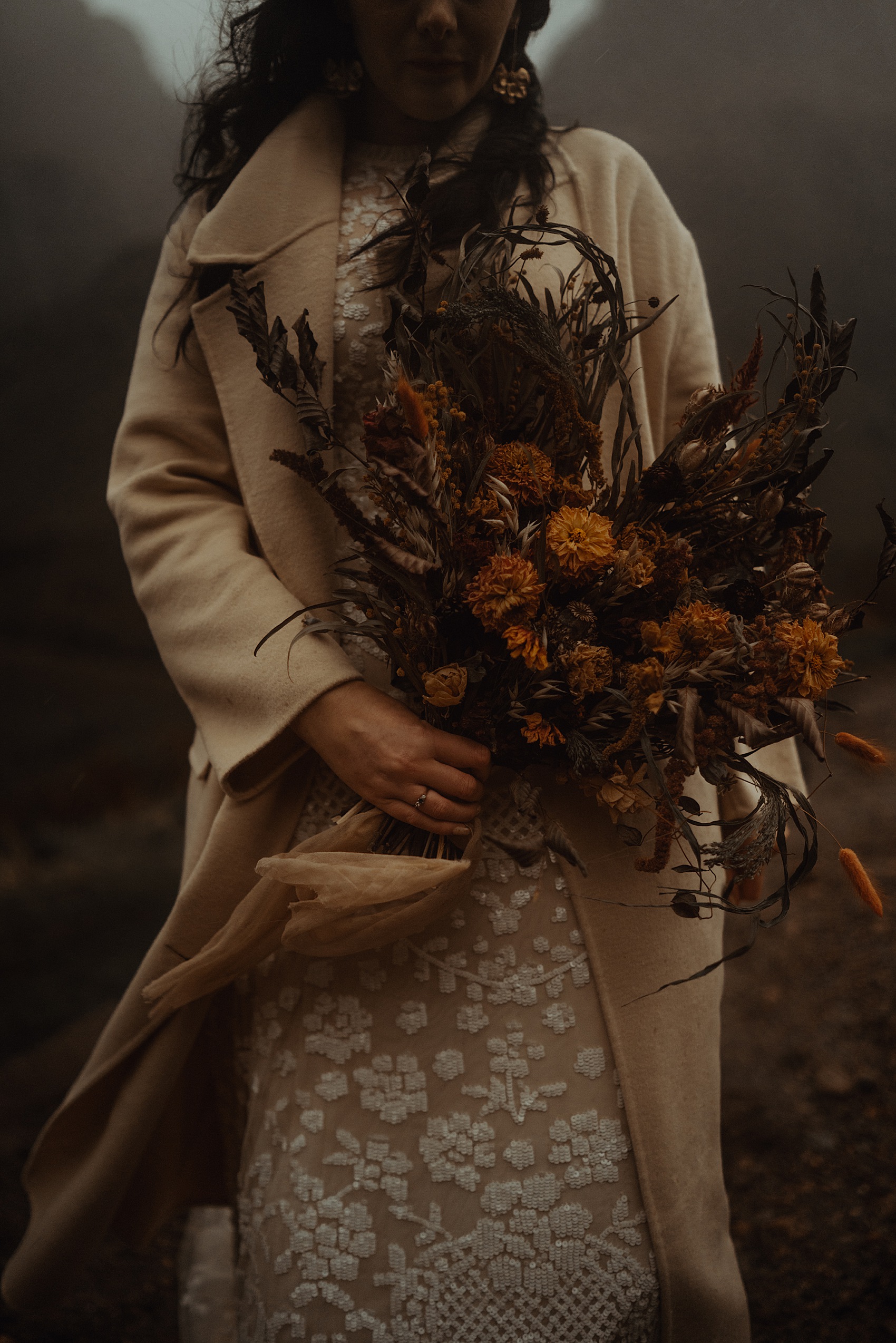 Words of Wedded Wisdom
"No mater what you will find something to worry about, it's just because the day is so important and you probably wont realise till after your day that perfection as you know it isn't always possible!"
"I would have considered myself quite a chilled out bride. I learnt to embrace a date change, a complete replan and every hurdle a global pandemic could throw at us but heavens forbid the idea of normal Scottish weather dampening my hair and making us shiver was honestly the breaking of me."
"On our wedding day there was a yellow weather warning bringing gale force winds and pretty much all day rain. This meant we got an outfit change (who doesn't want two wedding dresses?), we drank champagne and ate cake in the shelter of a wood, we got to laugh (a lot) at that happening to us and well we got the most epic photos we could ask for. Thank goodness for that storm."
"I found myself googling 'Glen Etive/Glencoe elopement' in the middle of the night reading anything I could incase I had missed something important!"
"I love looking at my favourite wedding suppliers accounts and piece together what creatives compliment each other."