Hello lovely ones – we have the most charmingly sweet October micro wedding to share with you today.
Broadcaster Danielle married Comedian Steve on 10th October 2020 at the wonderfully restored Low Hall The Lakes in The Lake District. We are so immensely proud to recommend this beautiful venue to our readers through our curated directory. Run by husband and wife team, Francesca and Ben, it is the most beautiful North West UK country and lakeside escape and dream of a venue for those looking to marry converted barn style.
"The venue literally landed in our laps! We knew we'd like a very small and special wedding, and also we love being surrounded by nature and gorgeous countryside."
Low Hall The Lakes

+ Follow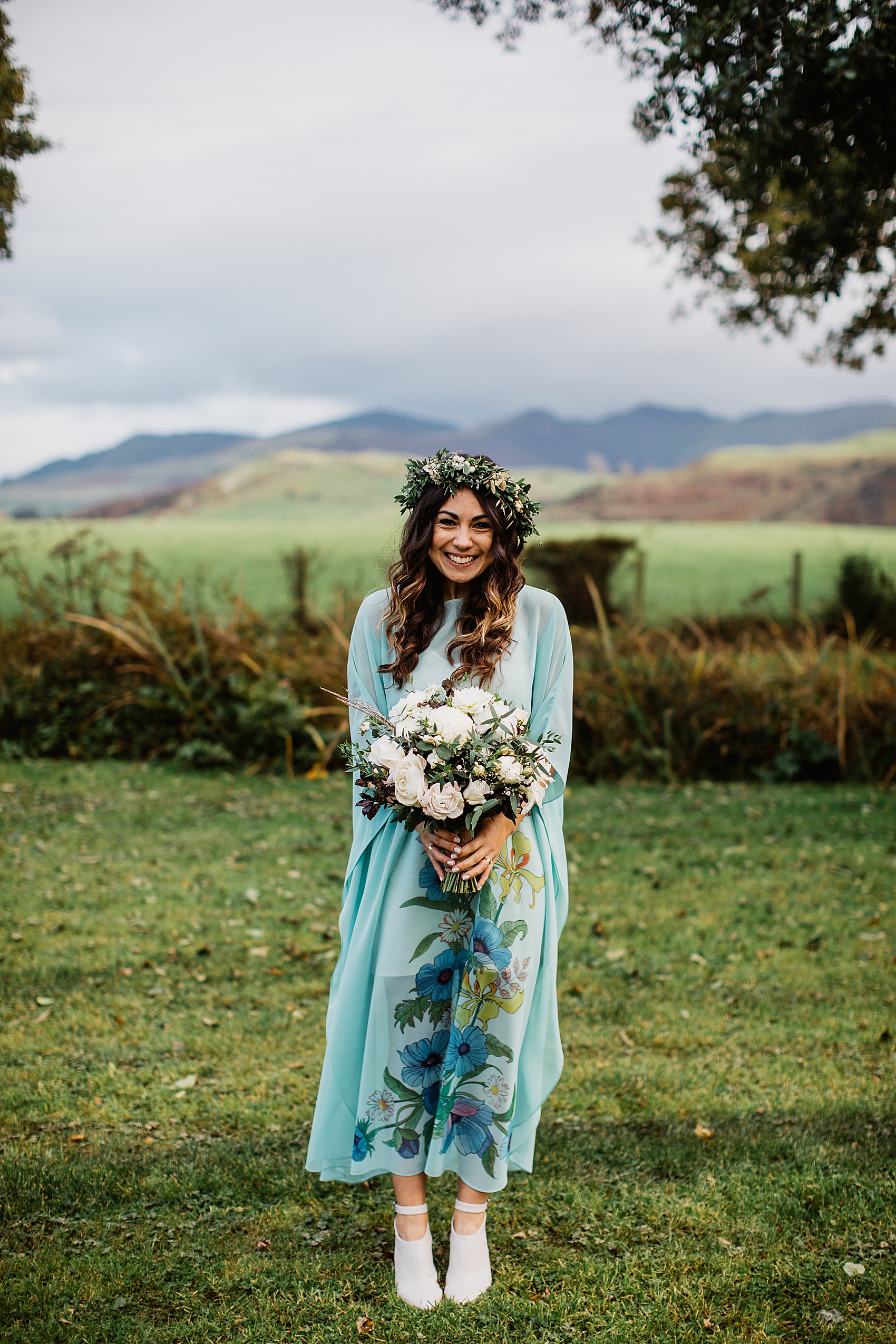 "We emailed a few venues that fitted the bill asking for any free dates in September/October. Low Hall came back with a couple of options, so we messaged our nearest and dearest with the date we chose and when they all said they could make it we knew it was the perfect place. Booked! Francesca and Ben at Low Hall The Lakes did all the beautiful styling for us."
Find out more about Low Hall The Lakes wedding venue
"We met at work, Steve was presenting a radio show and I was reading the news on it."
"Our engagement happened at home in June, in lockdown, after going on a long walk in the sun. It was lovely. We poured lots of fizz and called our family and friends and they were so happy."
"Getting married to each other was a joyful thing for us to look forward to after a tough year, so we started looking at venues online the following month. We knew we didn't want a big white wedding, and Steve loves a barn."
"So The Lovable Old Barn at Low Hall was perfect, and we organised the wedding in just 11 weeks."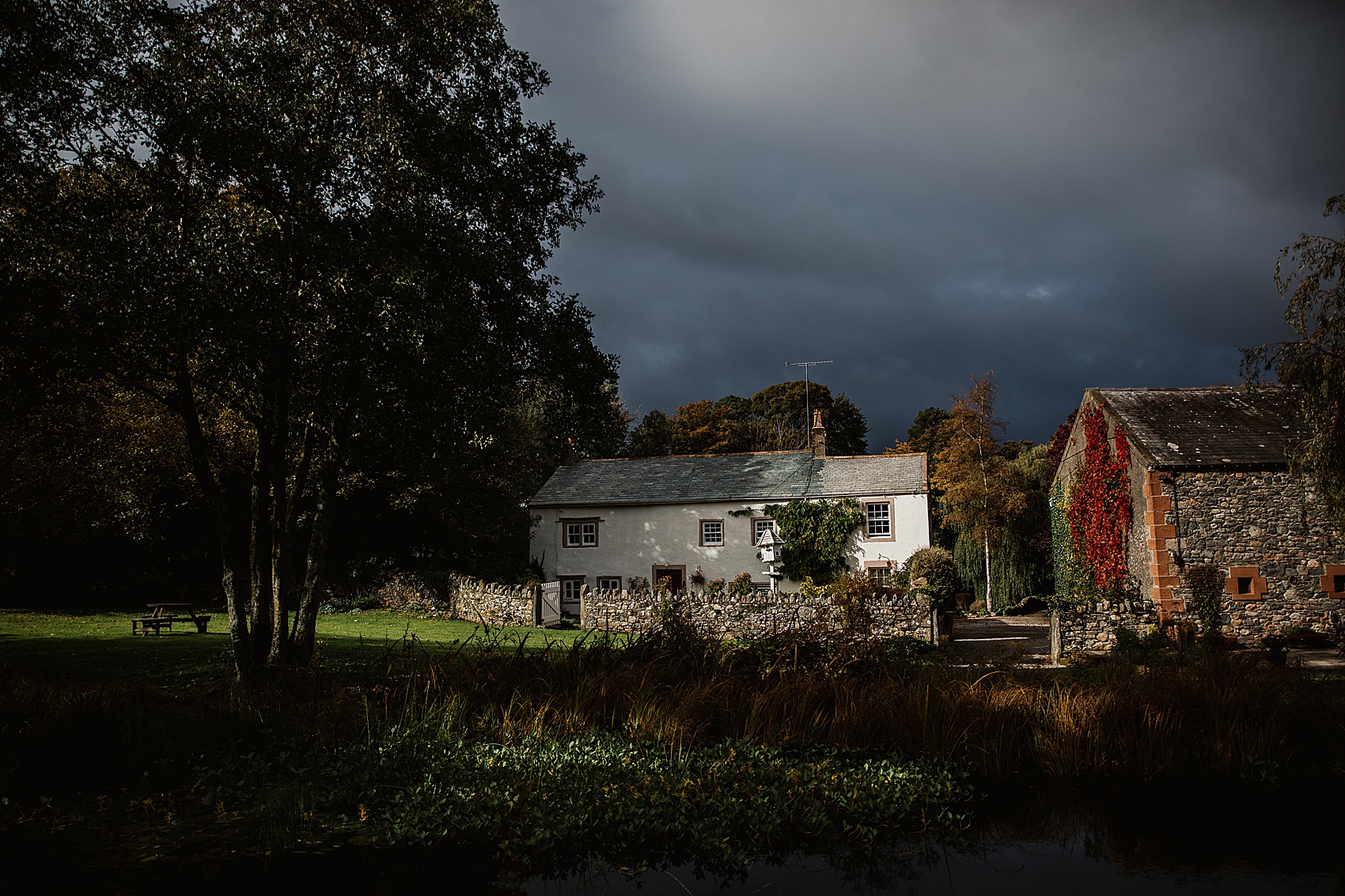 "We were so grateful to be able to get married in the COVID-19 situation and we stayed focused on that during the planning. We knew things were changeable and some things wouldn't be quite what we'd envisaged, but we could still get married – hooray!"
"That mindset really meant we could enjoy all the choices that were available to us."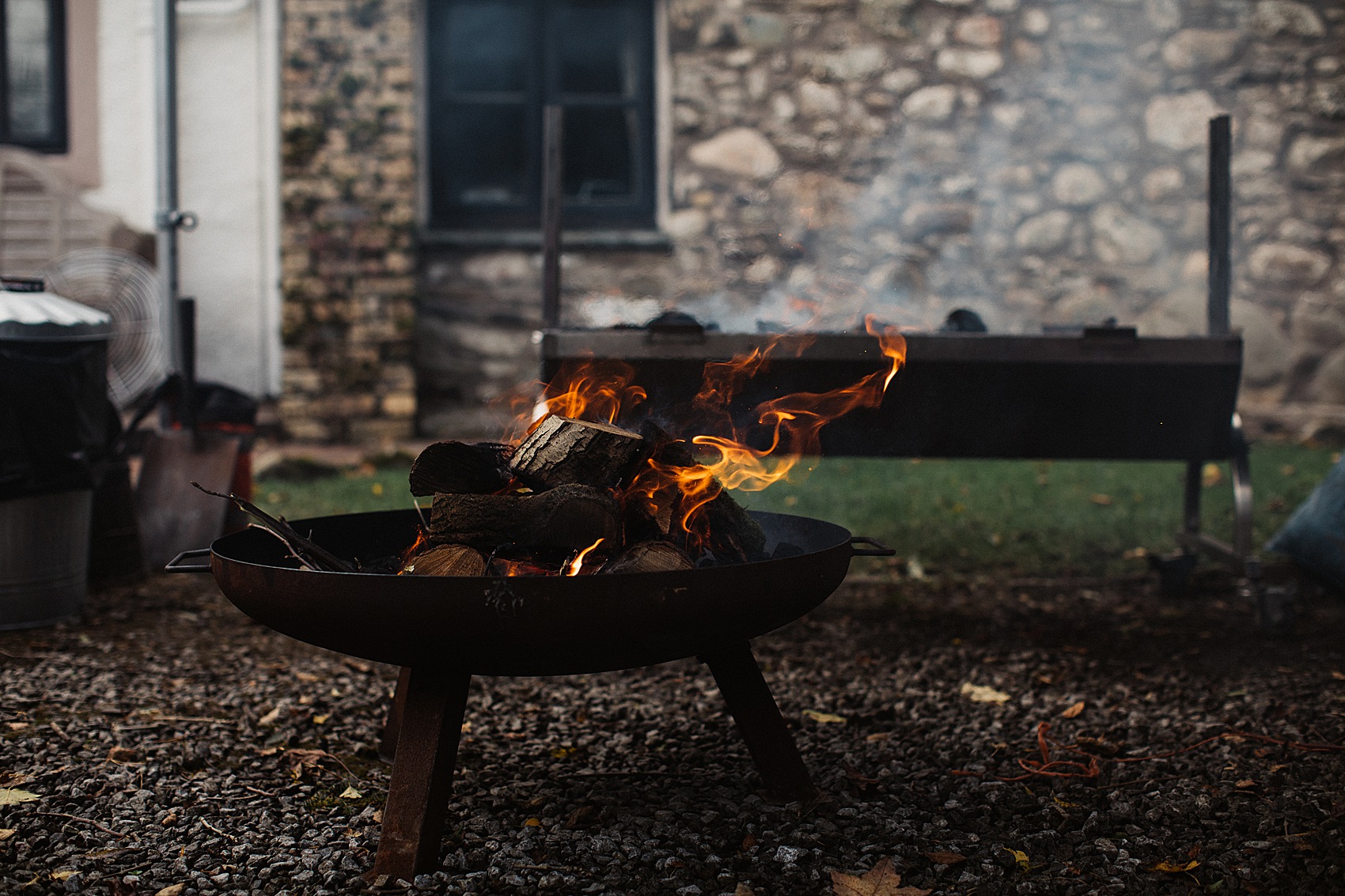 "Planning the wedding weekend was dreamy. We had so much fun being in touch with Francesca at Low Hall narrowing down our cake choices, and picking our flowers."
"We try and support local whenever we can so we were really happy to have flowers from the local flower farm, a beautiful cake made locally, and the most incredible food."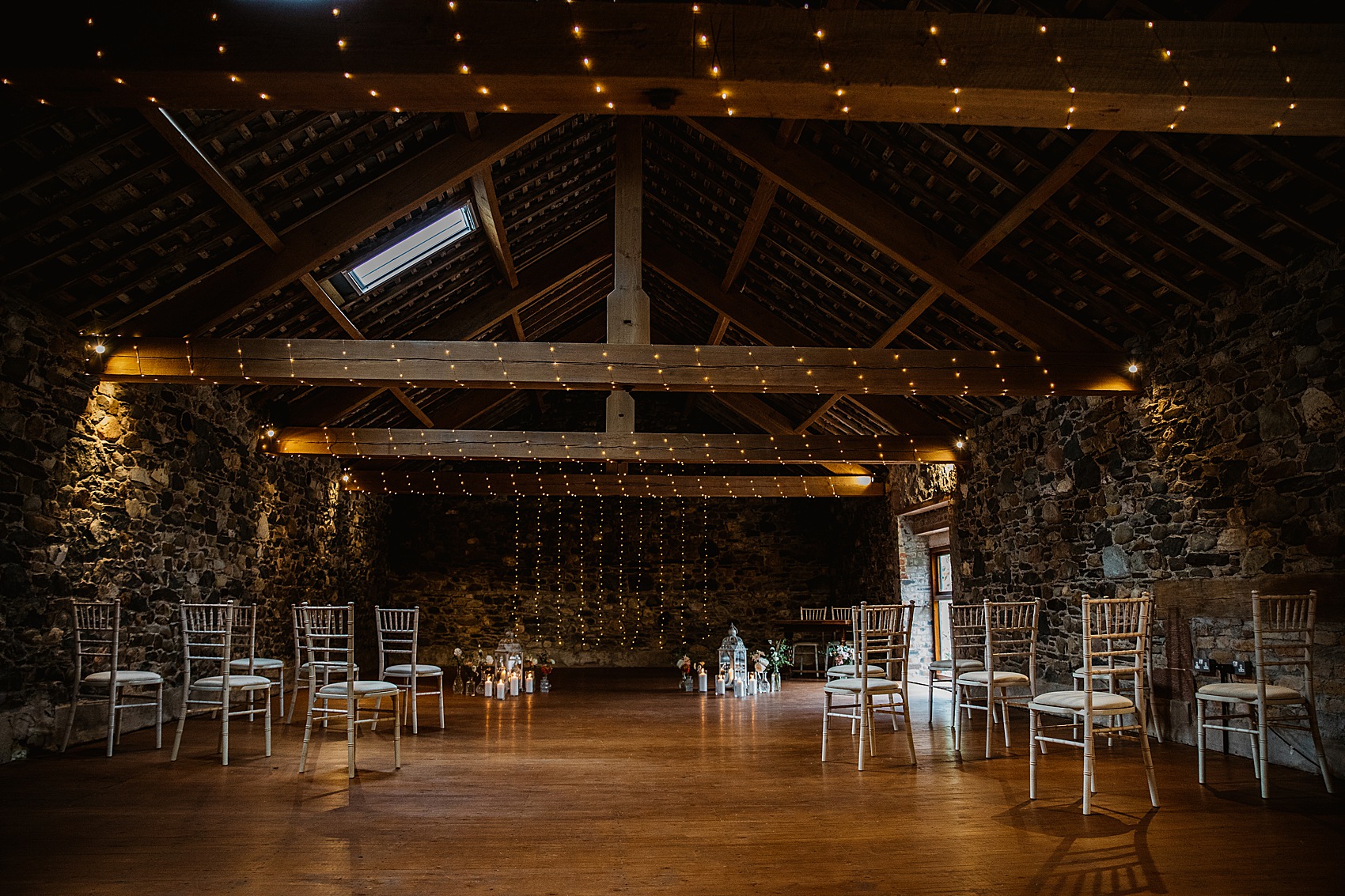 "The plan to stay chilled and flexible with all the organising was one we wanted to carry through to the wedding day so we could really appreciate the experience."
"Prior to the wedding, organising a socially-distanced and 'bubbled' seating plan for dinner was like playing a game of Tetris, and it took a few goes to get it right."
"Our guests knew we were following guidance from Low Hall and Cumbria Council to keep them safe, and we reminded everyone to bring face masks etc."
"The week before the wedding, the government changed the rules on how many people were allowed to come."
"We originally planned to have fifteen guests, but the new announcement meant we could have fifteen people at our wedding – including us. Having to 'un-invite' two people was the hardest thing we had to do."
"Steve wore a blue checked tartan suit from NEXT with a white shirt, silver tie, and a pair of maroon brogues."
"We had buttonholes made by the Cumberland Flower Farm for Steve, our two witnesses – my brother and Steve's best friend – and my dad and stepdad."
Danielle wore a vintage, peppermint green, sheer floral kaftan, with an ASOS nude satin camisole slip.
"COVID-19 meant I couldn't go into any wedding dress shops to try anything on. After a couple of attempts at buying things online, and spending hundreds and hundreds of pounds in the process, the week before the wedding I remembered I had a lovely kaftan and realised it was exactly what I wanted to wear."
"I knew I would be having a flower crown which would make the outfit look a bit more 'bridal' and so I quickly ordered a slip to go underneath, and some shoes."
"I loved how comfortable I felt. The dress was a dream, and the shoes were so nice and I felt it really came together to match my style. The main thing was I was getting married to Steve, I just wanted to feel like myself when I did it."
In her hair the bride wore a cream, white and green flower crown made by floral designer Harriet at Cumberland Flower Farm.
"Harriet at Cumberland Flower Farm was brilliant. We were given a choice of colours and decided to go with white, with a splash of something autumnal and in season."
"These were also used to decorate our wedding cake from The Yummy Pudding Company and looked so beautiful that we weren't sure it was real!"
"On the day itself there were some rules in place that had the potential to feel like a bit of a downer, for example there was no dancing or singing allowed. Rather than be morose about it we just bunged on a banging playlist and chair-danced!"
"Also everything had to finish at 10pm, but having the people we love with us that day meant more than any of those things."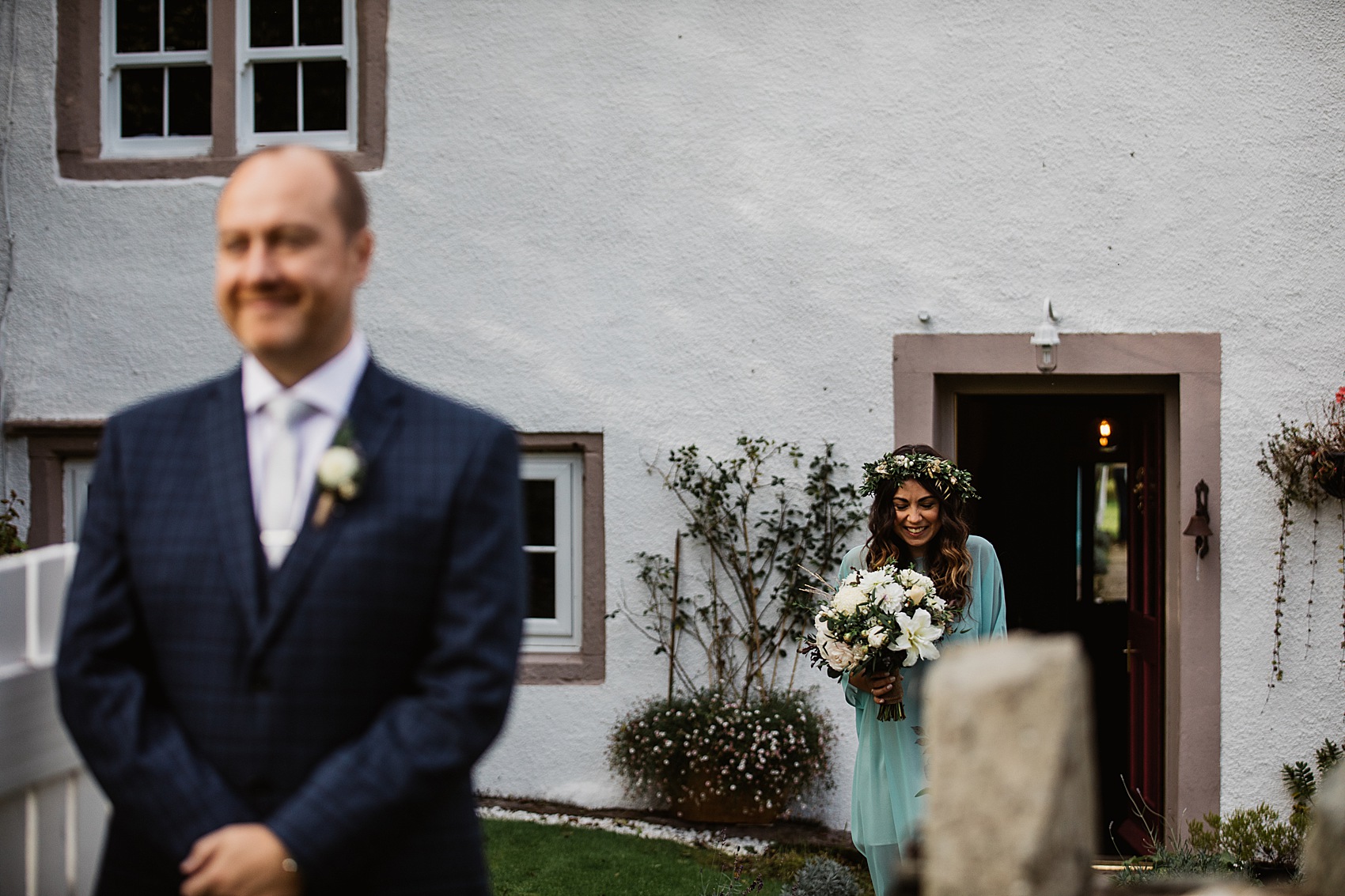 "There were some rules in place that ended up being really positive, too! Steve and I walked down the aisle to the ceremony together which felt like starting our married life in a lovely, united way."
"We can't speak from personal experience about having to postpone a wedding, but what we can say is the part where you're actually getting married to the person you want to spend the rest of your life with is the most beautiful and exciting experience."
"Whatever it looks like and whoever's there it will be just as joyful, just as happy and just as brilliant wherever the two of you are, and however you choose to get married."
"My wedding ring had been made by Goldsmiths, Bath. They melted down some of both of my grandmothers' gold jewellery for me."
"Steve's ring is matte-finish and platinum from Harriet Kelsall Jewellery in Primrose Hill, London. We designed it together there, as that's where we'd designed my engagement ring."
"We walked down the aisle together to the sound of 'It Must Be Love', by Labi Siffre."
"We were unable to have a bespoke ceremony due to COVID-19, but the traditional vows were beautiful."
"When the registrar said 'It gives me great pleasure to now pronounce you husband and wife!', we couldn't stop smiling and were so happy we were able to share that with our loved ones at a time when so much uncertainty and heaviness was weighing on people's minds."
"It was a joyous moment."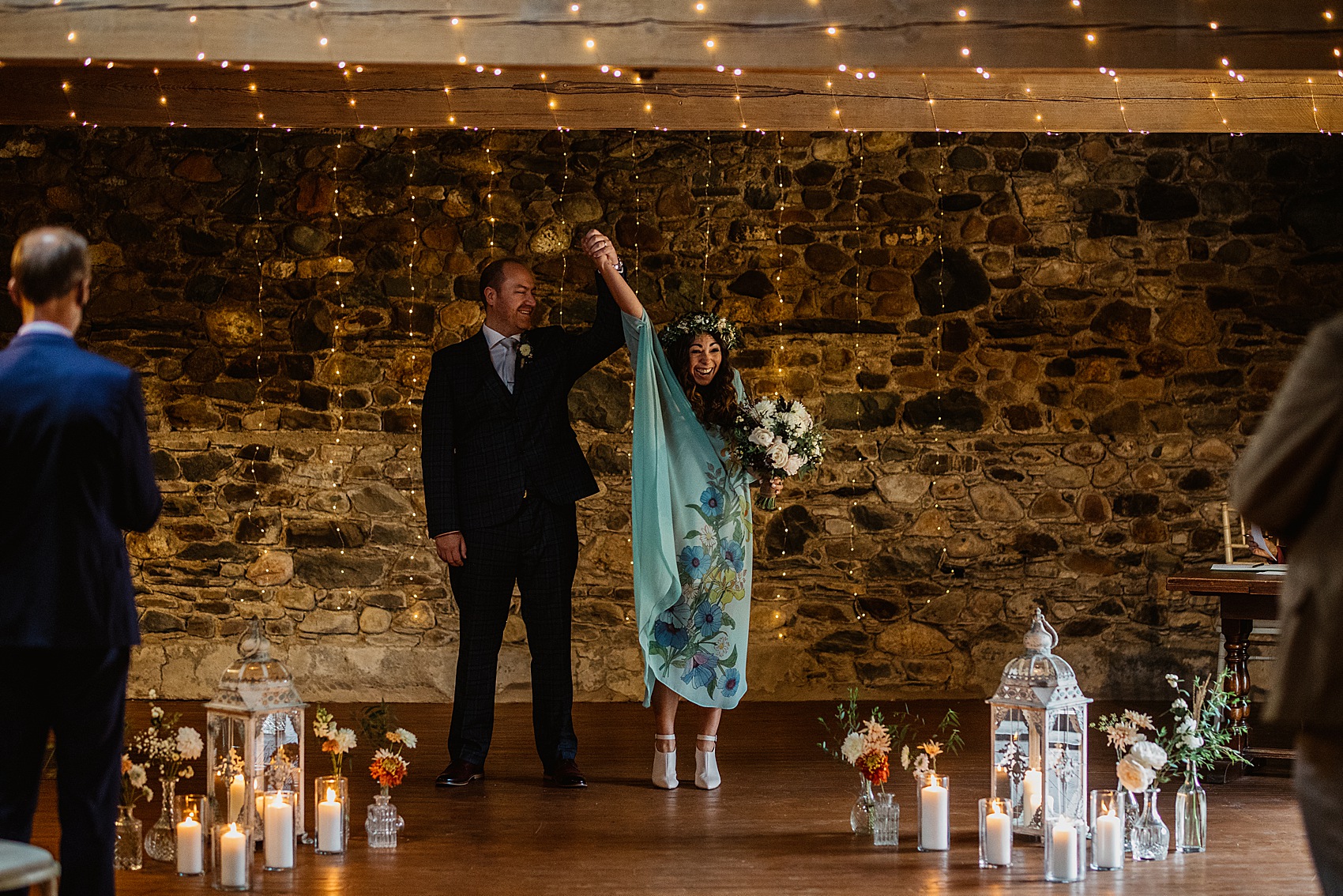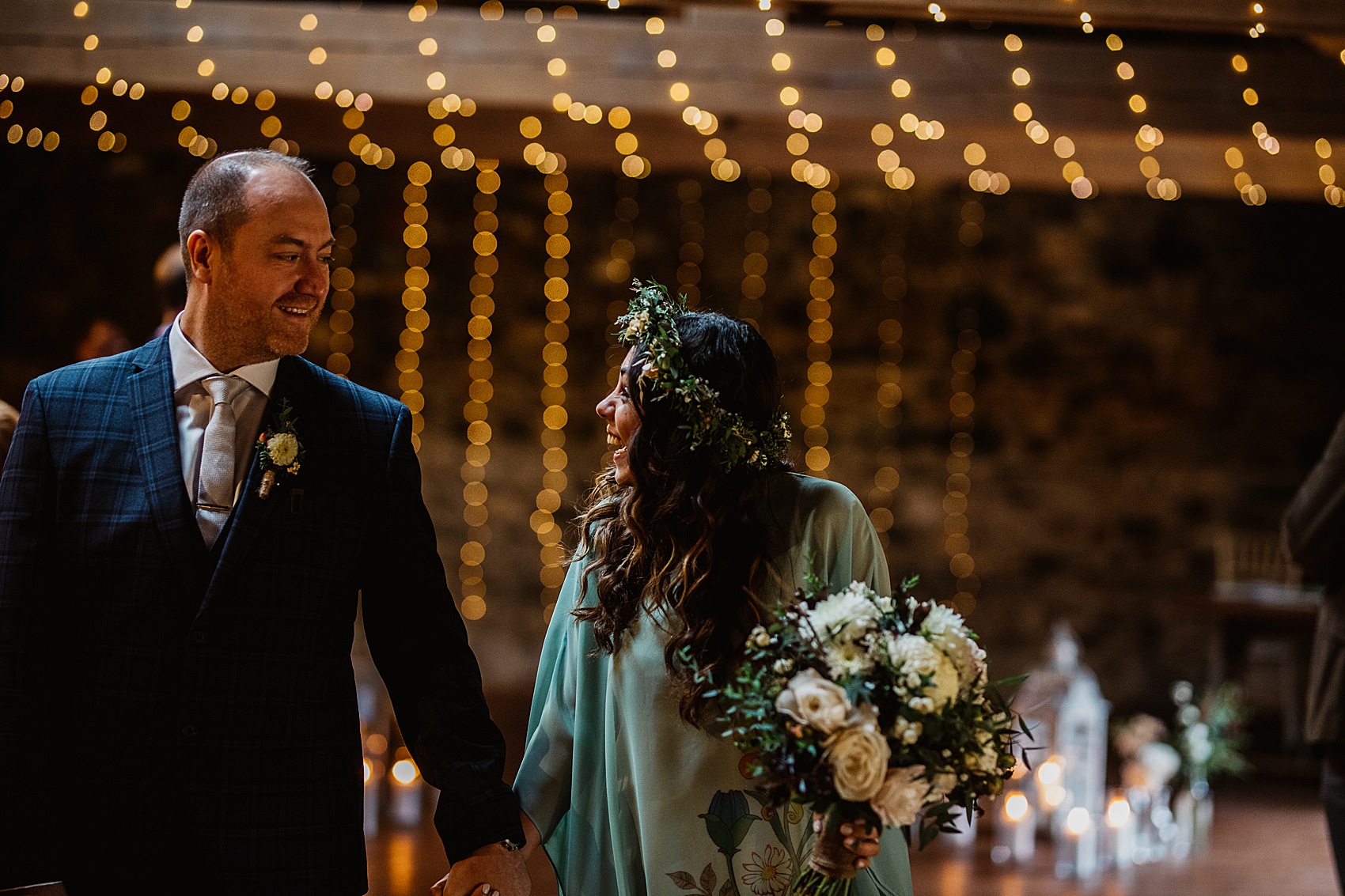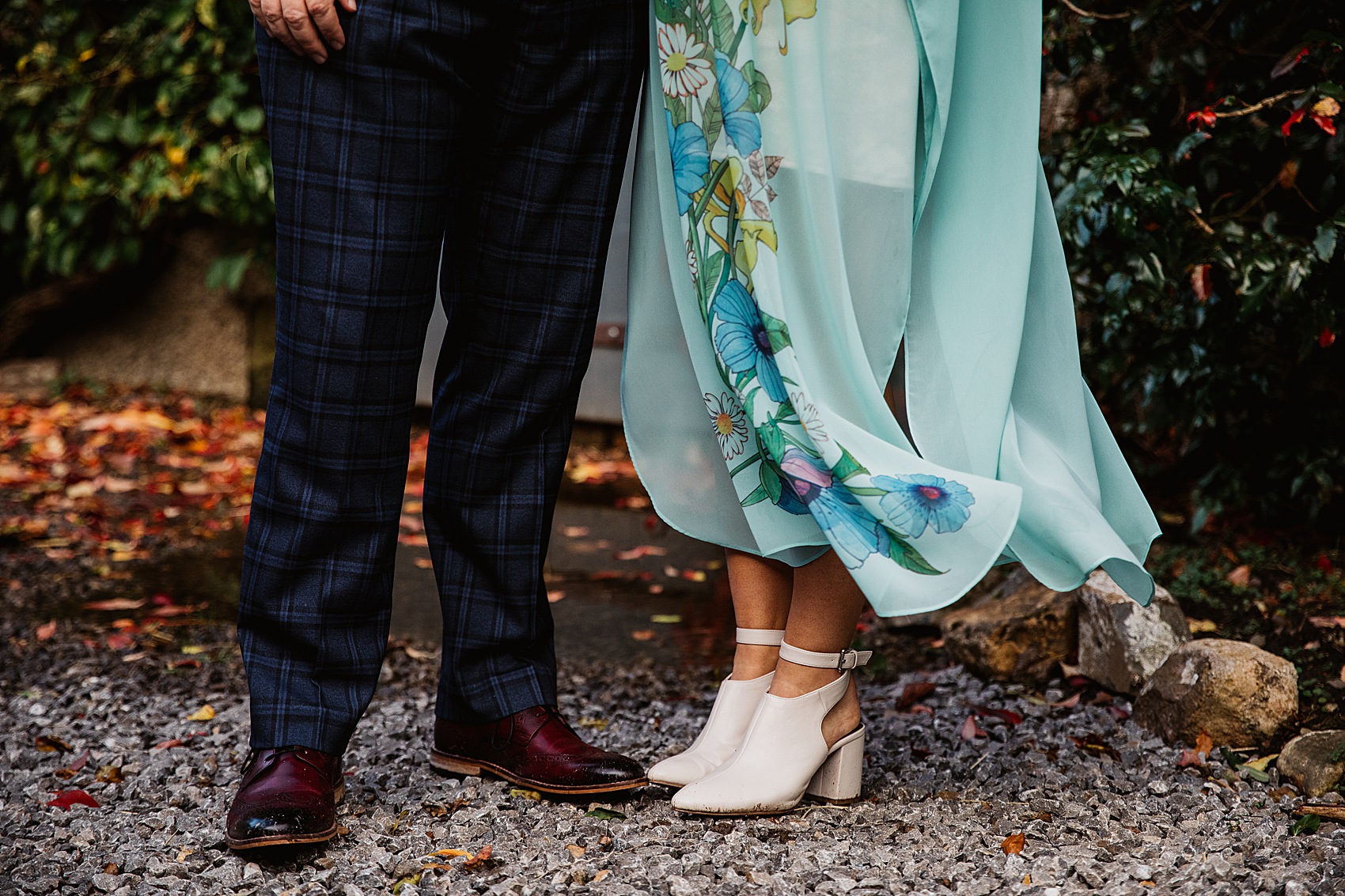 "We weren't able to have a wedding banquet where everyone could help themselves, so together with the Stonehouse Smokery, we conjured up an amazing feast with each course presented on beautiful bamboo plates to each couple/bubble so they could serve themselves."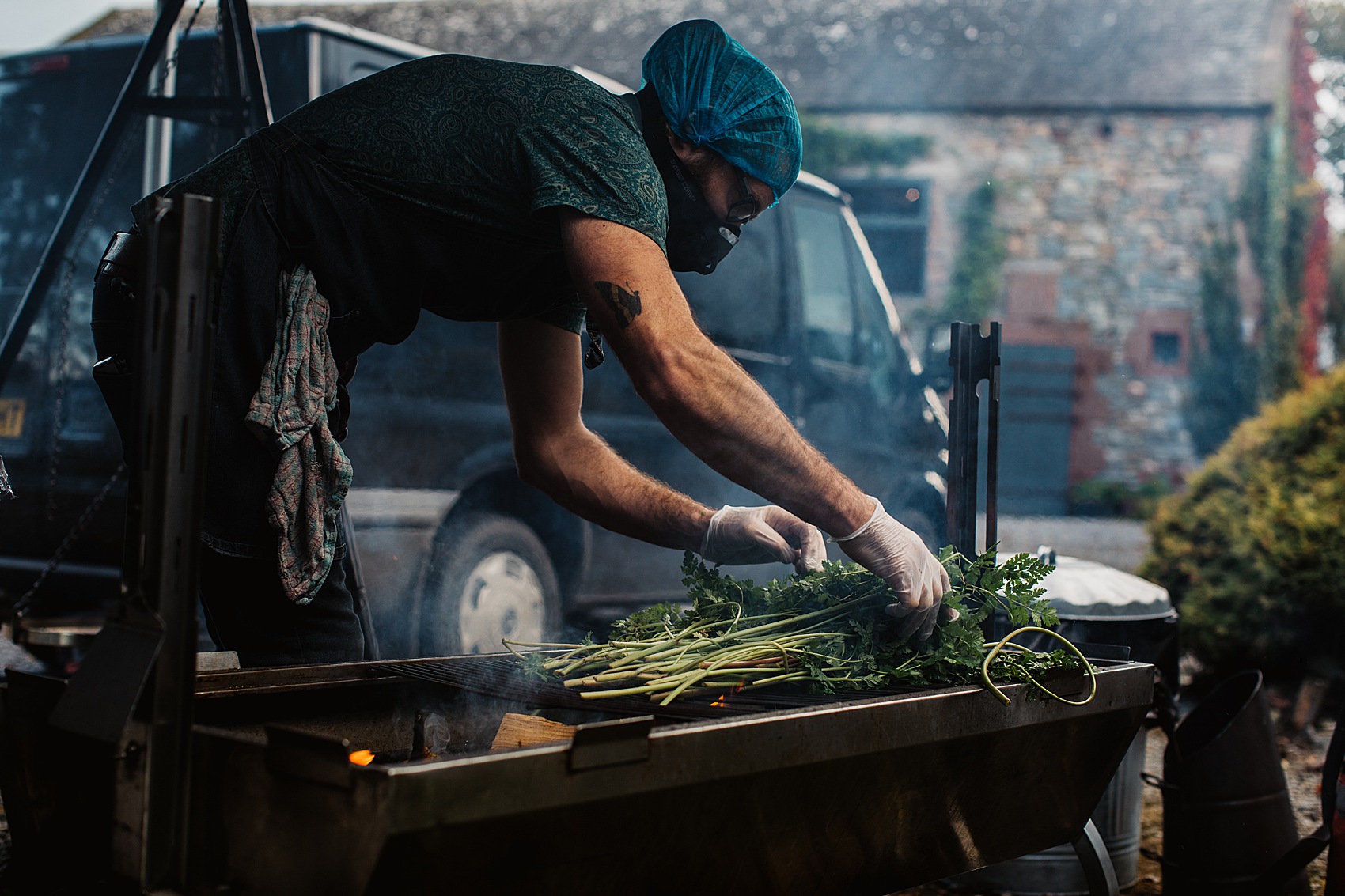 "Fran and Ben recommended Joe Mather Photography. Joe was brilliant and we love our photos, especially how much the outdoors and the scenery features in them. We would absolutely recommend him."
"Jono Symonds was fantastic, and produced a beautiful wedding video for us – it's made everyone who's seen it cry!"
"It was so important to have such beautiful film and photos of it because those that couldn't be with us due to COVID-19 restrictions could still feel part of our day."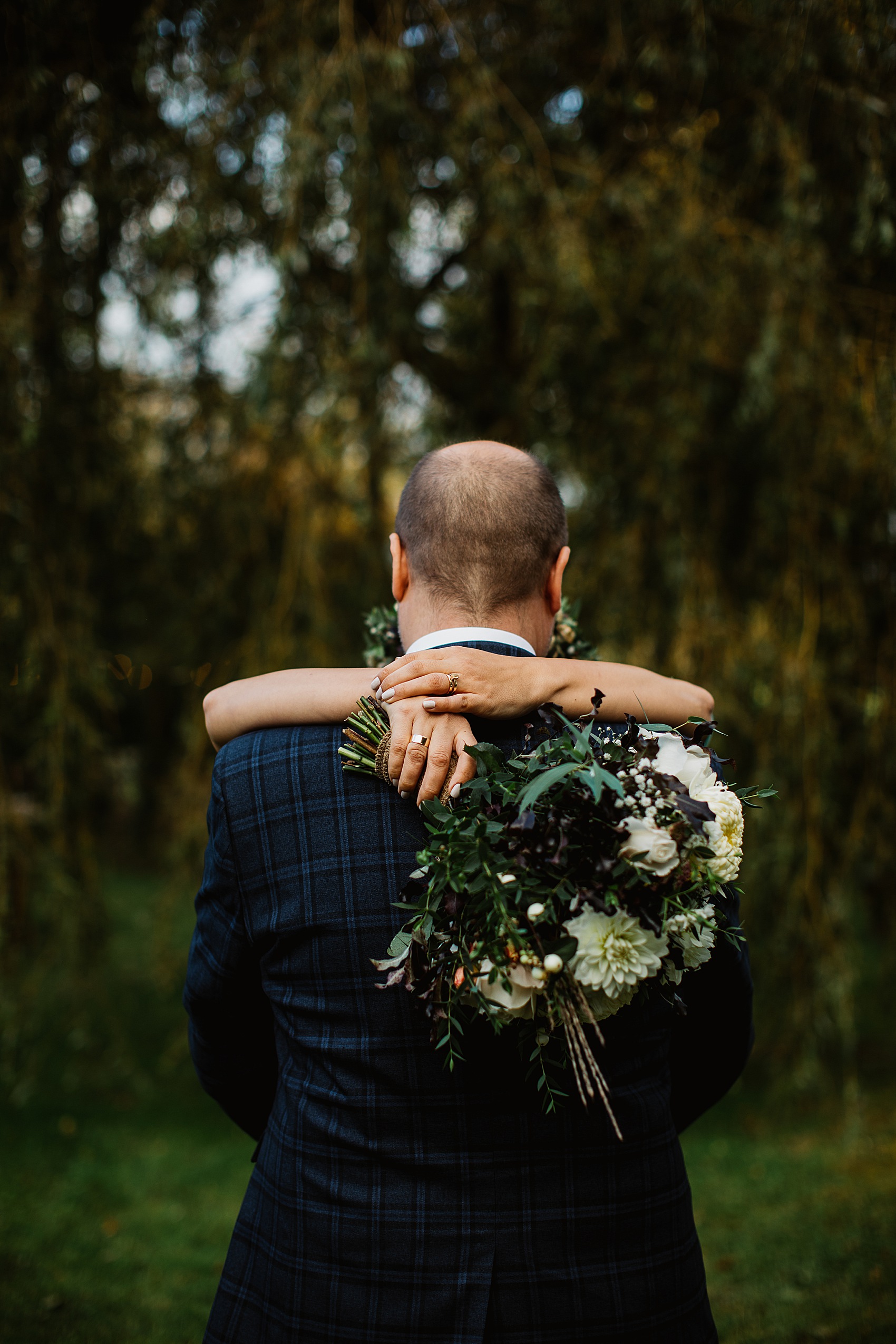 "Fran and Ben from Low Hall The Lakes put extra flowers from the Cumberland Flower Farm into vintage vases, and there were lanterns and pillar candles on the floor along with lots of fairy lights for our ceremony in the barn."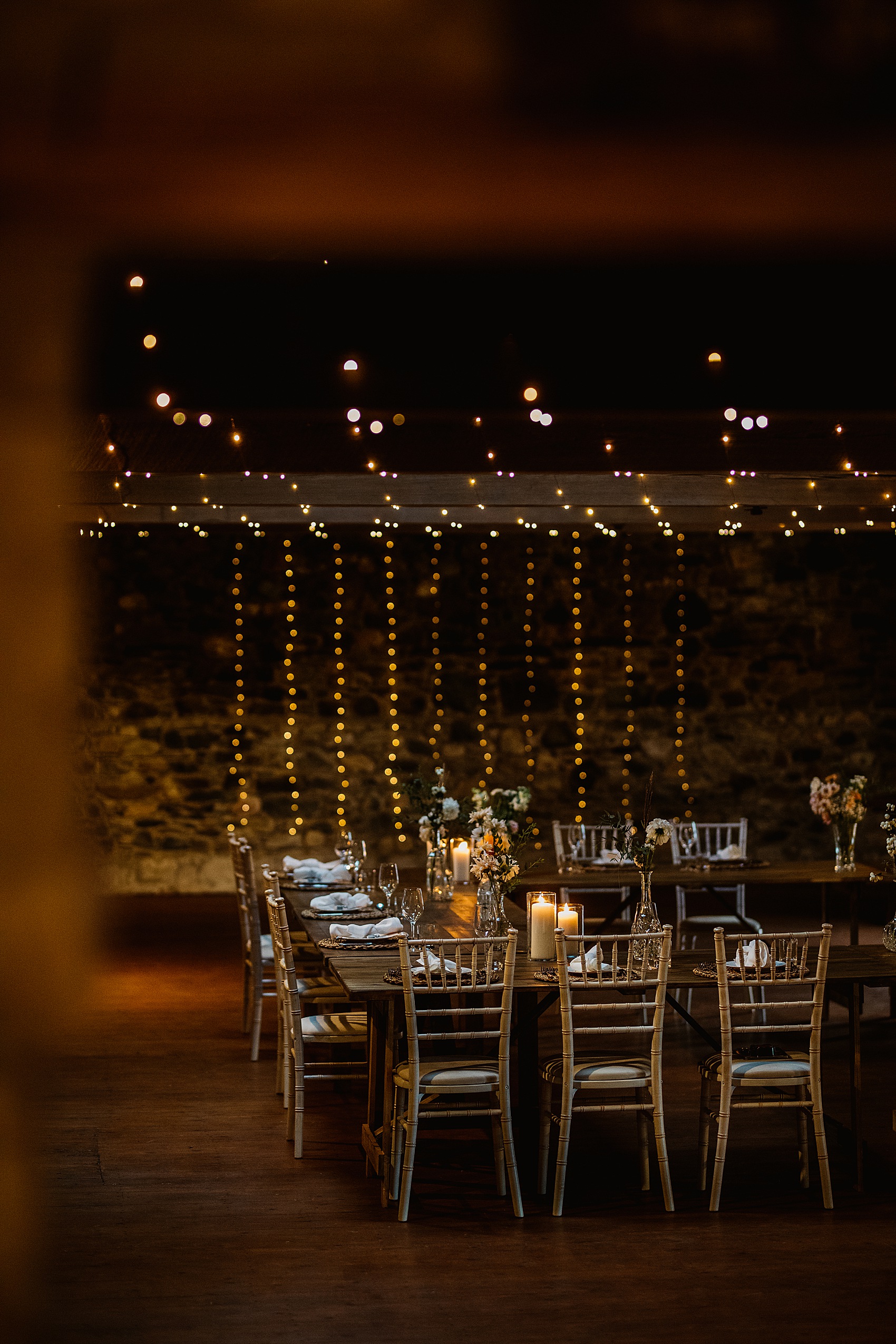 "I designed and printed individual menus on the Utterly Printable website. These looked beautiful on the day."
"Drews Laser Cutting on Etsy made beautiful wooden place names, and we had handmade tea tree and poppy seed soaps, and a scratchcard for each of our guests."
"The Yummy Pudding Company made us a marble cake topped with a caramel drip, autumnal berries and figs, and flowers from the Cumberland Flower Farm. It looked incredible, and tasted delicious."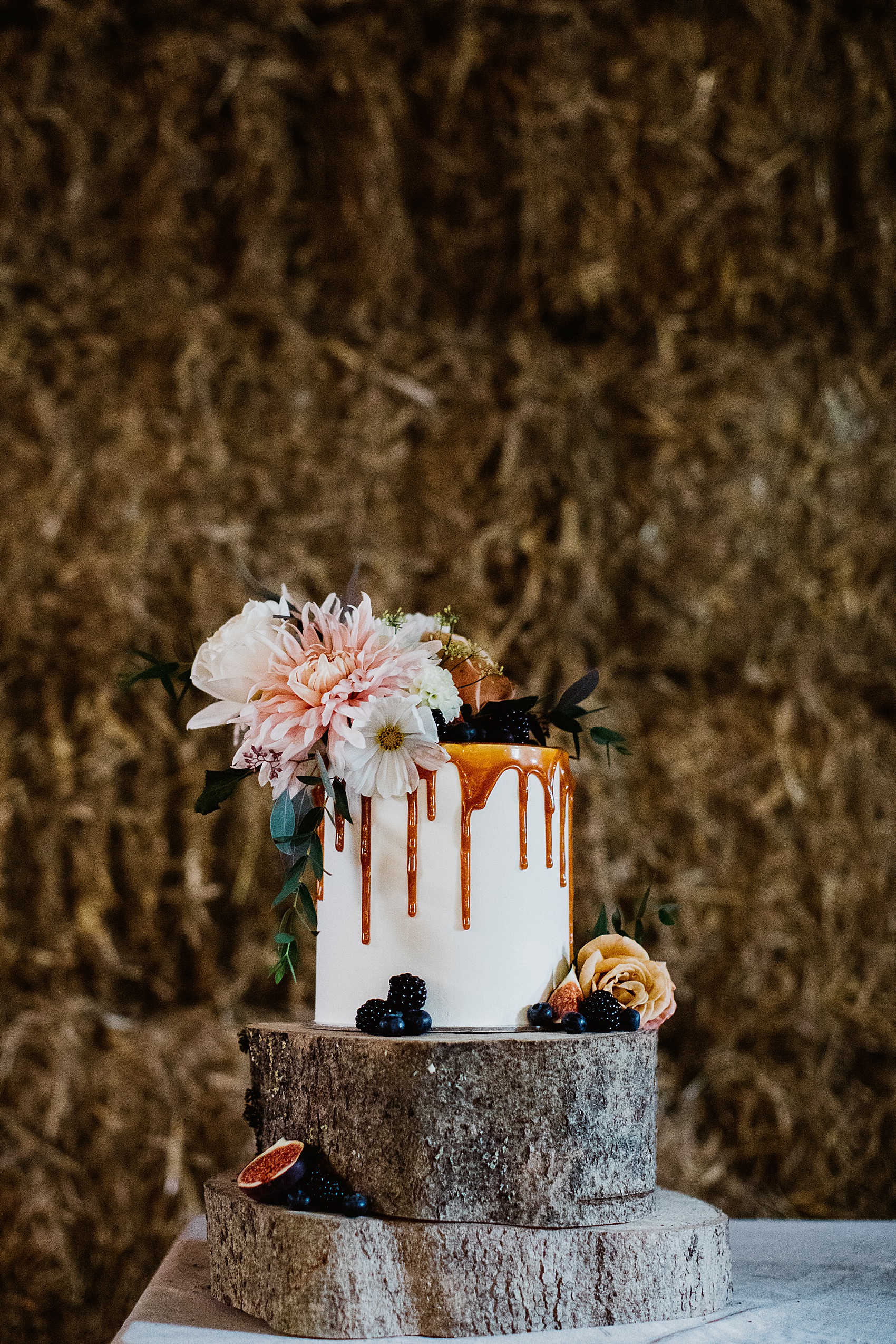 "COVID-19 restrictions allowed, at the time, for the couple to have a first dance so we chose 'Sailing By' by Ronald Binge, played by the Perry Gardner Orchestra because it holds a special place in our heart."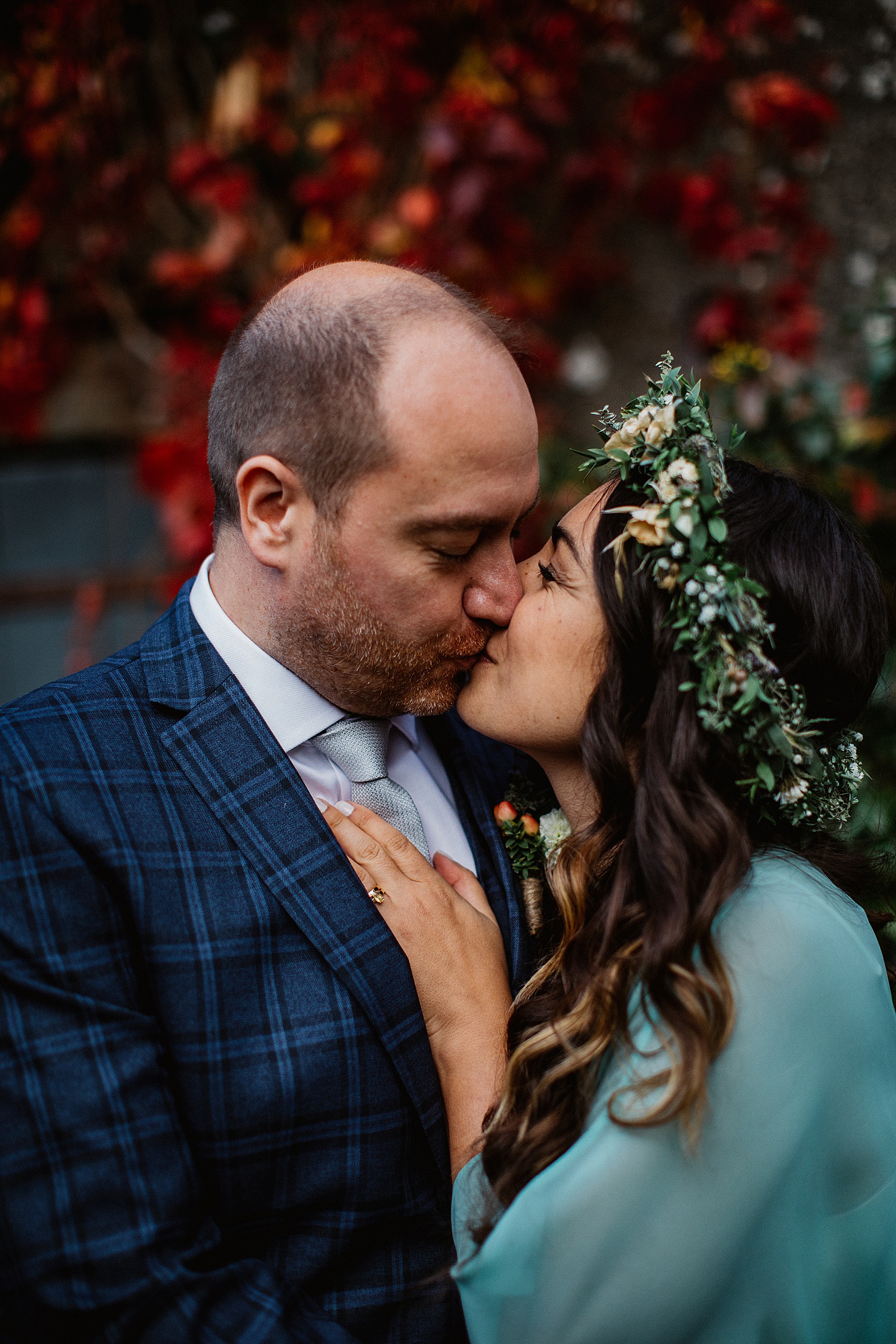 Words of Wedded Wisdom
"Enjoy the planning. I can imagine it's easy to get caught up in what other people might want for you, but stick to your gut instincts. Also, talk to your husband-to-be about it all!"
Stay in the know – join our mailing list.
"Steve and I had a great time picking cake flavours and working out what food we wanted. It felt really important to be making those choices together."
"If we could have more people there, we would. And if we could have danced long into the night, we would have done that too! Otherwise, it was the perfect wedding for that moment."
What a super gorgeous day. You can see more beautiful weddings at Low Hall The Lakes here on Love My Dress, including the venue owners own sensational day here.  If you are looking to marry in the Lake District, we can't recommend a lovelier place.
You'll also find lots of lovely micro weddings here.