Part of the magic in sharing real weddings is getting to share the couple's unique and personal story – and there's rather a special story attached to this particular wedding.
Artist Thali married Landscaper Johnny on 2nd October at The Bower Hut at Machrie on the Scottish Isle of Arran. This beautiful wedding appeals to me so much as it reminds me of family holidays at Ardnamurchan on the West Coast of Scotland, where we'd go year after year as children.
Meggy Mac Photography

+ Follow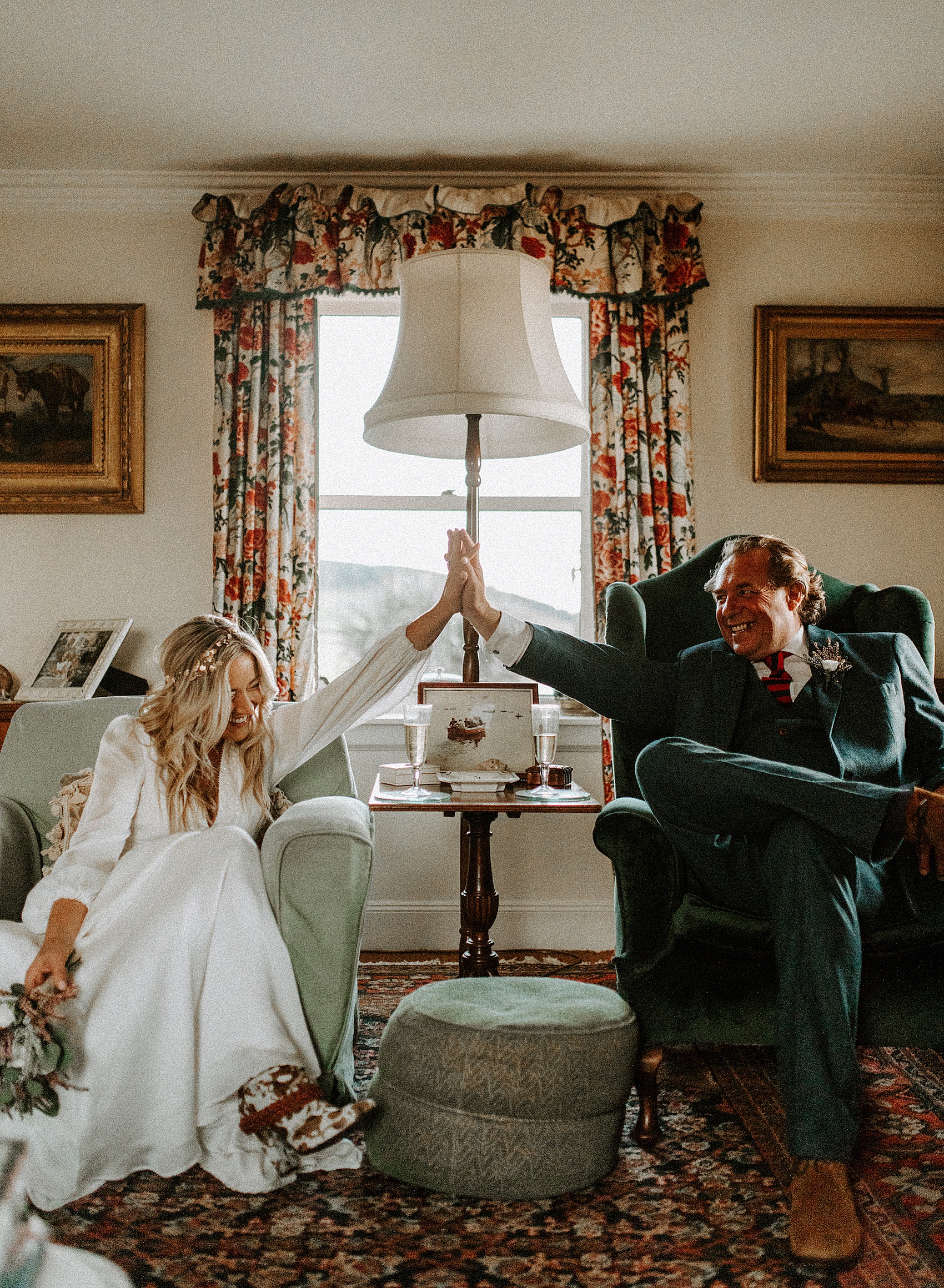 Arran has a special family connection for Thali and Johnny and they too were drawn by the opportunity of a sublime natural landscape as the backdrop to their day.
"I have Narcolepsy and Cataplexy, so a very chilled wedding-day vibe was key; bohemian, countryside etc. By getting married on Arran, we had the best natural theme, backdrop, décor and atmosphere ready made by mother nature."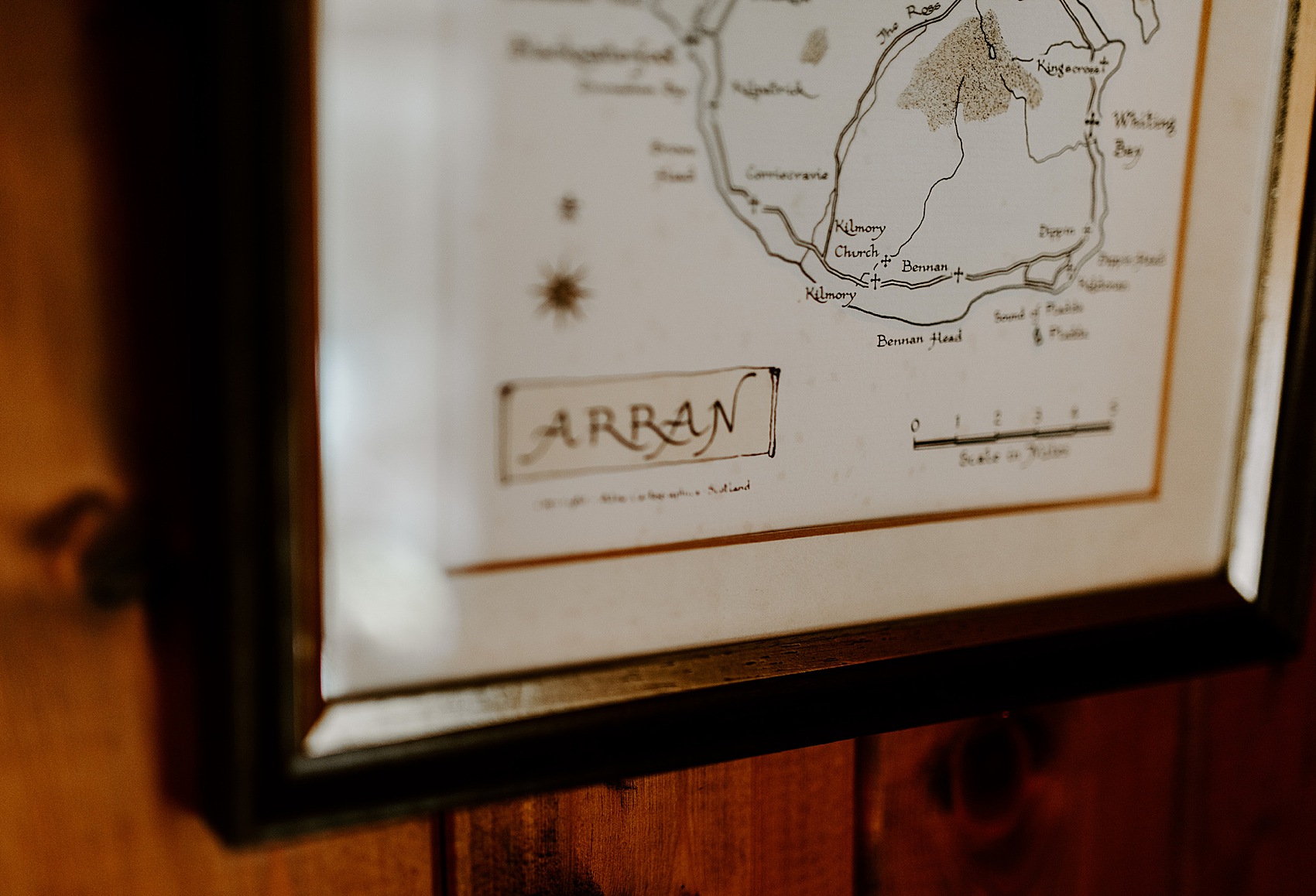 "I wanted Heather in memory of my Grandmother Heather. Eleanor of Eleanor's Flowers was really helpful and picked some beautiful cream roses to match. She also made garlands to wrap around the two pillars of the Bower Hut and also made three matching collars for our dogs."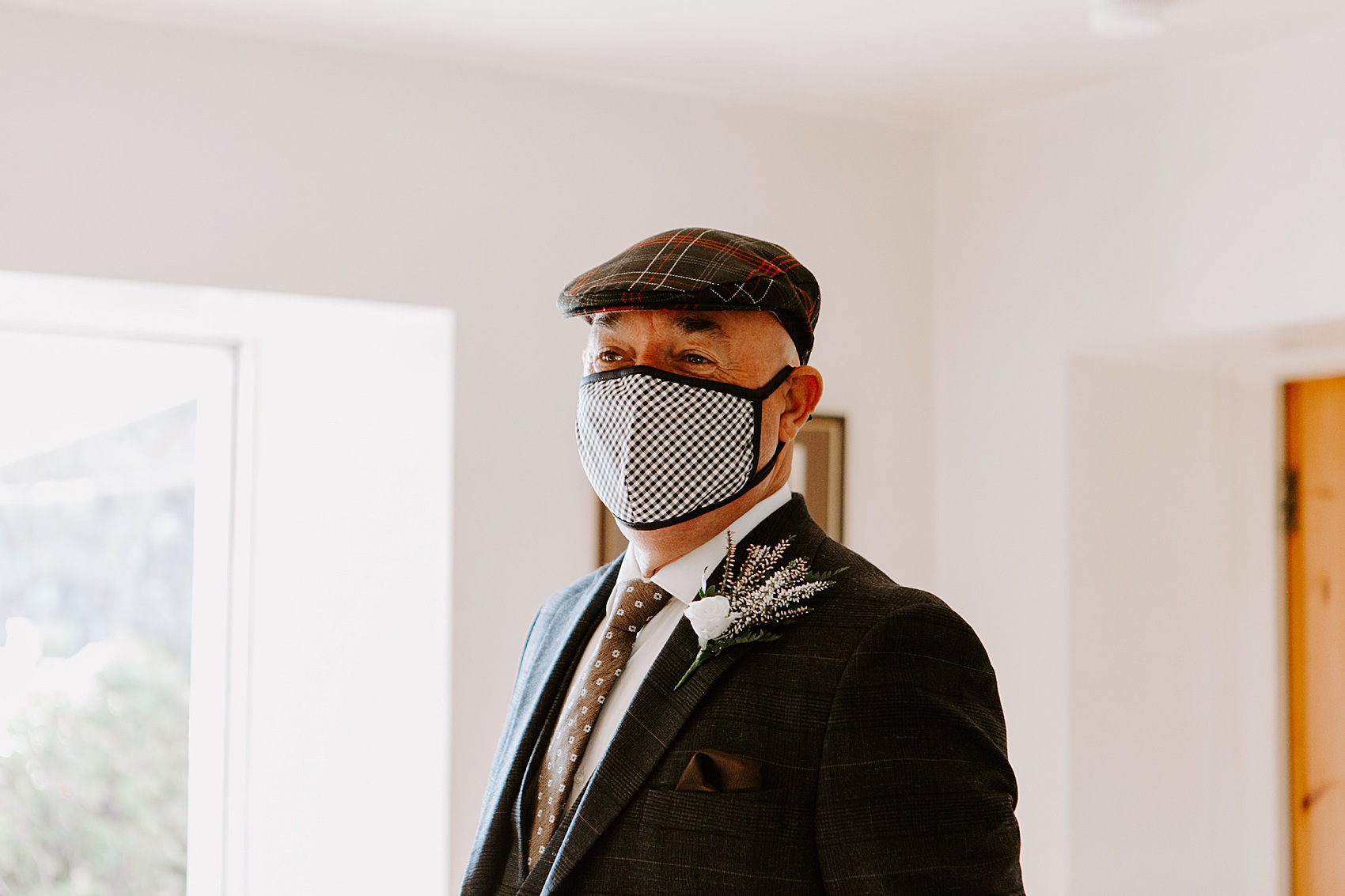 Tahli wanted a comfortable, chilled wedding dress that would complement the bohemian vibes of her wedding day, and she knew exactly where to go to get such a dress – made especially for her.
"Rebecca Rhodes is a friend of mine. I did not even dream of looking anywhere else for a dress. I trust her implicitly and know she knows me and how to flatter a woman's form."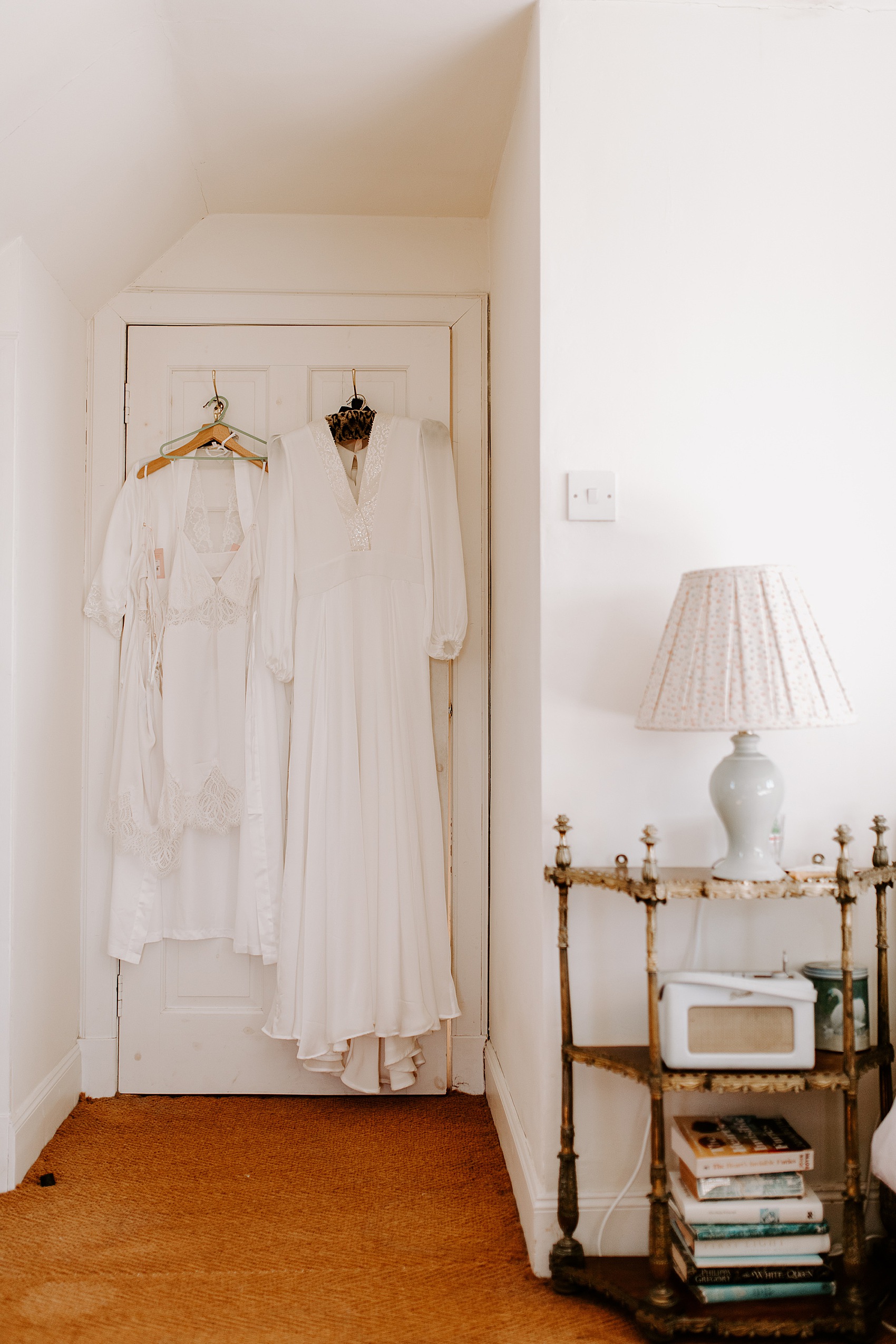 "I didn't even have a fitting – I discussed a couple of ideas with her and left everything in her hands. I received the dress 2 days before we left for Arran – with no adjustments needed it. She even put a loop on the inside so that I could lift the hem up if it was raining or muddy."
Natalia from Hair and Makeup Arran styled Tahli's hair and the bride did her own makeup.
"I had to take weather and being outside into account. Rather than wellies I went for pony skin cowboy boots from Golden Goose."
"They were the best purchase ever and wore them with skinny jeans the next day! I wanted to be able to wear my wedding shoes after the wedding."
Tahli's father bruce walked her to The Bower Hut with the couple's dogs, Remington, Teal and Molly – the natural sound of Machriewater and the river was all those presented needed to add the perfect atmosphere.
"We always wanted to get married at The Bower Hut at Machrie on the Isle of Arran which was the ancient fishing hut rebuilt by Johnny's Father Simon in the grounds of their house, Machriewater House."
"It is where his and Johnny's Grandmother's ashes are laid to rest. It has a beautiful view and is a place where we have the best laughter after a shoot with the beaters to say thank you for their hard work, summer evenings, and new year drinks with close family and friends."
"Johnny and I met through polo 10 years ago then re-met again 5 years ago and became best friends. Like meeting at a crossroads in life, we knew that a best friend is a partner in crime and would not see life any better without being side by side forever."
"There is nothing in life more incredible than being with your best friend and soul mate everyday. It's an amazing feeling to win the life lottery in finding this."
Whilst the couple were already limited in terms of wedding day choices, thanks to COVID-19, the universe appeared to have other things in store that might have put a lesser determined couple off getting married all together, not that you would have guessed any of this from the images but here goes…
"Other circumstances other than Covid 19 gave us a few headaches beforehand and shaped our day; we desperately wanted someone we knew to marry us."
"Angus is very dear to The Boscawen Family. On speaking to Angus in July about the possibilities of getting married in 2021/22, it became instantly clear that was not possible as he was retiring on the 3rd October 2020! So we then filed marriage notice so to be able to marry on the 3rd."
"At this point we decided it was just going to be about us, small and intimate. Fate meant we were able to get married exactly where we had dreamed of."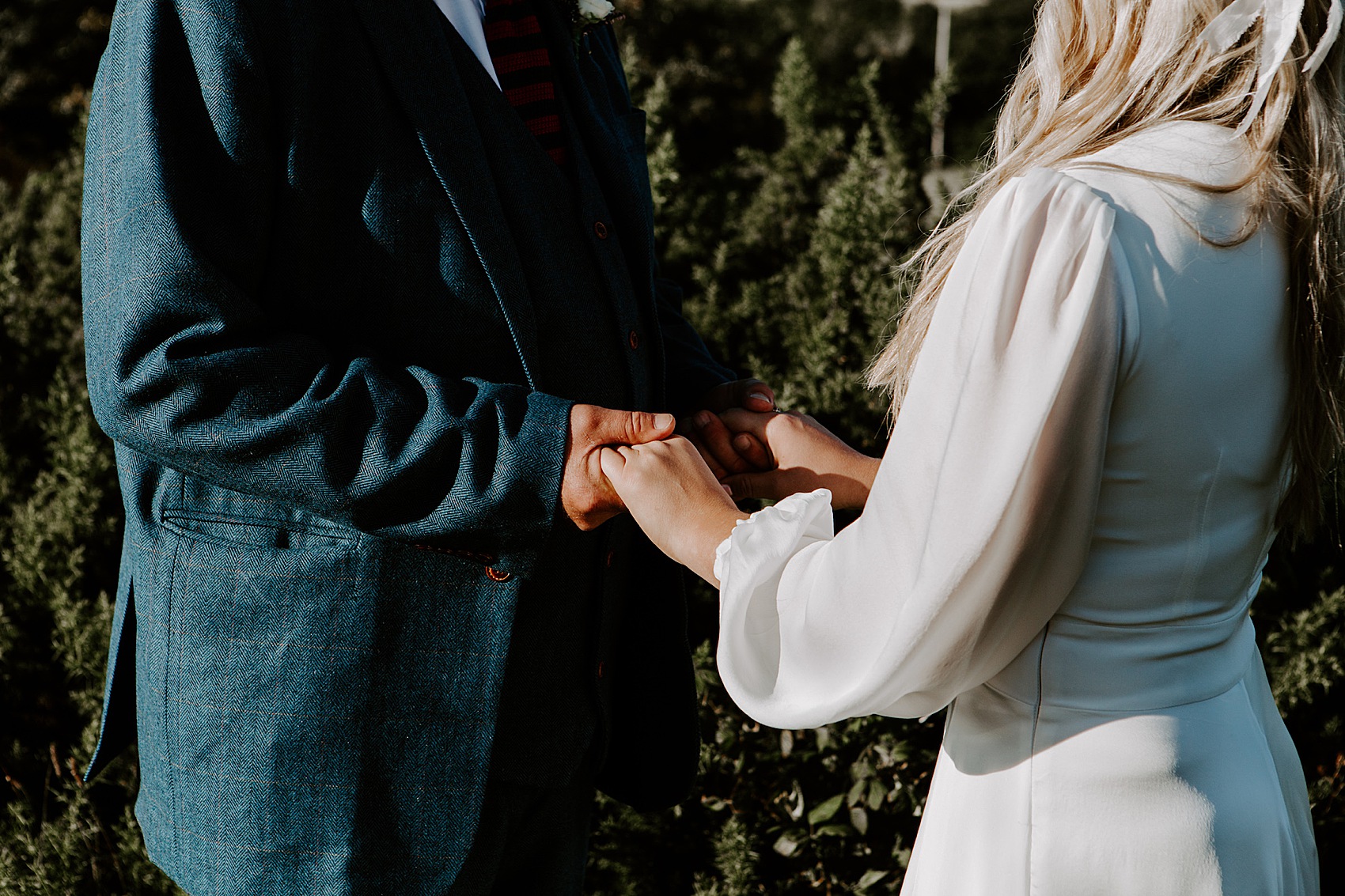 "But then, the week of the wedding, the person looking after our house and ducks fell down our stairs and broke her neck. Johnny's car broke down on the first attempt to drive north, so we limped back home and ended up hiring a car to take us up a day late."
"We arrived on the Isle of Arran on Thursday, popped into the floris, ordered flowers ready for our Saturday wedding and headed to Machriewater House – where we were getting married."
"Johnny went to buy provisions as the cook had also cancelled, and then received a phone call to say how awful Saturday's weather was going to be due to Storm Alex. This was when the fun really started…"
" There were phone calls to the vicar, dashing to lamlash Friday morning to get the paperwork changed as a witness couldn't get on the island, a last minute change (she would have been bringing last minute food from Edinburgh too!)."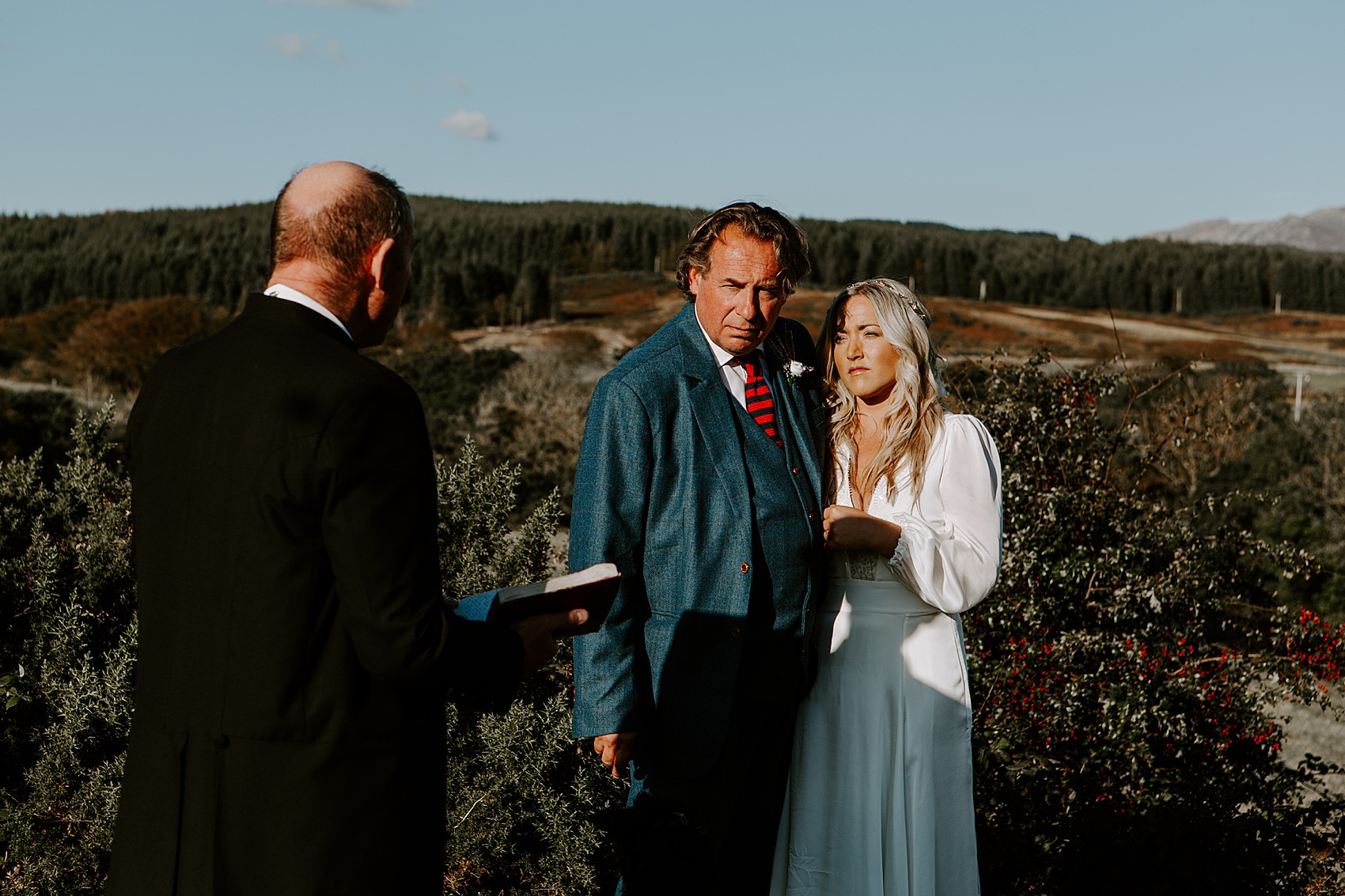 The couple's three dogs, Teal, Molly and Remington. made the best 'dog bridesmaids' ever with their sweet wedding day collars and excellent behaviour!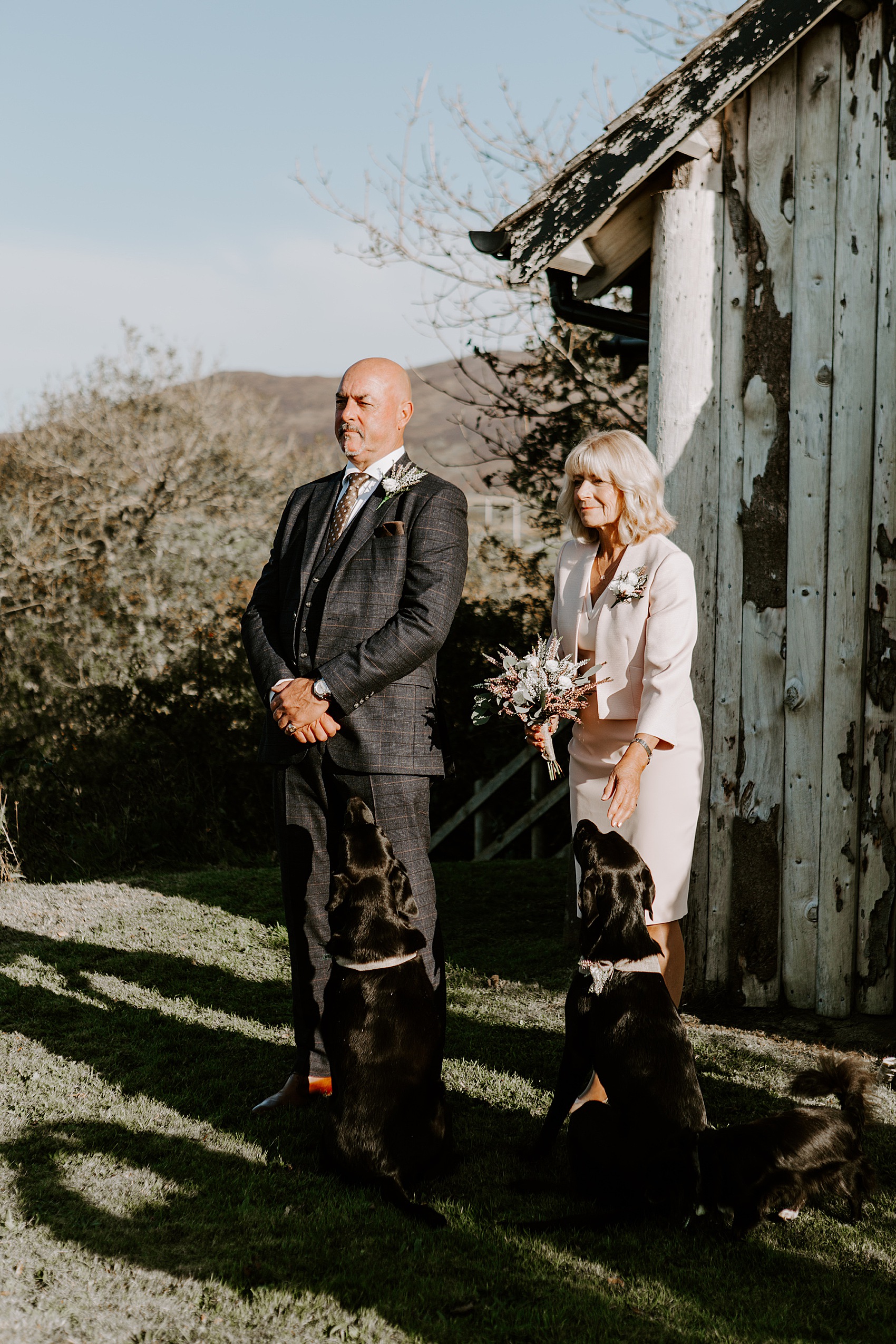 "We Called Megan, our  photographer late Thursday night to see if she could come a day early. We asked the florist to have the flowers ready for 2pm. I was told to be ready to get married for 4pm – you had to laugh!"
"Natalia came to do hair before she went to work last minute too! And then John Knox, the Gilly, turned up with 5 freshly caught lobsters ad 2 crabs.  Johnny was straight in the kitchen with my Dad, Bruce,  prepping our un planned wedding meal!"
"We have an idea to celebrate with our friends and family next year. We want to throw a party every year on our anniversary themed by the anniversary tradition so paper, then cotton etc. 2021 is year one which is paper, so we're thinking, 'masked ball' theme. Not the covid mask though!"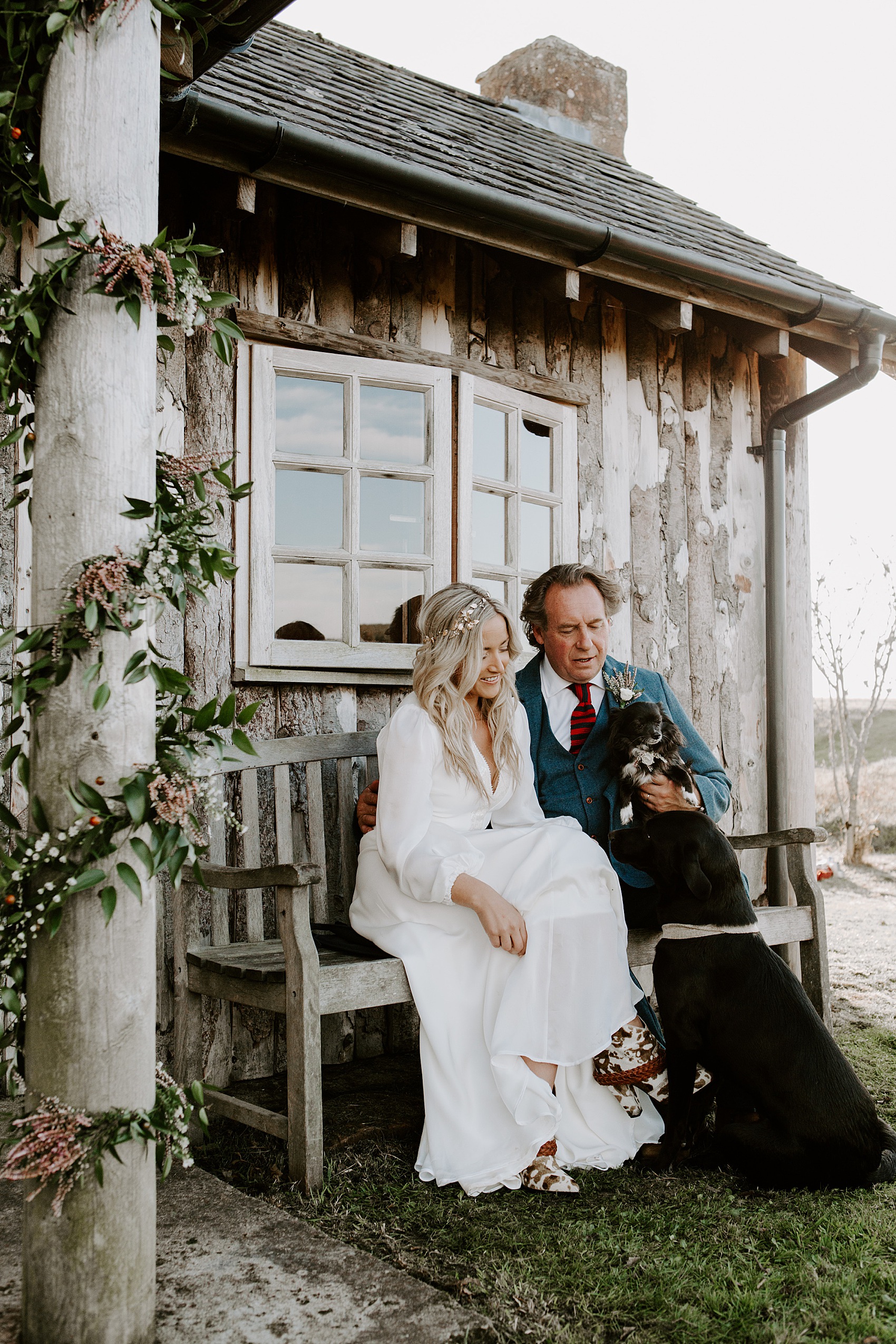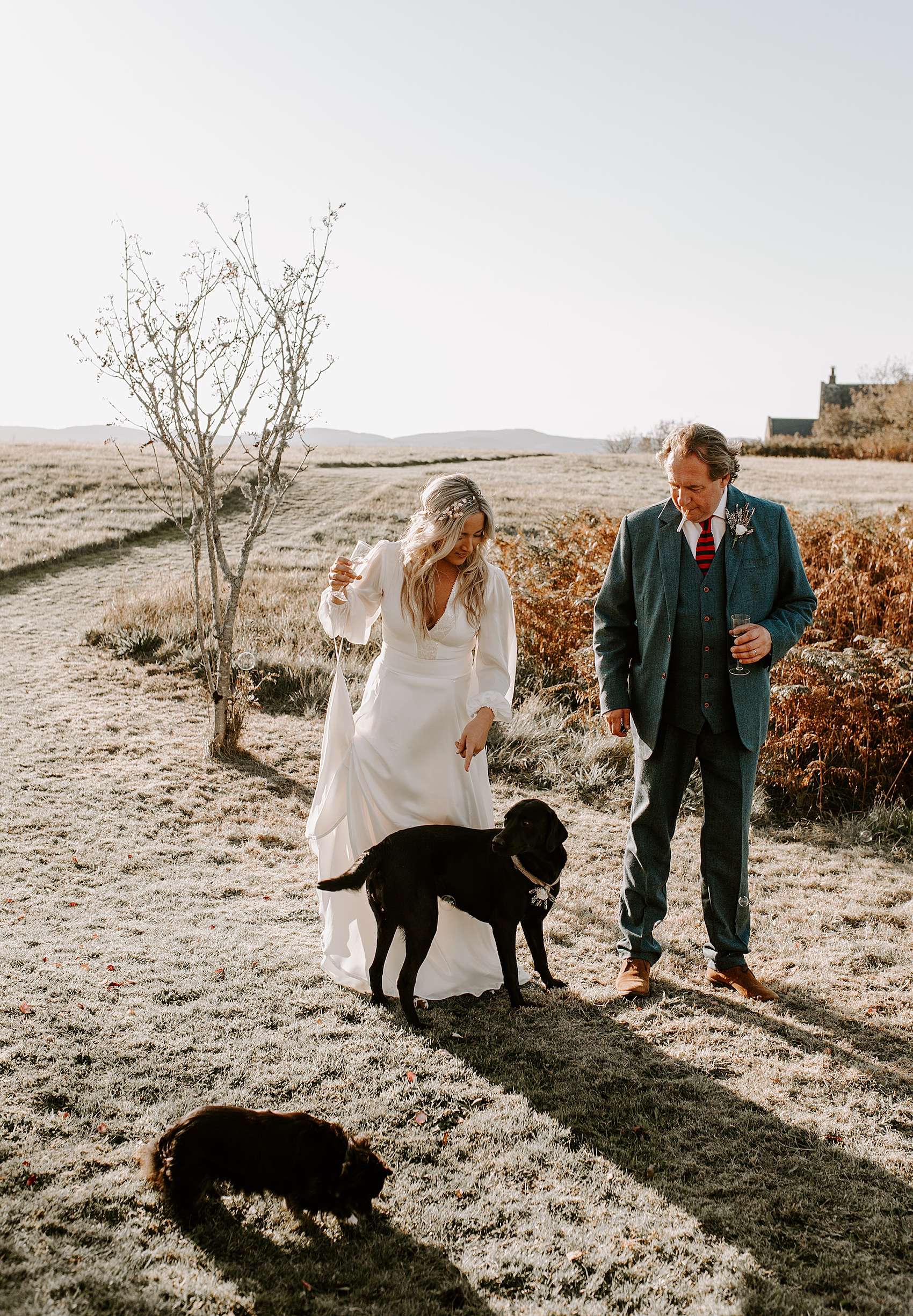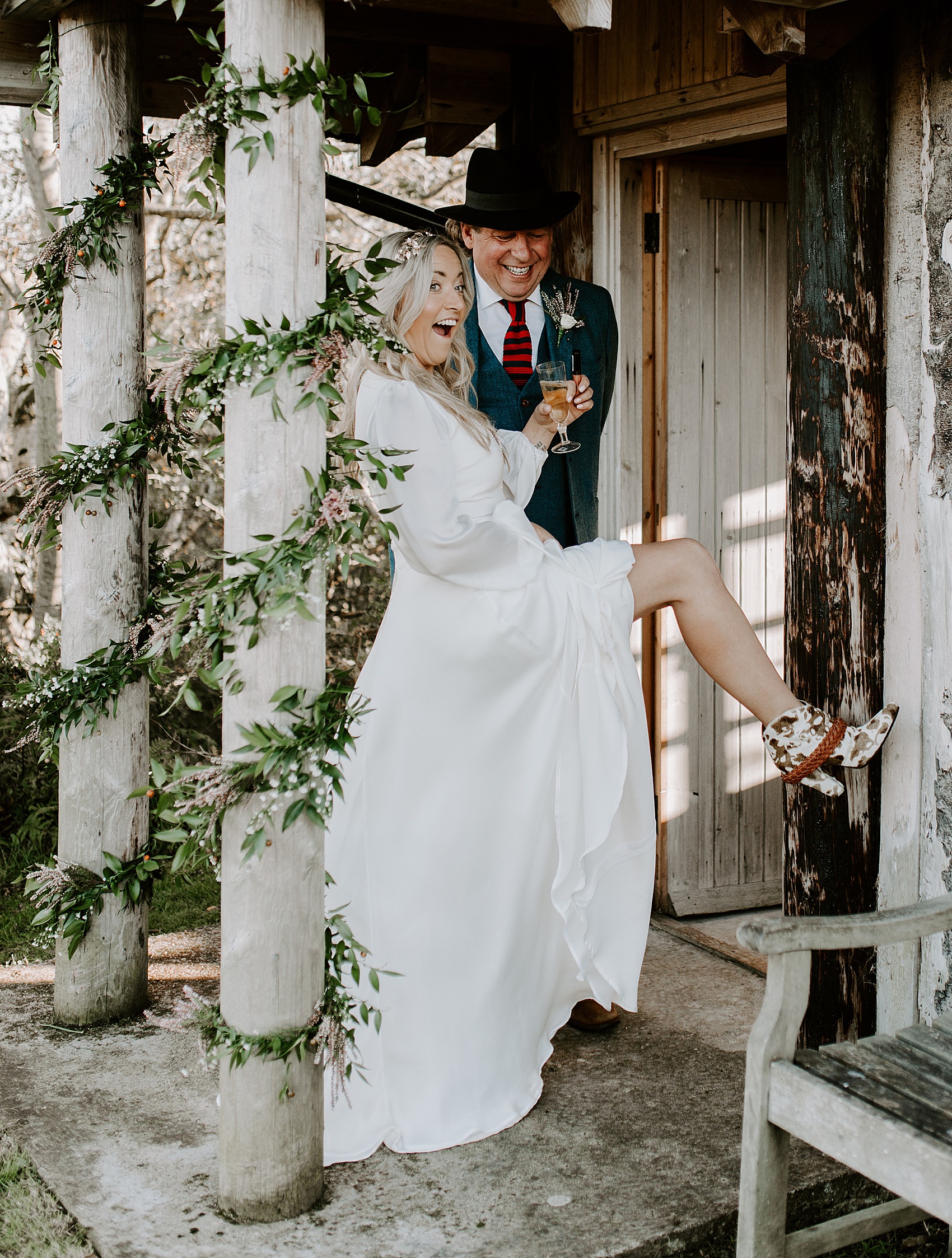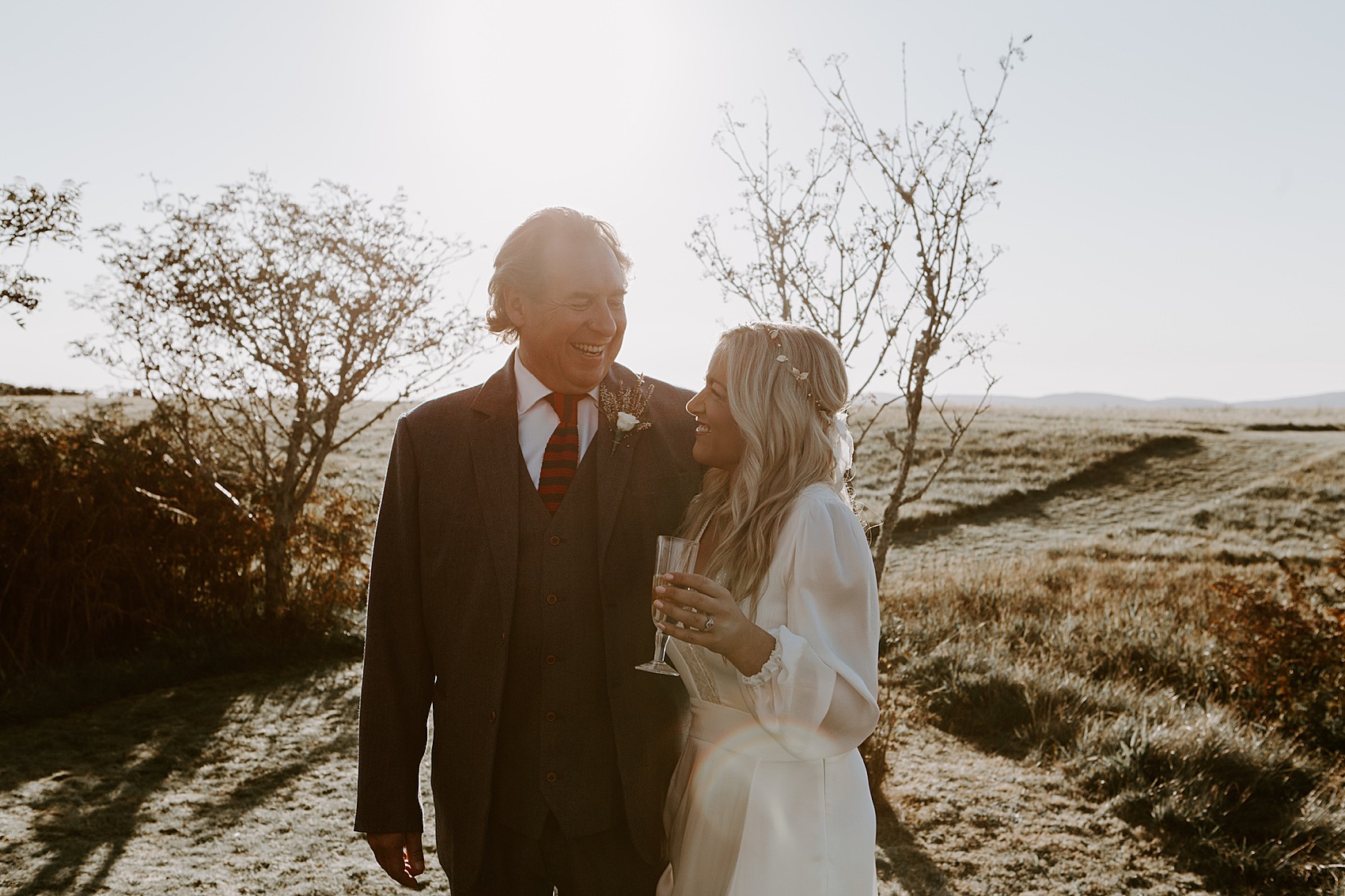 The couple hired Scottish elopement and destination wedding photographer, Meggy Mac, who did the most beautiful job in capturing the emotion and moments of the day…
"I have followed Megan on instagram for a while and have been in awe of her talent in capturing exquisite photographs in the moment and the beauty of the scenery."
"We feel we won the life lottery when she confirmed her availability. She is a true artist and a wonderful human being."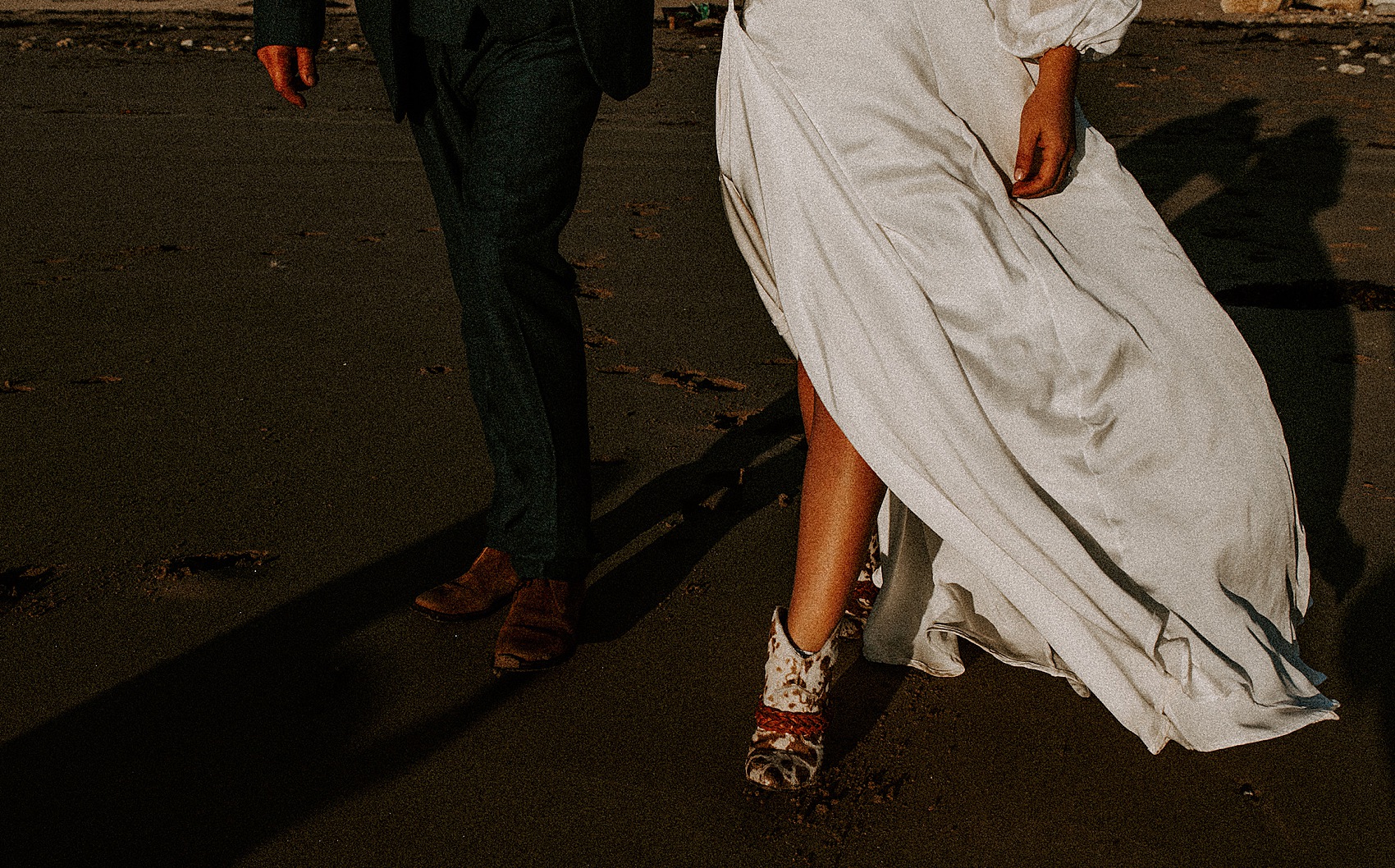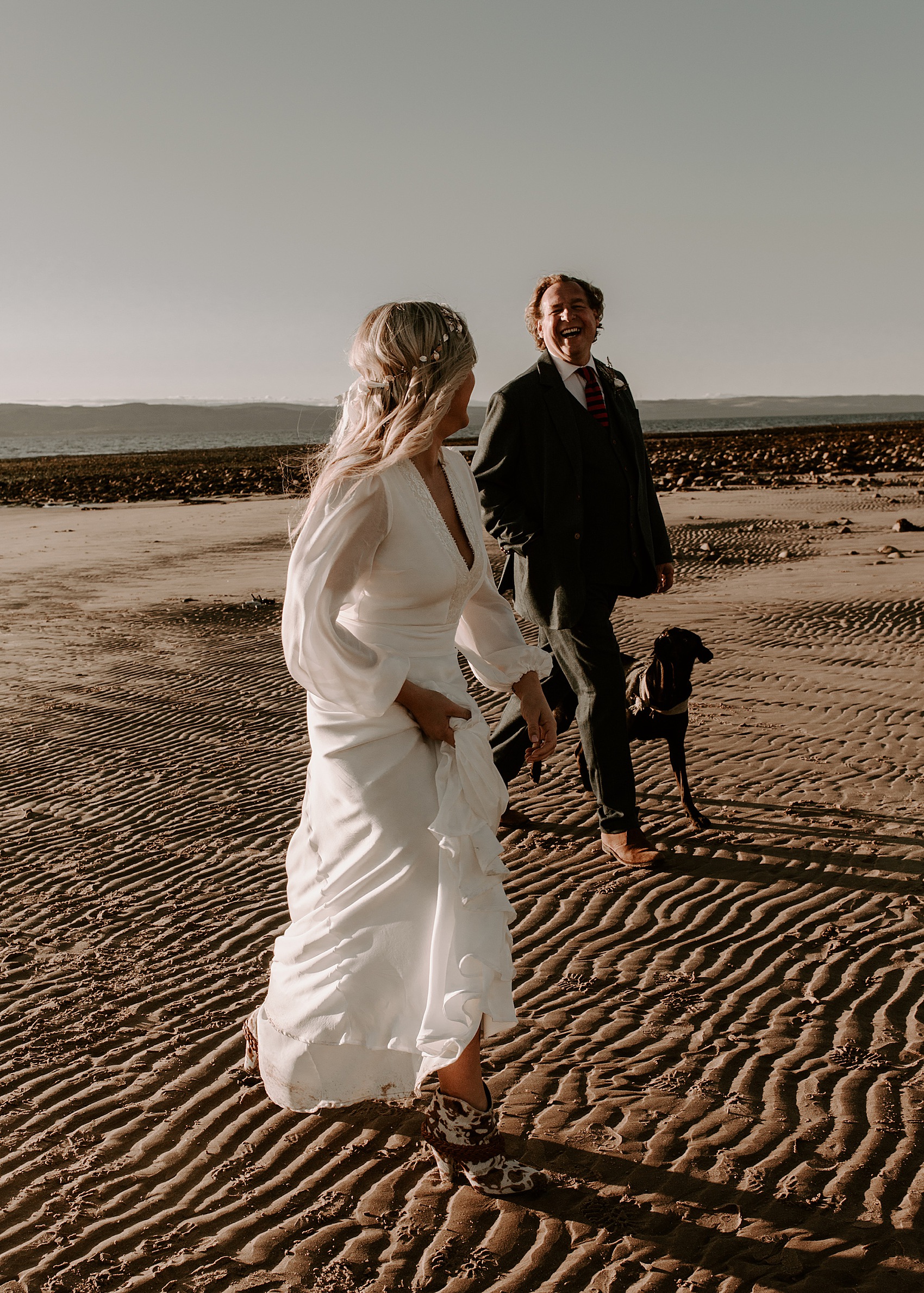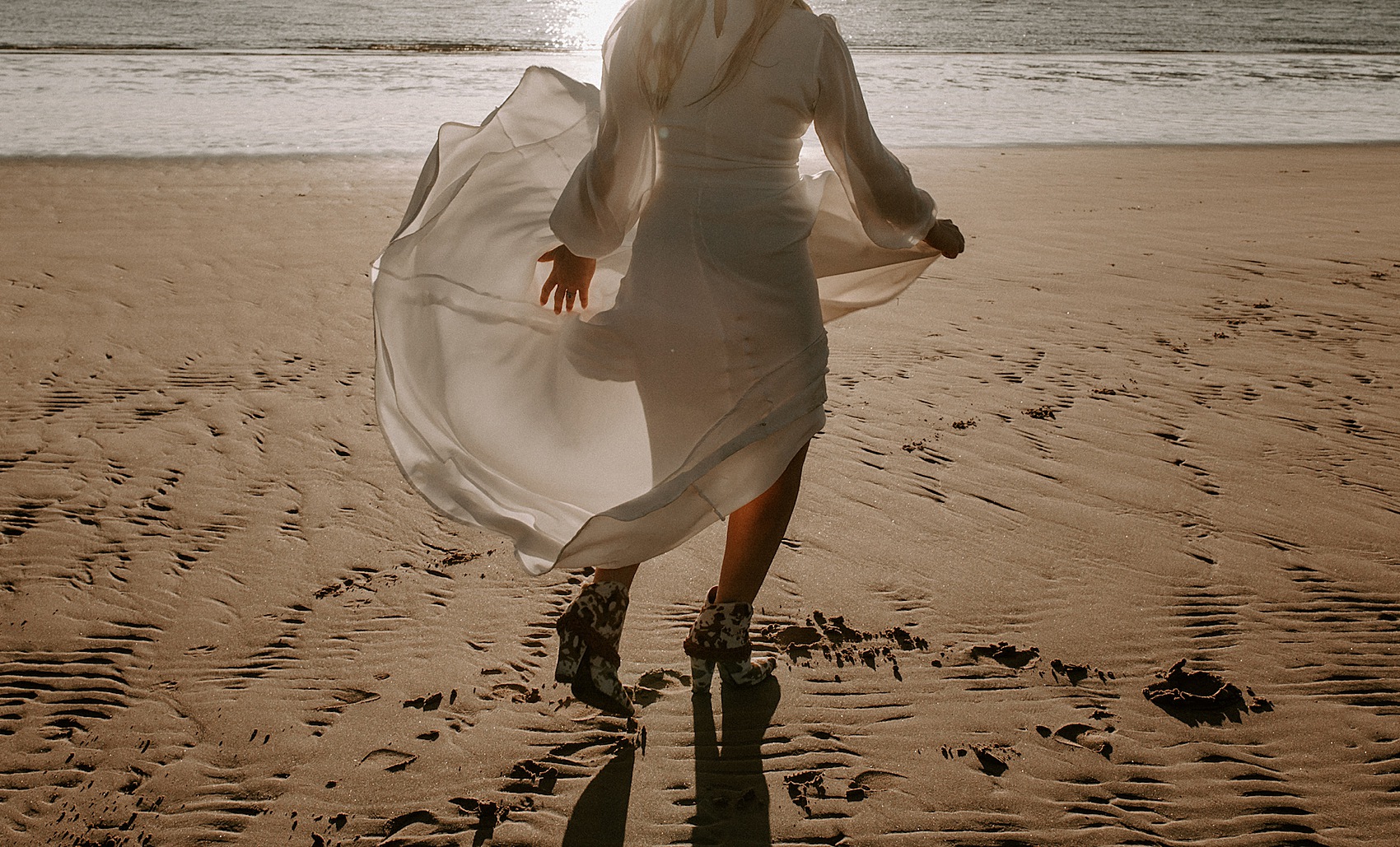 Bagpipes were played by professional bagpiper, Willie Robertson.
"We were piped off the beach by Willie Robertson. As the evening sun set in, he piped Mull of Kintyre which Machriewater looks out to -it was simply magical."
Words of Wedded Wisdom
"Trust, Love, Laugh and Dance. Remember, it's about you two, never forget that. Focus on what makes you both happy and don't stray from it."
"Finding your ideal photographer is an absolute must. And mother nature provides the most beautiful backdrop."
Find trusted venue and suppliers in our Little Book Wedding Directory
"Be flexible, everything happens for a reason. Just know and trust that it is only about the two of you. Love conquers all. Our day was made perfect by the trust in each other, the love of where and who married us and the feeling of how lucky we were to have such a magical day which was made so possible by amazing people helping. Megan, our photographer, was the most special and amazing friend to have at our micro wedding too. She created the perfect memories in her photographs.Our dogs made the perfect bridesmaids too."
"Don't sweat the small stuff. Keep calm and carry on, it's about love at the end of the day."
What an incredibly beautiful day – I sincerely hope the 'just do it' sentiment encourages those of you sitting on the fence about a smaller wedding, perhaps because of COVID-19 or other obstacles. Just look what happens when you take things into your hands and get on with it regardless!
Tahli and Johnny, wishing you a lifetime of love, happiness, joy and celebration – and one amazing masked ball 1st anniversary celebration later this year!
With much love,
Annabel x